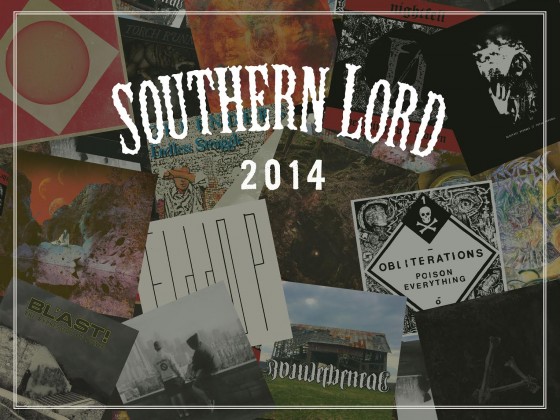 As 2014 draws to a close, Los Angeles-based Southern Lord Recordings is wrapping up one of the label's busiest years to date.
The past twelve months were jam-packed with priority releases from both acts already a part of the label, new blood, as well as reissues of collections of material from a variety of renowned bands. The label issued brand new releases from BAPTISTS, BOWL ETHEREAL, EARTH, GUST, MARTYRDÖD, NIGHTFELL, SUNN & ULVER, SUNN & ULVER, TODAY IS THE DAY, OBLITERATIONS and TORCH RUNNER this year, with virtually all of the artists being on the road throughout the year. In addition, the label reintroduced seminal recordings in the form of remastered, deluxe album reissues or collected works releases from BL'AST, BROTHERHOOD, ELECTRIC FUNERAL, EXCEL, OFFENDERS, TORCH RUNNER and more.
With highly anticipated prime titles from POISON IDEA, GOATSNAKE, XIBALBA, EAGLE TWIN, BLACK BREATH, HARLEY FLANAGAN and way more already piling up for Southern Lord's 2015 schedule, let's take a look back at what damage the label did this year.
+ + + + + + +
BAPTISTS – Bloodmines
In October, Vancouver's crushing BAPTISTS lit the world ablaze with their second album, Bloodmines, delivering a more dissonant/noise metal approach to their dynamic, metallic punk/hardcore mayhem. Cvlt Nation said of Bloodmines, "it is darker, faster and angrier, elements that combine to create a work that altogether avoids the enigmatic 'second-album-slump.' Pulling their threads from an array of hardcore and metallic hardcore outfits, Baptists utilize the tried-and-true formula introduced by Converge on Jane Doe, flipping from bombast to dirge at the drop of a hat, while infusing world-weariness into every second." GearGods mentioned of drummer Nick Yacyshyn's most intense work yet on the album, "It's a breath of fresh air to hear someone like Nick playing the music that he does, in a style so full of drummers who never quite got over the fact that the D-beat is a drum beat." BAPTISTS toured the West Coast of North America upon the release of Bloodmines, alongside labelmates Obliterations and Torch Runner, and will take to the road throughout 2015. View the official video for the title track, "Bloodmines," HERE, and purchase the album digitally HERE and physical versions HERE.
BL'AST – The Expression Of Power
In March of this year, Southern Lord reissued the debut album from Santa Cruz surf/skatecore heroes, BL'AST, The Power of Expression, in a remastered/extended 3xLP package with dry pools full of extra material and original takes, the release renamed The Expression Of Power. The band formed a new live lineup and began touring more than they have in several decades, with both stateside and European tours having gone down in 2014, and in fact, BL'AST is currently on a massive US tour with Down, Orange Goblin and King Parrot. Stand by for additional live and release announcements from these revitalized hardcore heroes in the months ahead. BL'AST!'s boundary-pushing form of hardcore, advanced musicianship, unstoppable energy and intense perseverance is as prominent now as it ever was. Order the physical editions HERE and stream the full album HERE.
BOWL ETHEREAL – Bowl Ethereal
Virginia-based instrumental math metal duo, BOWL ETHEREAL, unleashed their self-titled second EP in July, with six tracks in exactly six minutes, six seconds in total. Comprised of Brian Metz (Amish Control Tower) on guitar, bass and production, and Pen Rollings (Honor Role, Breadwinner, Loincloth) on drums and arrangement/deconstruction duties, their mangled, minute-long arrangements pack massive amounts of crushing power, the EP mastered by Brad Boatright (From Ashes Rise, Sleep, Integrity, Nails). The resulting record may be short, but its unpredictably dynamic flow cries out for repeated listens. Watch the video for "The Last Minute" from the EP, as well as an in-depth interview at Noisey HERE. Order the 7″, limited to 600 copies worldwide, right HERE and stream the album HERE.
BROTHERHOOD – Till Death
A collection of the seminal recordings from Seattle's influential hardcore act, BROTHERHOOD, was issued by Southern Lord in September, collecting the band's demos and 7″ releases in one remastered vinyl anthology entitled Till Death. Having raged the West Coast from their 1987 inception to their disbanding just over two years later, BROTHERHOOD conveyed their intolerance for racism, sexism and more through their lyrical basis and on-stage delivery. Their relatively short-lived run went on to inspire many of the seminal bands that have followed in hardcore and straightedge such as Undertow, Unbroken, Champion, No Tolerance and many more. Members of BROTHERHOOD have posthumously forged numerous other musical endeavors including but not limited to Christ On A Crutch, Sunny Day Real Estate, Foo Fighters, Resolution, Digh Down, Burning Witch, Engine Kid, Sunn O))) and Goatsnake. All of these original recordings have been faithfully remastered by Brad Boatright, and the LP released with a massive adjoining booklet. Stream and order the album HERE.
EARTH – Primitive And Deadly
Seattle's EARTH released their mammoth tenth studio full-length, Primitive And Deadly, and immediately upon is release in early September amidst massive international touring of Australia, New Zealand, Japan, Europe and North America, became the highest-selling EARTH album to date. The New York Times reviewed Primitive And Deadly, stating, "Now, EARTH is reconciling its two moods, rugged and contemplative, and doing something it hasn't done since 1996: hire vocalists. Mark Lanegan, once of the Seattle band Screaming Trees, appears on a few tracks, sounding like dread and survival and the white blues; when he sings, you almost feel a crust forming. But the clear-voiced Rabia Shaheen Qazi, of the younger Seattle band Rose Windows, suggests something fresher on 'From the Zodiacal Light,' a long song at the record's tasty heart, essentially a series of long approaches to beautiful choruses, with dark words and uplifting chord changes." Pitchfork's grand critique of the album offers, "This is the closest Carlson has ever been to leading a rock band, to fully offloading his exceptional sense of control into a systemic and thorough whole… This might be the beginning of a new EARTH." The band begins a massive five-week return to Europe on tour from late January through all of August, and will continue to tour on Primitive And Deadly in the new year. Primitive And Deadly is now streaming at THIS LOCATION, and is available direct through the band's official store HERE, via iTunes HERE.
ELECTRIC FUNERAL – Total Funeral
July saw the dawn of the massive 2xLP Total Funeral, a compilation of the entire anthology-to-date from Swedish raw punk outfit, ELECTRIC FUNERAL, the brainchild of Jocke D-takt, also of Paranoid, Desperat, Warvictims, Totalt Jävla Mörker and countless more. Bearing over an hour-and-a-half of carnage with fifty-three tracks, Total Funeral includes virtually every officially released track from the band as well as several previously-unreleased and new/unreleased tracks, the act's purely pissed-off style explodes out of the speakers with relentless noise and unfuckwithable energy, surging with the sounds of Anti-Cimex, Gloom, Discharge and the like to blazing speeds in the vein of Disclose and Krömosom. Stream the entire album and order it right HERE.
EXCEL – Split Image
Following their 2013 reunion, California hardcore/thrash metal crossover band, EXCEL, teamed up with Southern Lord to reissue their debut album, Split Image. Equally informed by punk rock's attitude and heavy metal's riffs, the band's high-speed delivery combined with their intelligent lyrics set them apart as a genre defining band of the era. Originally released in 1987 through Suicidal and Caroline Records, and now widely regarded as a classic album, Split Image was produced by Randy Burns (Death, Possessed, Megadeth, Kreator, Suicidal Tendencies). The reissue of the album was reintroduced in late September, remastered by Brad Boatright (Bl'ast!, Sleep, Obituary, Black Breath) and including a massive amount of bonus material, a booklet, poster and more. A crucial documentation of an essential crossover band. Stream the entire remastered album and order it on CD, LP and digitally HERE.
GUST – Gust
Trollhättan, Sweden-based GUST release their self-titled, sophomore LP via Southern Lord in September, a breakneck, nearly half-hour-long album displaying a unique style of crust-infused hardcore and talented songwriting from the young act. Self-recorded at Fvck Life Studios, and mastered by Brad Boatright (Warcry, From Ashes Rise, Deathreat) at Audiosiege, who also supplies guest vocals to the album, Gust is a crushing and incredibly dynamic album, GUST unleashes a maelstrom of cutting edge demolition, with cerebral elements continually emerging from the shadows with an almost ethereal effect. Fans of Cursed, Oathbreaker, Rise And Fall, and now-labelmates The Secret, Baptists and Dead In The Dirt will no doubt find something addictive in the band's harsh output. After several European tour bouts in 2014, next year will see even more widespread live invasions and the band's North American live debut. Stand by. Stream all of Gust and order all versions at THIS LOCATION.
MARTYRDÖD – Elddop
Elddop, the fifth studio full-length from Swedish crust/metal masters, MARTYRDÖD, dropped the band's most epic tunes to date through Southern Lord in July. With a lineup including members of Agrimonia, Miasmal, Skitsystem and more within its ranks, MARTYRDÖD has become a major force in the Swedish crust circuit through the years. Burning with fourteen anthems which show the crew taking their scathing craft to new levels of intensity through experimentation with vocal and songwriting styles, taking some incredibly unique paths, Elddop is undoubtedly this masterful act's finest work yet. Stereogum praised the album, stating that it, "doesn't merely improve on the band's already incredible body of work; it distills MARTYRDÖD's sound to its most exciting elements, leaving everything but the highlights on the cutting-room floor… Elddop feels totally fresh and thrillingly new, yet employs only those tools fashioned in the ancient forges… I can't imagine any generation of metal fan for whom Elddop would seem inappropriate – in many ways, it's the very essence of metal." The band provided direct support for Converge across Europe in conjunction with the album's release, and will return to North America on tour based around Maryland Deathfest in May. Stand by for more info in the coming weeks. Stream the entire album and place orders for the CD, colored 12″ LP and digital RIGHT HERE.
NIGHTFELL – The Living Ever Mourn
Southern Lord issued the devastating The Living Ever Mourn LP in May, the debut recordings from Portland-based grim metal duo, NIGHTFELL, in May, the band embodied by Tim Call (Aldebaran, Mournful Congregation, Parasitic Records) and Todd Burdette (His Hero Is Gone, Tragedy, Deathreat, Severed Head Of State). The collective's bruising tones and bleak perspectives on life are captured through over forty minutes of thundering epic metal bridging morose heaviness with melodic destruction, recorded and mixed at Red Lantern Studios by Evan 'Maus' Mersky, and mastered by Brad Boatright at Audiosiege. At times the album embodies the guttural, bleak essence Burdette's musical endeavors have innovated since the mid-90s, while other segments undoubtedly breathe with the murky, crushing, Northwestern oppression Call has been associated with, the entire album channeling unrest through its organic delivery, at times integrating choral mantras, noise-infused ambiance and thundering death marches. Pitchfork's review hailed, "The Living Ever Mourn, serves as a bridge between their own tastes and influences. True to their origins, NIGHTFELL alternate between resembling a slowed-down version of Tragedy or a sped-up take on Aldebaran." Steel For Brains issued, "The album's eight tracks fuse together the respective backgrounds of their members yet offer something intriguing and truly remarkable in the way of allowing both Call and Burdette to forge their own singular interpretation of blackened doom, accented with the fragile atmospherics to transition between each song almost in a brief gasp before the next dark plunge." The entire album is streaming and available for digital purchase HERE, and available on CD and LP HERE.
OBLITERATIONS – Poison Everything
Southern California-based OBLITERATIONS dropped their debut LP via the 'Lord in October, Poison Everything delivering into a jacked-up and unhinged style of rabid punk/hardcore resembling a mangled, modernized amalgamation of The Stooges, MC5, Laughing Hyenas, Black Flag and Poison Idea surging with a dangerous and adrenalized pulse of a back-alley brawl on the verge of going down. With current and ex-members of Black Mountain, Saviours, Night Horse and other acts merging their collectively callous talents, OBLITERATIONS recorded Poison Everything at Dave Grohl's Studio 606 in full analog. The LA Weekly reports in a massive feature on the band, "Poison Everything, is 29 minutes of pure ripping mayhem. Velde provides the razor-gargling, paint-stripping screams," and Rolling Stone said the band sounds like, "A long-forgotten L.A. hardcore band cut from the soundtrack of the original Decline of Western Civilization, continuing, they stumbled onto the same recipe for punk aggression that made their L.A. forefathers like Black Flag forces to be reckoned with in the mid-Eighties. Their latest record, Poison Everything, which the band recorded over the course of three days at Dave Grohl's Studio 606, represents Obliterations' grizzled riffs, machine-thrashing drumming and blood-puking vocals in their most distilled form." Following their headlining tour with labelmates Baptists and Torch Runner, OBLITERATIONS will continue their live reign of live terror through next year. Rage to the band's official video for "The One That Got Away" RIGHT HERE, stream the full album and purchase it digitally HERE and order the CD and LP HERE.
OFFENDERS – Endless Struggle / We Must Rebel + I Hate Myself / Bad Times
Collecting the entire vinyl catalog from Texas hardcore punk outfit, the OFFENDERS, into one massive package, the 2xLP Endless Struggle / We Must Rebel + I Hate Myself / Bad Times saw release through Southern Lord in March of 2014. The OFFENDERS were formed in 1978 in Killeen, and after relocating to Austin in 1980, became known worldwide as one of the premiere hardcore bands out of the Lone Star state. Raw and rabid but more than proficient in the delivery of their musical rebellion — alongside friends and scenemates D.R.I. and M.D.C. — OFFENDERS completely ruled the hardcore scene throughout the infamous Reagan-era. For this collection, the audio was completely remastered at Audiosiege, fitted to two 180-gram slabs of black wax, and housed in a gatefold jacket with the original covers and inserts faithfully replicated. Stream the entire thing and order the digital and vinyl versions HERE.
SUNN & ULVER – Terrestrials
February 2014 saw the birth of Terrestrials, the otherworldly collaboration between Norwegian experimenters, ULVER , and American alchemists, SUNN O))), the recording conceived at Crystal Canyon Studios in Oslo, Norway. The aggregation of this recording includes Greg Anderson, Stephen O'Malley, Daniel O'Sullivan, Kristoffer Rygg, Jørn H. Sværen & Tore Ylwizaker – with ghost appearances by Ole-Henrik Moe and Kari Rønnekleiv (viola & violin), Stig Espen Hundsnes (trumpet) and Tomas Pettersen (drums). Terrestrials was produced by Stephen O'Malley & Kristoffer Rygg, mixed by Anders Møller at Crystal Canyon, and mastered by Jaime Gomez Arellano at Orgone, London. A feature on VICE Magazine's music channel, Noisey, included, "The result of their combined efforts is a very beautiful, largely serene three tracks that seem to build naturally into an emotional, climactic finale. It's a true merging of SUNN O)))'s love of analog tone and instrumentation with ULVER's ambient and electronic finesse." AllMusic served up a 4.5/5 review which included, "They create a prelude to a minimal abstraction before the cut reconstructs itself into a beautiful, blackened drone before fading into silence. Those who enjoyed Monoliths & Dimensions should find Terrestrials accomplished, disciplined and, in its way, heavy as hell. It perfectly reflects both SUNN O)))'s impenetrably emotional dark heart and ULVER's expertly crafted senses of drama and dynamic." Blabbermouth gave Terrestrials an 8.5/10, caling it, "one of the most fascinating albums in either act's careers," and Crave Online crowned it with a 9/10 review: "What's so wonderful is that music is complex and layered, but primal enough to operate as a vessel for your own trip… Not just a great piece of music, but an important one. This record is a statement from SUNN O))) and ULVER, one that will inform experimental music for years to come." While the vinyl edition is long sold-out, Terrestrials can be purchased on CD and digitally and streamed in its entirety from THIS LOCATION.
TODAY IS THE DAY – Animal Mother
TODAY IS THE DAY's crushing tenth studio full-length, Animal Mother, saw birth via Southern Lord in October, unleashing one of the sickest creation in years, from one of metal's most prophetic and unique madmen, founder, Steve Austin. Dispatching nearly an hour of TODAY IS THE DAY's creepiest and heaviest chaos in years, Animal Mother's wrath recalls elements of their most seminal albums, as always merging murderous anger and horribly depressed vibes into a volatile, unclassifiable, prophetic style of metal all its own. With cult leader Austin joined by drummer Jeff Lohrber (Enabler, ex-Harlots) and bassist Sean Conkling (Regression, Burn Your Halo, Sprawl), the album was recorded, produced and mastered at the frontman's Austin Enterprises in Maine, and has reaped international critical acclaim for several months now. Exclaim!'s featured 9/10 review offered, "While reminiscent of the band's late-'90s works Temple of the Morning Star and In the Eyes of God, the new album includes gorgeous melodic elements." Terrorizer Magazine's outstanding review included, "Ten albums in, TODAY IS THE DAY still stand as the ultimate rebuke to genre-obsessed boilerplate metal, wrenching exorcisms into artworks and imbuing them with a heaviness that goes right down to the marrow," and Last Rites proclaimed Animal Mother is, "the most depressing album since Sadness Will Prevail by a longshot. It may even out-sad Sadness… It's some of Austin's more masterful work in a career already lined up with minor classics." Lambgoat informs the masses, "For the few of you that haven't heard TITD at some point, you've most certainly heard something just one step away. Do you like Converge? Austin produced their When Forever Comes Crashing album. How about Lamb Of God? Austin produced New American Gospel. What about that obscure band Mastodon? Well, Mastodon's rhythm section was once TODAY IS THE DAY's rhythm section. Alright, I'm sure you get it. Austin is a lifer, and TODAY IS THE DAY has been a faithful component of our little scene for two decades…" Following two months of solid touring, on the way to begin another month on the road, Steve Austin and the band's tour merchandise handler, Trevor Thomas, were involved in a serious van accident, halting all live actions until the band gets back on its feed. But when they do, goddammit watch out, because they'll be on the warpath. Come on down and get saved! Animal Mother is out now, available on CD colored vinyl LP including bundles HERE, and via BandCamp HERE.
TORCH RUNNER – Endless Nothing
September also saw the release of North Carolina-based trio, TORCH RUNNER's sophomore LP, Endless Nothing. Here, the band unleashes a brew of rabid, grinding, hardcore rage and hardline vocal tirades, making them a sure thing for diehard followers of Napalm Death, Dead In The Dirt, Nails and Homewrecker. About.com's heavy metal sector issued a 4/5 review, in part stating, "This is wall to wall crust with not a bit of grit getting wasted throughout… an absolutely punishing affair from start to finish and you'll nary catch a single breath before the end of its duration." Cvlt Nation spewed, "… pick up this scathing album – it's PURE FUCKING SONIC MURDER!" The band hit the West Coast of North America supporting Obliterations and Baptists as all three bands released their new LP's through Southern Lord, and much more is to be expected of this band in the coming months. Orders for both CD and LP versions of Endless Nothing, as well as Southern Lord's recent reissue of the band's Committed To The Ground debut on CD and LP are available HERE. Digital versions are available HERE.
Currently Confirmed Southern Lord Live Actions:
AGRIMONIA
w/ Ghost Brigade:
2/06/2015 Magnet – Berlin, Germany
2/07/2015 Liverpool – Wroclaw, Poland
2/08/2015 Arena – Wien, Austria
2/09/2015 Rockhouse – Salzburg, Austria
2/10/2015 Backstage – München, Germany
2/11/2015 Kiff – Aurau, Switzerland
2/12/2015 Glazart – Paris, France
2/13/2015 The Purple Turtle – London, UK
2/14/2015 Patronaat – Haarlem, Holland
2/15/2015 Turock – Essen, Germany
2/16/2015 Kavka – Antwerpen, Belgium
2/17/2015 Hafenklang – Hamburg, Germany
BL'AST
w/ Down, Orange Goblin, King Parrot [REMAINING DATES]:
12/08/2014 The Fillmore – San Francisco, CA
12/10/2014 Showbox at the Market – Seattle, WA
12/11/2014 Commodore Ballroom – Vancouver, BC
12/13/2014 Union Hall – Edmonton, AB
12/14/2014 Flames Central – Calgary, AB
12/15/2014 Knitting Factory – Spokane, WA
12/17/2014 Summit Music Hall – Denver, CO
12/19/2014 Diamond Ballroom – Oklahoma City, OK
12/20/2014 Gas Monkey Live – Dallas, TX
12/21/2014 Warehouse Live – Houston, TX
BLACK BREATH:
12/14/2014 Saint Vitus Bar – Brooklyn, NY [info]
Northwest Perversion 2015:
1/16/2015 The Astoria – Vancouver, BC
1/17/2015 The Swillery – Bellingham, WA
1/18/2015 Blackwater – Portland, OR
1/19/2015 Chop Suey – Seattle, WA

BLACK COBRA
West Coast Tour w/ Wolvhammer:
12/08/2014 Catalyst – Santa Cruz, CA
12/10/2014 Brick By Brick – San Diego, CA
12/11/2014 Complex – Los Angeles, CA
12/12/2014 The Garage – Ventura, CA
12/13/2014 Thee Parkside – San Francisco, CA

EARTH
Winter European Tour 2015 w/ Black Spirituals, Don McGreevy & Rogier Smal Duo:
1/22/2015 OCCII – Amsterdam, NL
1/23/2015 La Maroquinerie – Paris, FR
1/24/2015 L'Epicerie Moderne – Lyon, FR
1/25/2015 Dachstock – Reitschule – Bern, CH
1/27/2015 Antigel Festival – Geneva, CH *
1/28/2015 Lo Fi Club – Milan, IT
1/29/2015 Init Club – Rome, IT
1/30/2015 Freakout Club – Bologna, IT
1/31/2015 Orpheum Extra – Graz, AT
2/01/2015 Kino Siska – Ljubljana, SK
2/02/2015 Arena – Vienna, AT
2/03/2015 Mochvara Klub – Zagreb, HR
2/04/2015 A38 – Budapest, HU
2/06/2015 K4 – Nurnberg, DE
2/07/2015 Club Manufaktur – Schorndorf, DE
2/08/2015 Volksbuhne – Berlin, DE
2/09/2015 Pipl – Moscow, RU w/ Nadja *
2/10/2015 Kuudes Linja – Helsinki, FI w/ Janne Westerlund *
2/11/2015 Debaser Strand – Stockholm, SE
2/12/2015 Vulkan Arena – Oslo, NO
2/13/2015 Truckstop Alaska – Gothenburg, SE
2/14/2015 Voxhall – Aarhus, DE
2/15/2015 Jazzhouse – Copenhagen, DK
2/17/2015 FZW – Dortmund, DE
2/18/2015 Vera – Groningen, NL
2/20/2015 Islington Assembly Hall – London, UK
2/21/2015 The Oobleck – Birmingham, UK
2/22/2015 Brudenell Social Club – Leeds, UK
2/23/2015 The Cluny – Newcastle, UK
2/24/2015 The Komedia – Brighton, UK
2/25/2015 De Kreun – Kortrijk, BE
2/27/2015 Kyttaro Club – Athens, GR *
2/28/2015 Borusan Müzik Evi – Istanbul, TU *
5/08-5/10/2015 Austin Psych Fest: Levitation – Austin, TX
[* EARTH only]
GOATSNAKE:
5/24/2014 Maryland Deathfest – Baltimore, MD w/ Amorphis, Anaal Nathrakh, Inverloch, Neurosis, Primordial, Winter, more
5/29-31/2015 Temples Festival – Bristol, UK w/ Sunn O))), Today Is The Day and Martyrdöd
MARTYRDÖD:
5/23/2015 Maryland Deathfest – Baltimore, MD @ w/ Agoraphobic Nosebleed, Antigama, Cephalic Carnage, Full of Hell, Inter Arma, Wolfbrigade, more
http://www.southernlord.com
http://twitter.com/twatterlord
http://southernlord.bandcamp.com
http://www.facebook.com/SLadmin