Just days ahead of its official release, the writhing, primal, sludge-ridden tones of Endsville — the collaborative double LP release from GODHUNTER and DESTROYER OF LIGHT — is now available for streaming in its entirety courtesy of The Sludgelord, who is the sponsor of the joint US tour both bands are about to embark on next week.
GODHUNTER vs. DESTROYER OF LIGHT: Endsville delivers twenty minutes of new material and a cover from each band. The first platter, from Tucson/Vancouver-based metallic doom/sludge bandits, GODHUNTER, was recorded at WaveLab Studios in Tucson by Dana Fehr (North, Juarez), the newest in a steady line of titles since their 2014-released debut LP, City Of Dust, including their GH/OST:S split LP with Secrets Of The Sky and The Outer Dark collaborative 7″ with Amigo The Devil. The adjacent slab by Austin-based psychedelic doom outfit, DESTROYER OF LIGHT, follows the band's 2012-released self-titled debut album and 2014's Bizarre Tales Vol. II EP, and was recorded at Orb Recording Studios in Austin, engineered and mixed by Matt Meli. The entire album was then mastered by James Plotkin, and fitted with album artwork created from an incredibly complex sculpture art installation by Bestia Dentro and photography by Andrew Weiss.
In the write-up adjoining the full album stream, The Sludgelord offers of the release, "GODHUNTER vs. DESTROYER OF LIGHT presents Endsville, a marriage of primal heaviness, a juggernaut release, pairing together two underground heavyweights slugging it out in a bid to out-muscle each with nothing more than treacle thick riffs in form of brand new material from both acts." Additionally, interviews with both bands are paired with the album stream.
Embark on the dynamic voyage of exploring GODHUNTER vs. DESTROYER OF LIGHT: Endsville for yourself via The Sludgelord now at THIS LOCATION.
The previously released video for GODHUNTER's "Cassandra Complex" is playing via Cvlt Nation HERE, DESTROYER OF LIGHT's "Electric Shadows" lyric video at The Obelisk RIGHT HERE, and the Endsville art installation trailer at Gear Gods HERE.
Endsville sees a joint release through GODHUNTER co-owned Battleground Records and DESTROYER OF LIGHT's Heavy Friends Records this Friday, July 24th; two slabs of 180-gram vinyl on two colors packed in a gatefold sleeve. Orders can be placed for the wax HERE and the digital HERE.
In just one week, GODHUNTER and DESTROYER OF LIGHT will embark on their Sludgelord-sponsored Endsville tour of the US together. With twenty-five cities on the chopping block, the tour embarks out of GODHUNTER's home base of Tucson, Arizona next Wednesday, July 29th, and after wrangling its way throughout the country in a mangled line through at least two-thirds of the country, will come to a halt in DESTROYER OF LIGHT's turf in Austin, Texas on August 22nd. One of the highlights of the trip will include both bands sharing the stage with Whiplash, Krieg, Valkyrie, Imperial Triumphant, Nightbitch, Immortal Bird, Secret Cutter and more at the inaugural Death To False Metal Festival in Hamden, Connecticut on August 14th and 15th.
Coverage of both acts is "highly" encouraged on this tour; interrogations and major throwdowns all-around.
GODHUNTER vs. DESTROYER OF LIGHT Endsville 2015 Tour:
7/29/2015 Club Congress – Tucson, AZ [info]
7/30/2015 Yucca Tap Room – Tempe, AZ [info]
7/31/2015 The Sandlot – El Paso, TX [info]
8/01/2015 The Launchpad – Albuquerque, NM [info]
8/02/2015 Seventh Circle – Denver, CO [info]
8/03/2015 The Reverb Lounge – Omaha, NE [info]
8/04/2015 Triple Rock – Minneapolis, MN w/ Ambassador Gun [info]
8/05/2015 LiveWire Lounge – Chicago, IL [info]
8/06/2015 Shakespere's Pub – Kalamazoo, MI @ Fat Guy Fest [info]
8/07/2015 Fifth Quarter Lounge – Indianapolis, IN [info]
8/08/2015 Magnolia Bar – Louisville, KY
8/09/2015 Pour House – Raleigh, NC
8/10/2015 The Empty Glass – Charleston, WV
8/11/2015 Gooski's – Pittsburgh, PA [info]
8/12/2015 Mohawk Place – Buffalo, NY [info]
8/13/2015 Saint Vitus Bar – Brooklyn, NY w/ Immortal Bird [info]
8/14/2015 KoTo – Salem, MA
8/15/2015 The Outer Space & Ballroom – Hamden, CT @ Death To False Metal Fest [info]
8/16/2015 Kung Fu Necktie – Philadelphia, PA
8/17/2015 The Depot – Baltimore, MD [info]
8/18/2015 Thomas Creek Brewery – Greenville, SC
8/19/2015 The Basement – Atlanta, GA [info]
8/20/2015 Vino's Pizza Pub Brewery – Little Rock, AR [info]
8/21/2015 Saturn Bar – New Orleans, LA
8/22/2015 Holy Mountain – Austin, TX [info]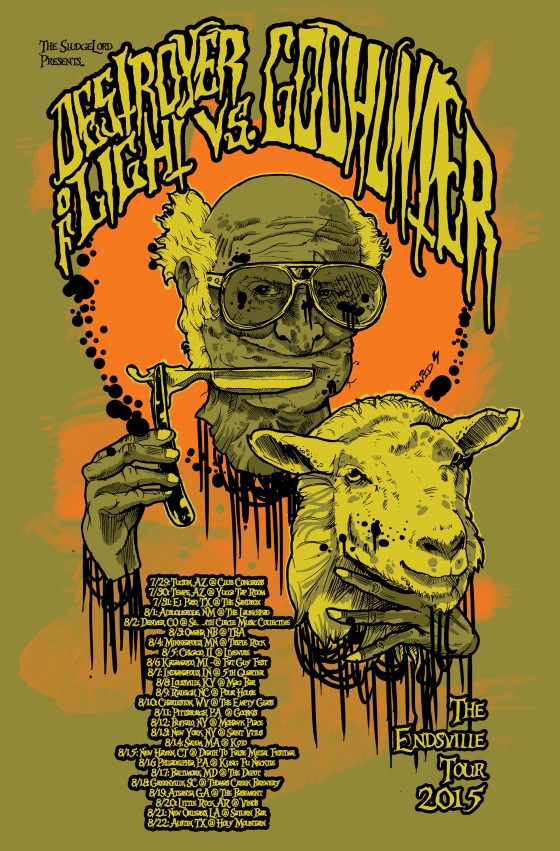 http://www.facebook.com/godhuntersludge
http://www.dirtweedmetal.com
http://www.battlegroundrnr.com
http://www.destroyeroflight.bandcamp.com
http://www.facebook.com/destroyeroflight
http://www.facebook.com/pages/Heavy-Friends-Records/1396186950655438