[photo by Aga Hairesis]
In the wake of their fifth official full-length release, The God Rhythm, WISDOM IN CHAINS has just issued the first official video from the LP, as the band prepares for their headlining record release show for the record this weekend.
Surging with fourteen new tracks blending even more metallic intensity into their oi/punk-inspired hardcore, WISDOM IN CHAINS' The God Rhythm was released last week via Fast Break! Records. Loaded with nearly forty minutes of unyielding, groove-heavy action laden with inspiring lyrics and empowering gang chants, the LP was captured in bruising clarity, recorded by Len Carmichael at Trax East and Carmichael Sound, and the vocals recorded at Mountainside Studios by Rich Rescigno. The band's new video was created for the track, "When We Were Young," the song's insightful look back at the early days of life blends an entertaining plotline with performance footage, filmed and produced by There's Always Next Year Productions.
Shred to WISDOM IN CHAINS' new "When We Were Young" video, featured on the Fast Break! Records home page HERE and directly via YouTube HERE.
Also stream the entire The God Rhythm album through Blow The Scene RIGHT HERE and watch the extensive interview trailer on the album's creation at New Noise Magazine HERE.
The God Rhythm is available now on CD and multiple colors/pressings of 12″ vinyl including merch bundles via Fast Break! Records RIGHT HERE, and through iTunes HERE.
WISDOM IN CHAINS will celebrate the release of The God Rhythm with hometown/area fans this Saturday, June 27th at Club Reverb in Reading, Pennsylvania, the record release show including an outdoor BBQ event, as well as live support from Strength For A Reason, Yesterday's Youth and more. WISDOM IN CHAINS will also make their return to This Is Hardcore in Philadelphia on July 23rd joining the likes of the Misfits, The Exploited, the Cro-Mags, Negative Approach, Chokehold, Nails, All Out War, Bane, Biohazard and many others. August will see the band returning to Europe, confirmed to perform at Brutal Assault in the Czech Republic in early August with At The Gates, Cannibal Corpse, Killing Joke, Napalm Death, Nuclear Assault, The Dillinger Escape Plan, Triptykon and more, with a set of tour dates surrounding the festival to be announced in the coming days.
WISDOM IN CHAINS Tour Dates:
6/27/2015 Club Reverb – Reading, PA *record release show [info]
7/23/2015 The Electric Factory – Philadelphia, PA @ This Is Hardcore [info]
8/05-08/2015 Fortress Josefov, CZ @ Brutal Assault [info]
In an interview with WISDOM IN CHAINS early into the promotion of The God Rhythm, No End In Sight Zine writes, "It takes an unbelievable level of passion, commitment, and sacrifice to keep a hardcore band two-stepping, moshing, and screaming for as long as Wisdom In Chains has. They've endured everything from being robbed to becoming family men with full time jobs, yet they still bring more energy to their live shows than most bands half their ages, and they continue to release some of the catchiest hardcore albums you'll ever lay your ears upon." Stereokiller's crushing 4.5/5 review of the album issues in part, "I'm not sure how many listens it took me, but I think I found my favorite WISDOM IN CHAINS song yet with 'Best Of Me.' Lyrically it speaks to me on a level that I haven't experienced many times before. Maybe I'm just interpreting the words to fit my life, but that's fine, and that's what the beauty of what WISDOM IN CHAINS is. There are countless hardcore bands writing three chord songs about being mad, but how many are writing actual songs? Songs that conjure an emotion other than aggression?" Legends Arising praised the record as well, offering, "The God Rhythm is an incredibly forceful hardcore album, addressing all the themes you'd expect and some more. After more than a decade WISDOM IN CHAINS still improves and broadens, without ever compromising the scorching fury that made the band what it is today. Get. This. Record." And About.com's Heavy Metal sector declares, "Hardcore vocals combine with thrashy riffs and a punk attitude to craft an album that's aggressive and potent. It's also packed with memorable songs and shoutalong/singalong choruses."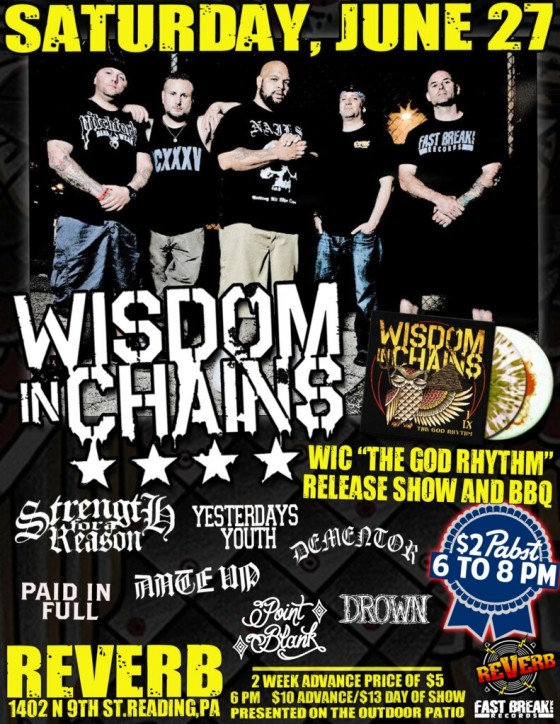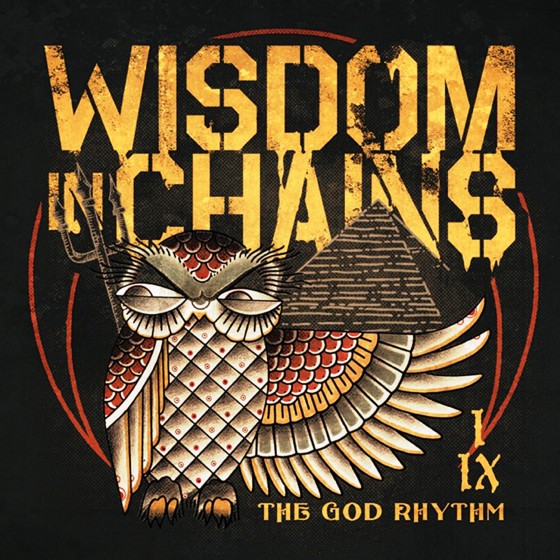 http://www.facebook.com/WisdomInChainsPAHC
http://www.oninstagram.com/wisdominchains
http://twitter.com/wisdominchains
http://www.fastbreakrecords.com
http://www.facebook.com/FastBreakEnt
http://twitter.com/fastbreakpa