[photo by Bobby Ross]
A new lyric video for KING GIANT's "Trail Of Thorns," culled from the band's rapidly approaching Black Ocean Waves album, has been made publicly available through an exclusive premiere with Revolver Magazine.
Celebrating their tenth year as a band, KING GIANT's latest tales of blood, tears and revenge through their brooding, doom-drenched take on Southern rock/metal are ready for release as the mighty Black Ocean Waves. The band recorded the album in July 2014 at Magpie Cage Studios in Baltimore with engineer J. Robbins of Jawbox (Clutch, The Sword, Wino) who also mixed the record and supplies Hammond organ to the track, "Blood Of The Lamb" and background vocals on "Trail Of Thorns," the latter of which is the latest single from the album to see release through a lyric video, created from various foreign 1970s horror films and other footage.
View KING GIANT's "Trail Of Thorns," featuring J Robbins of Jawbox, via Revolver at THIS LOCATION.
The band also recently released a lyric video for "Red Skies"via New Noise Magazine RIGHT HERE.
Black Ocean Waves will wash ashore on June 30th with CD/digital distribution through The Path Less Traveled, with a vinyl edition to follow shortly afterward. Following a recent release party for their brand new Black Ocean Waves Beer, through Fair Winds Brewing Company in Lorton, Virginia, KING GIANT has booked several new gigs for the Summer months. A record release show for the album has been locked up for June 13th in Richmond, Virginia, followed by a pair of mid-August shows in Baltimore, Maryland and Dale City, Virginia, as additional shows continue to be secured.
KING GIANT Live:
6/13/2015 Canal Club – Richmond, VA
8/21/2015 Metro Gallery – Baltimore, MD w/ Foghound, Midnight Ghost Train
8/22/2015 L&Bs – Dale City VA w/ Foghound, Midnight Ghost Train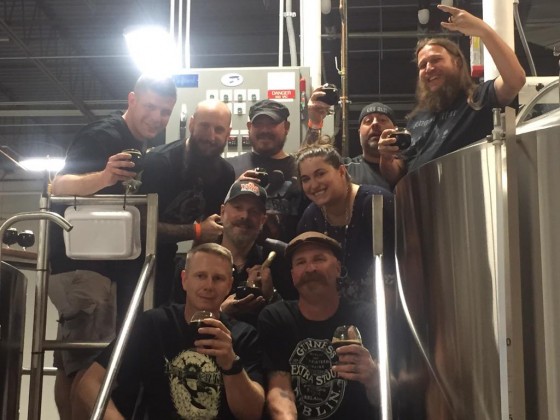 http://www.kinggiant.com
http://kinggiant.bandcamp.com
http://www.facebook.com/kinggiantband
http://twitter.com/kinggiantrocks