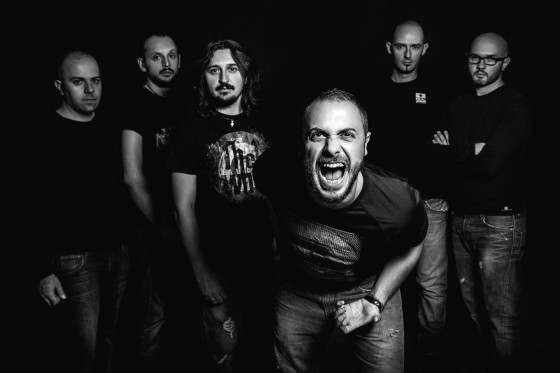 With the street date for Italian progressive metal sextet KINGCROW's sixth album, Eidos, rapidly approaching, a new single from the record has been released through an exclusive premiere of "At The Same Pace" at BraveWords.com.
Boasting over an hour of material which closes the path-of-life saga of their prior two albums — Phlegethon dealing with childhood, and In Crescendo about the end of youth — Eidos carries a more foreboding, ominous edge than KINGCROW's other releases. "At The Same Pace" is the eighth of the ten brand new movements on the album, and after leading off with a somber, clean intro, the track lifts off into a nearly eight-minute endeavor, which is as heavily motivated by synth-soaked atmospheres as it is a mid-paced, thundering, drive.
Listen to KINGCROW's "At The Same Pace" via BraveWords now at THIS LOCATION.
Recently, KINGCROW also released their first official video for Eidos, constructed the track, "The Moth," through the animated style of Argentinean artist Gastón Viñas, widely known for his videos for Radiohead, including "2+2=5" and "A Wolf At The Door," which combined have collected nearly fifteen million views on YouTube.
"The Moth" is now playing RIGHT HERE.
Rome-based KINGCROW, returns with Eidos, a conceptual album about choices, consequences, and dealing with regret and disillusion. Musically it sees the band exploring new territories and pushing the extremes of its complex soundscape attributes with a darker atmosphere. Eidos was recorded at Sound Under Pressure in Rome, with the production handled by the band's Diego and Thundra Cafolla. Several guest appearances help create the album's new atmospheres, including saxophone provided by Stefania Bentivoglio on the track, "Slow Down," and piano by Fred Colombo of Spheric Universe Experience for the track, "The Deeper Divide." Mixed by Giampiero Ulacco and mastered by Alan Douches at West West Side Music in New York, the stunning production of the album is matched by visionary artwork by Cristian Nastasi/Devilnax. The next logical progression in the evolution of KINGCROW, Eidos will open the next doorway for whatever lies ahead. Sensory Records, who also released KINGCROW's In Crescendo album, will unveil Eidos on CD and digitally worldwide on June 23rd.
http://www.kingcrow.it
http://www.facebook.com/Kingcrowband
http://twitter.com/kingcrowband
http://www.lasersedgegroup.com/labels/sensory-records
http://www.facebook.com/TheLasersEdge
http://twitter.com/thelasersedge