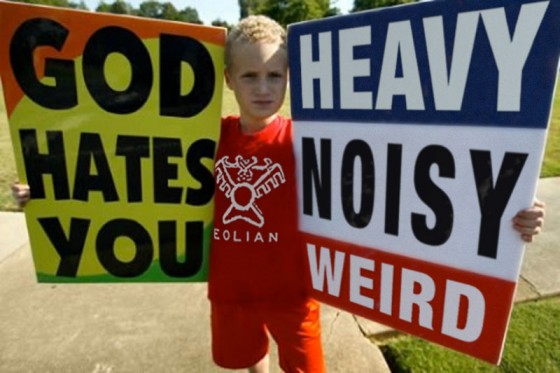 It was the best of times, it was… sorry, what was that? Anyway, before you are deluged by a slew of half-assed year-end lists and enter into a thunderdome of thread battles with commenters much less sophisticated than you, the consummate discerning listener, EOLIAN EMPIRE is here with the playback of the heavy, noisy, weird highlight reel of 2014.
WHORES and RABBITS answered the age-old question, "Darf man alte The Cure Klassiker so behandeln?" with a definitive, "Ja, wir können," on their 7-inch split–co-released by Brutal Panda–of Cure covers. Verbicide called it "a gloriously deranged take on a few songs from one of alt rock's heavy hitters done by a couple of bands who are keeping it dirty and nasty in the underground," and CVLT Nation effused, "off the freaking charts." WHORES hit the road hard this year, wowing crowds at SXSW (one of Spin's "The Five Best Things We Saw on Friday"), Heavy Montreal (its "secret champions" according to exclaim.ca), Fun Fun Fun Fest, and elsewhere, plus have a brand new track on the 13th installment of AmRep's Dope, Guns, & Fucking in the Streets. RABBITS released their latest 12-inch, Untoward, on Lamb Unlimited in August to much acclaim, like The Onion's A.V. Club, who spat, "Like a shovelful of sludge to the skull, the record reeks of blood, mud, and the rancid pheromones of AmRep veterans like Cows and Killdozer," Verbicide who came in with, "Their ability to absorb outside influences makes even more deadly," and Invisible Oranges said some cool shit like, "In a noise rock scene dulled by younger musicians trying to be someone else, RABBITS have been RABBITS. Lines can be drawn – you could add the descriptor 'heavier' to Flipper or Shorty and be in the ballpark – but nothing really sticks besides 'RABBITS." The band spent October crushing skulls in Europe with Norwegian touring partners Arabrot and MoE. Old school Lehigh Valley zinester Frank FOE put it simply, but perhaps best: "WHORES and RABBITS are two modern day noise rock bands. Unsane set the standard in my books back in the day, these two bands carry the torch mightily." Hear hear. (Cough cough.)
Gruesome bass-and-drums twosome TOWERS redefined what it means to be a "doom" band with their second LP, aptly titled II, "a portrayal of otherworldly toxicity made real and concrete through righteously vile and unwelcoming noise" (The Obelisk). The stunning apocalyptic symphony of four movements through mutant grooves, weird hooks, sludgy crawls, cavernous explorations, and haunting nightmares had UK zine The Quietus championing it as "vivid, vicious, viscous, deeply psychedelic stuff," adding: "Submit yourself to the mindflames immediately." Mindflames.
PRIZEHOG released their third LP Re-Unventing the Whool, driving esteemed Aquarius Records to heap on the praise: "PRIZEHOG should be adored, they should be worshipped the way Harvey Milk and Boris and the Melvins are… as hard as it may be for some folks to believe, PRIZEHOG might have outheavied, and outweirded, and outgeniused those masters, and become masters themselves, masters of fucking alien prog-doom, long haired, psych sludge, dirge-drone, damaged art pop. Fuck yeah." Fuck yeah indeed. The celestial space sludge trio trekked across the US and back this summer for the umpteenth time with their "oppressively bodacious guitar/synth/drum attack (Boston Hassle), bludgeoning, bewildering, and bewitching in equal measure. Get your "Whoady" on with the video for that mindwarper by Cinco Sanders and starring Newt Gingrich HERE.
Doom devastators GRAVES AT SEA relocated and reformed with a new rhythm section in Portland, Oregon, and wasted no time reminding everyone why they were missed. Their first new track in four years, the A-side title track of the This Place Is Poison EP, was a crusty taste of their energetic path forward, backed by their heavily damaged and deconstructed take on Black Sabbath's "Lord of This World." The Sleeping Shaman smoked the EP with accolades including, "The riffs are monstrously heavy and there is a groove that will not let you go. Everything is covered in a thick crust of filth and the vocals are still insane and hateful. These guys do such a great job at pounding their listeners into a pulp." Apoch's Metal Review roasted it with a 9/10 review: "…by the end you'll have the urge to go to your favorite (or the most suiting) vice, flip the record, and experience this solid doom metal EP all over again." Longtime fans and newbies alike were treated–or rather, mistreated–with intense performances at Roadburn, Maryland Death Fest, and Heavy Days in Doomtown [links for full sets] as well as a UK tour with Sourvein. What's next?! Live footage from Maryland Deathfest is rolling HERE.
Cyberneticists HOT VICTORY dropped their first ever full-length, "an album's worth of jarring samples and polyrhythmic propulsion unmatched by anyone this side of Ralf Hütter and Florian Schneider" (Willamette Week), "throw[ing] a kitchen sink of drums, drum pads, synths, tape loops, samples–you name it–together in pretty fascinating ways" (Brooklyn Vegan). This Summer HOT VICTORY supported the mighty Floor, The Obelisk calling their set "some of the most satisfying prog I've seen live since the early days of Zombi." You can see how just how much racket two people can make while sitting down in their tripped-out performance video for "Island Realm" RIGHT HERE.
DRUNK DAD dropped their debut Ripper Killer LP this year, "combining the thunderous sludge of Melvins, the confrontational punk rock of Flipper, and the abrasion and psychosis of Harvey Milk" (Decibel). Invisible Oranges likened the record to, "a triple word score for 'noise rock' and 'grunge'," Verbicide called it "equal parts shocking, thrilling, and kick ass," and Metal Descent stated succinctly, "Finally, someone uses the monikers grunge and hardcore and that's exactly what you get all modernized and shit." All modernized and shit–it's a new age. DRUNK DAD got weird on a whirlwind US tour with Portland and Eolian party-violence pals HONDURAN in September. New friendships were forged, old brain cells were lost. You can check out a live-in-studio performance from KEXP: CLICK THIS.
Those surly space punks BIG BLACK CLOUD gave us Lessons in Fuck You 2, a collection of weird and wild anxious alien anthems and monster madness, a reckless rollercoaster ride through punk, noise, garage, surf, and B-movie soundtracks, "a musical narrative that would seem suitable for a Repo Man reboot (though this should never happen), sci-fi for cassette geeks still firmly attached to underground anti-everything" (Stereokiller). Do like the Portland Mercury says and get "all loud and mad and splattery."
EOLIAN also added a couple special editions to the digital discography: the mind-melting psych/kraut/protometal jams of UNDERLORDS TAKE ACID, featuring members/ex-members of RABBITS, FIST FITE, and DIESTO, and the twelve-band live compilation (We've Gotta) KEEP OUR HEAD Alive — culled from last year's release shows for (We've Gotta) KEEP OUR HEADS: Heavy Vibes from Portland, Oregon featuring ACRE, IX, NORSKA, HOT VICTORY, BIG BLACK CLOUD, GAYTHEIST, REDNECK, SIOUX, PALO VERDE, TOWERS, HONDURAN, and RABBITS.
And this week is the HEAVYVIBES sale. Vinyl and cassettes are 11% off with code HEAVYVIBES, and digital releases are 10% off with code heavyvibes, including BIG BLACK CLOUD, DRUNK DAD, HOT VICTORY, GRAVES AT SEA, PRIZEHOG, TOWERS, WHORES, RABBITS, DEAD, DIESTO, HONDURAN, ARABROT, ORDER OF THE GASH, GONE TO CROATOAN, REDNECK, SLAM DUNK (WITH AUTHORITY!), ACRE, THE CYSTS, UNDER MOUNTAINS, CITY OF CHURCHES and PURPLE RHINESTONE EAGLE. Happy motherfucking holidays. God hates you.
Oh, you check out lots of videos, including live and in-studio stuff, of EOLIAN EMPIRE bands at https://www.youtube.com/user/EolianEmpire.
http://www.eolianempire.com
http://goods.eolianempire.com
http://www.facebook.com/eolianempire