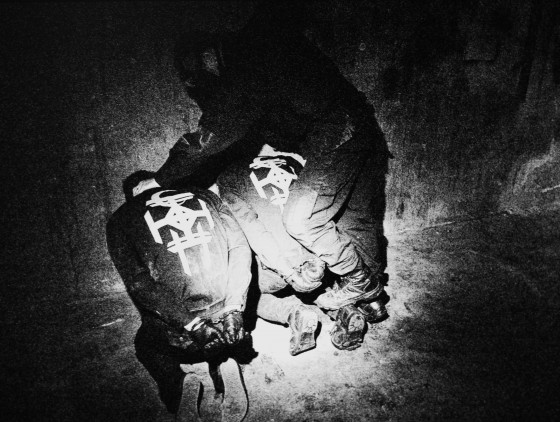 CORRECTIONS HOUSE is packing up their munitions in preparation for their imminent, near three-week live assault on the US. Scheduled to commence on November 30th in Boston, Massachusetts, the legion will raze nineteen megalopolises, with the overthrow coming to a halt on December 20th in Portland, Oregon.
Proclaims recently institutionalized minister of propaganda, Seward Fairbury: "CORRECTIONS HOUSE will bring their truncheon down on your head repeatedly until you submit or vacate the premises. This band has grown into a force since their initial trek through the landscape known as the United States of Unamerican activities. They will bludgeon you with no apology. Test us."
In conjunction with the tour, CORRECTIONS HOUSE will release Writing History In Advance, a debaucherous testament of audio decomposition recorded live in Los Angeles earlier this year. The release will come available in a CD digipack via War Crime Recordings December 1st, 2014 and is currently available for pre-order at THIS LOCATION.
In the meantime, check out a rare, non-album exclusive cover of Neil Young classic "Cortez The Killer," currently streaming at Noisey RIGHT HERE.
CORRECTIONS HOUSE Tour 2014:
11/30/2014 Brighton Music Hall – Boston MA
12/01/2014 St. Vitus – Brooklyn, NY
12/02/2014 Café 9 – New Haven, CT
12/03/2014 Metro Gallery – Baltimore, MD
12/04/2014 Strange Matter – Richmond, VA
12/05/2014 Grog Shop – Cleveland, OH
12/06/2014 Pro Arena – Dayton, OH
12/07/2014 Magic Stick Lounge – Detroit, MI
12/08/2014 Cobra Lounge – Chicago, IL
12/09/2014 The High Tone – Memphis, TN
12/10/2014 Siberia – New Orleans, LA
12/11/2014 Fitzgeralds – Houston, TX
12/12/2014 Hotel Vegas – Austin, TX
12/14/2014 Three Links – Dallas, TX
12/16/2014 Club Red – Mesa, AZ
12/17/2014 Complex – Los Angeles, CA
12/18/2014 Soda Bar – San Diego, CA
12/19/2014 DNA – San Francisco, CA
12/20/2014 Rotture – Portland, OR
CORRECTIONS HOUSE features Fairbury alongside sound conspirators Mike IX Williams (Eyehategod), Scott Kelly (Neurosis), Bruce Lamont (Yakuza) and Sanford Parker (Minsk). The collective released their Last City Zero debut full-length via Neurot Recordings last year. Produced by Parker at Electrical Audio, Soma Studios, 60 Psycho Hum and Nodferatu's Lair, Last City Zero is the audio end product of government conspiracies, societal ruin and psychological decay.
CORRECTIONS HOUSE recently put the finishing touches on their forthcoming new full-length, set for release sometime in 2015. Further info to be revealed as it develops. Until then, writhe.
"Whether it's Mike IX Williams' grim spoken word poetry or Scott's coarse, monotone groan overlaying the clangorous soundscapes, it's the utter bleakness that binds." – Meta Hammer
http://warcrimerecordings.bigcartel.com
http://www.facebook.com/WarCrimeRecordings
http://www.neurotrecordings.com
http://www.facebook.com/neurotrecordings