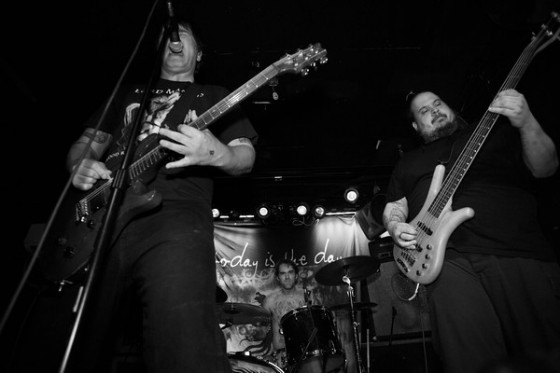 Violent, visionary, longstanding metal trio, TODAY IS THE DAY has issued a new list of target cities for live actions in support of their brilliantly destructive tenth full-length album, Animal Mother, released in mid-October via Southern Lord.
Having just completed an exhaustive US trek with a month of headlining tour dates and then another two weeks directly supporting Eyehategod, TODAY IS THE DAY issues a new warning to humans in the Midwest and Northeast regions that the outfit's newest tour itinerary includes a metropolis in your locale. The brand new dates will kick off this weekend, with the first slated for this Saturday, November 29th in Pittsburgh. The routing will then slither north and south through the eastern half of the country through December 21st, with the latter half of the tour still being finalized, and to be announced in the coming days. So come on down and get saved this holiday season! Additional live TODAY IS THE DAY offensives will be broadcasted through the coming months.
Following the release of the official video of TODAY IS THE DAY's brutal immediate classic, "Masada," late this past Summer, a new visual version of "Animal Mother" is in construction for release in the coming weeks, with David Hall of Handshake Inc. responsible for masterminding both projects. Watch "Masada" RIGHT HERE.
Animal Mother is out now via Southern Lord, available on CD colored vinyl LP including bundles HERE, and via BandCamp HERE.
TODAY IS THE DAY Tour Dates:
11/29/2014 The Shop – Pittsburgh, PA
11/30/2014 Yonka House – Detroit, MI w/ Hollow Earth
12/01/2014 Frank's Power Plant – Milwaukee, WI w/ Northless
12/02/2014 Hexagon Bar – Minneapolis, MN
12/03/2014 Eronel – Dubuque, IA
12/04/2014 Fubar – St. Louis, MO
12/05/2014 TBA – Champaign, IL
12/06/2014 Cobra Lounge – Chicago, IL
12/07/2014 Blind Bob's – Dayton, OH
12/08/2014 Tremont Music Hall – Charlotte, NC
12/09/2014 Bandito's – Richmond, VA w/ Hex Machine
12/10/2014 Cafe Nine – New Haven, CT
Dispatching nearly an hour of TODAY IS THE DAY's creepiest and heaviest chaos in years, Animal Mother's wrath recalls elements of their most seminal albums, as always merging murderous anger and horribly depressed vibes into a volatile, unclassifiable, prophetic style of metal all its own. With cult leader and guitarist/vocalist Steve Austin joined by drummer Jeff Lohrber (Enabler, ex-Harlots) and bassist Sean Conkling (Regression, Burn Your Halo, Sprawl), the album was recorded, produced and mastered at the frontman's Austin Enterprises in Maine, features original artwork by Samantha Muljat (Bl'ast, Earth, Baptists), and has reaped international critical acclaim for several months now. Part of Exclaim! Magazine's featured 9/10 review of Animal Mother issued, "While reminiscent of the band's late-'90s works Temple of the Morning Star and In the Eyes of God, the new album includes gorgeous melodic elements," calling it, "another jarring and powerful offering in TODAY IS THE DAY's unique and emotive catalogue." Terrorizer Magazine's outstanding review included, "Ten albums in, TODAY IS THE DAY still stand as the ultimate rebuke to genre-obsessed boilerplate metal, wrenching exorcisms into artworks and imbuing them with a heaviness that goes right down to the marrow," Ghost Cult gave it an 8.5/10, stating, "Animal Mother's main musical coin is the filthy, heaving riff topped with Austin's pained, furious roars and screams, but these collide with deliberate awkwardness into melodic passage, uncomfortable acoustic explorations and electronic noises," and Last Rites proclaimed Animal Mother is, "the most depressing album since Sadness Will Prevail by a longshot. It may even out-sad Sadness, continuing, "existing fans of the band are going to go apeshit for this one. It's some of Austin's more masterful work in a career already lined up with minor classics." Cvlt Nation said that TODAY IS THE DAY, "has been the essence of avant-garde metal and it remains, as of this day, its quintessence; the womb that once enfolded it, and the phallus that continues to demand both dominion, and reconstruction of its initial, perfect image," and Punknews.org crowned the album with a 4.5/5 review: "This album begs to be listened to from start to finish…Austin has a knack for laying bare the depravity of the human condition. It conveys feelings of pure unadulterated rage, and bottomless despair… It can be painfully brutal and hauntingly beautiful, sometimes over the course of the same song. This is a nearly flawless blend of artistic expression and skull-crushing heaviness. Animal Mother has to be considered a serious contender for metal album of the year." Lambgoat informs the masses, "For the few of you that haven't heard TITD at some point, you've most certainly heard something just one step away. Do you like Converge? Austin produced their When Forever Comes Crashing album. How about Lamb Of God? Austin produced New American Gospel. What about that obscure band Mastodon? Well, Mastodon's rhythm section was once TODAY IS THE DAY's rhythm section. Alright, I'm sure you get it. Austin is a lifer, and TODAY IS THE DAY has been a faithful component of our little scene for two decades… Whether you call TITD noisecore, noise rock, noisegrind, post progressive rock, or metal, there's sure to be something on the album that appeals to you.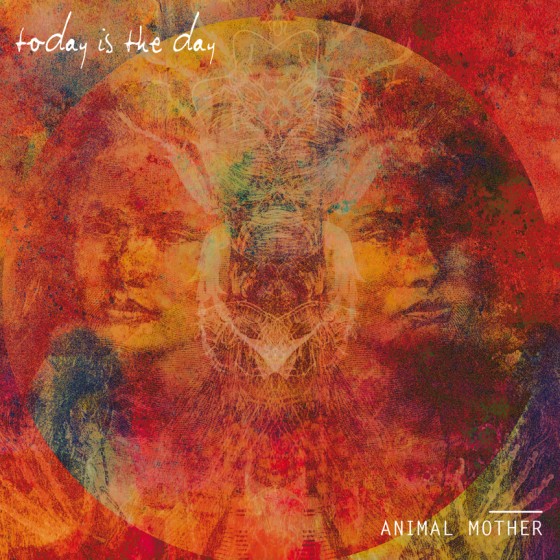 http://www.todayistheday.us
http://todayistheday.bandcamp.com
https://www.facebook.com/todayisthedayofficial
http://www.southernlord.com
http://southernlord.bandcamp.com
https://www.facebook.com/SLadmin
http://twitter.com/twatterlord