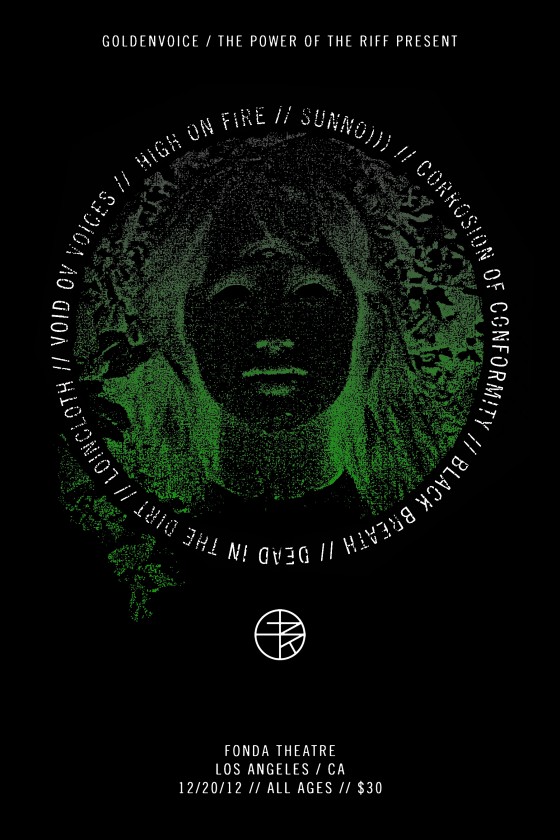 THE POWER OF THE RIFF's next Apocalyptic bash will take place on the eve of the end of the end of mankind as the Mayan calendar runs out in two weeks.
On Thursday, December 20th, THE POWER OF THE RIFF presents a massive all-ages event at The Fonda Theatre in Los Angeles. The lineup for this end-time gala will feature sets by HIGH ON FIRE, SUNN O))), CORROSION OF CONFORMITY (playing a set that will include classics from Animosity, Eye For An Eye and more), BLACK BREATH, DEAD IN THE DIRT, LOINCLOTH (featuring members of Confessor) and VOID OV VOICES (featuring Atilla Csihar).
Two new promotions are running where fans can purchase tickets directly from LA record depots Vacation Vinyl or Amoeba Records and receive a free SUNN O))) rehearsal demo 12″ exclusive to their six-date West Coast tour with support from LOINCLOTH and DEAD IN THE DIRT, coming to a crescendo at THE POWER OF THE RIFF. Tickets are also available now AT THIS LOCATION.
BrooklynVegan today posted year-end lists for curators of THE POWER OF THE RIFF's brutal bashes Sam Velde and Greg Anderson HERE.
SUNN O))) West Coast Tour w/ Dead In The Dirt, Loincloth:
12/14/2012 Roseland/Peter's Room – Portland, OR [info]
12/15/2012 The Wild Buffalo – Bellingham, WA w/ Black Breath [info]
12/16/2012 The Neptune Theatre – Seattle, WA [info]
12/18/2012 The Mezzanine – San Francisco, CA [info]
12/19/2012 The Rio Theatre – Santa Cruz, CA [info]
The Power of the Riff Presents:
12/20/2012 The Fonda Theatre – Los Angeles, CA
w/ High On Fire, Sunn O))), Corrosion Of Conformity, Black Breath, Dead In The Dirt, Loincloth, Void Ov Voices [info]
http://www.thepoweroftheriff.com
http://twitter.com/#!/TPOTR
https://www.facebook.com/ThePowerOfTheRiff
http://www.southernlord.com
http://twitter.com/twatterlord
http://www.facebook.com/SLadmin