[photo by Alvino Salcedo]
"'Animal Crown' is straight to the bone, and sets the tone for the whole record." – WAYFARER
Colorado black metal artisans WAYFARER present the new single from their Profound Lore Records-bound third LP, World's Blood, as Revolver Magazine debuts the massive "Animal Crown." The band has also added their special performance at Fire In The Mountains to their upcoming tour schedule in support of the album.
WAYFARER's World's Blood paints a hallucinatory picture of the Western frontier and the haunting presence of the blood in the soils from a culture lost to time, telling a story that is uniquely American, as reflected in the cover; an antique photograph by Edward S. Curtis taken in Montana in 1908. A reflection of the Rocky Mountains and high plains of their native Colorado, WAYFARER, draws influence as much from the dusty, dark Americana of the "Denver sound" and the scores of epic Westerns as they do the fury and melody of black metal. Recorded in the winter of early 2018 at The Thousand Caves in New York under the watchful production of Colin Marston, the band brings something original to the table with a sound that is at once aggressive and honest.
With their premiere of "Animal Crown," Revolver Magazine issues in part, "It's epic in that it taps into elemental forces that existed before the world was ground into powder by meme culture: sprawling, beautiful, harsh – and most definitely not to be trifled with. In an age where black metal is completely overexposed and much of it has lost its bite, nuance and obscured beauty, 'Animal Crown' reminds us of the genre's latent power."
The band simply offers, "'Animal Crown' is straight to the bone, and sets the tone for the whole record."
Stream WAYFARER's "Animal Crown" at Revolver RIGHT HERE.
Profound Lore will release World's Blood on May 25th; find CD and digital preorders HERE where you can also stream "The Dreaming Plain," CD and LP preorders HERE, and iTunes preorders HERE.
WAYFARER has announced a month-long US tour in conjunction with the release of World's Blood, including a run through the southern states with Primitive Man and Forn on their way through Austin Terror Fest where they'll also join Acid King, Gnaw, Krallice, and many more. WAYFARER then travels onward alongside Krallice through the western states, including a set at the TRVE Brewing Anniversary fest, a performance at Los Angeles Strikefest. The tour closes on with at the Fire In The Mountains gathering in Jackson, Wyoming where the band performs alongside Wovenhand, Panopticon, Krallice, Wayfarer, Falls Of Rauros, Dreadnought, Velnias, Woman Is The Earth, Aerial Ruin, Infernal Coil, and Saddle Of Southern Darkness, the fest taking place June 30th and July 1st at Heart Six Ranch in Moran, Wyoming, on an outdoor stage, where fans can eat, drink, and camp within the ranch and nearby in Bridger-Teton National Forest. They will also have access to festival sponsored hiking trips, white water rafting, backpacking, fishing, canoeing horseback rides, and more wilderness activities right out the backdoor of the ranch in the daytime hours surrounding the evenings' performances.
WAYFARER Tour Dates:
6/08/2018 The Black Sheep – Colorado Springs, CO @ 71Grind IV w/ Mizmor, Of Feather & Bone, Vermin Womb [info]
6/12/2018 Iron Horse – Wichita Falls, TX w/ Primitive Man
6/13/2018 Paper Tiger – San Antonio, TX w/ Primitive Man
6/14/2018 Santos – New Orleans, LA w/ Primitive Man, Forn
6/15/2018 Tavern – Hattiesburg, MS w/ Primitive Man, Forn
6/16/2018 White Oak Music Hall – Houston. TX w/ Primitive Man, Forn
6/17/2018 The Lost Well – Austin, TX @ Austin Terrorfest w/ Acid King, Gnaw, Primitive Man, Forn, Krallice, [info]
6/18/2018 Reno's – Dallas, TX w/ Primitive Man, Krallice, Forn
6/19/2018 89th St – Oklahoma City, OK w/ Primitive Man, Krallice, Forn
6/20/2018 Sister – Albuquerque, NM w/ Krallice
6/22/2018 Hi-Dive – Denver, CO @ TRVE Anniversary Fest
6/23/2018 Diabolical Records – Salt Lake City, UT w/ Krallice
6/24/2018 Los Angeles Strikefest – Los Angeles, CA w/ Morbid Saint, Exciter, Krallice, Nocturnus AD, Razor
6/25/2018 The Golden Bull – Oakland, CA w/ Krallice
6/27/2018 Tonic – Portland, OR w/ Krallice
6/28/2018 Highline – Seattle, WA w/ Krallice
6/29/2018 The Shredder – Boise, ID w/ Krallice
7/01/2018 Fire In The Mountains – Jackson, WY w/ Wovenhand, Panopticon, Krallice, more [info]
WAYFARER was first brought together in 2012, by a group of Colorado natives. The members of the band aimed to create something original – fierce, beautiful, and honest, in order to contribute back to the pantheon of the great and timeless music that shaped them as people. The founding lineup of Shane McCarthy, Tanner Rezabek, Isaac Faulk and James Hansen released their debut album Children Of The Iron Age in 2014, which was later picked up by Prosthetic Records. With the release of the album, the band began what would grow be substantial touring of the material with a strong and memorable live show. Subsequent years would bring touring alongside the likes of Dreadnought, Falls of Rauros, Anicon, Velnias, and Haunter.
The second LP Old Souls was released in 2016 via Prosthetic and continued the band's progression to a sound not easily confined by genre tags. With a more refined and decidedly darker album in tow, the band continued to hit the road, performing across the United States, Canada, and Mexico. Guitarist and long-time collaborator of the band Joey Truscelli officially joined following the release of the record, replacing the departed Tanner Rezabek.
World's Blood marks WAYFARER's debut with Profound Lore Records, as they step into their own in the music underground with their strongest and most fully realized vision. With the LP's release in late spring of 2018, the year promises to see the band bring their forceful live show to stages across the world.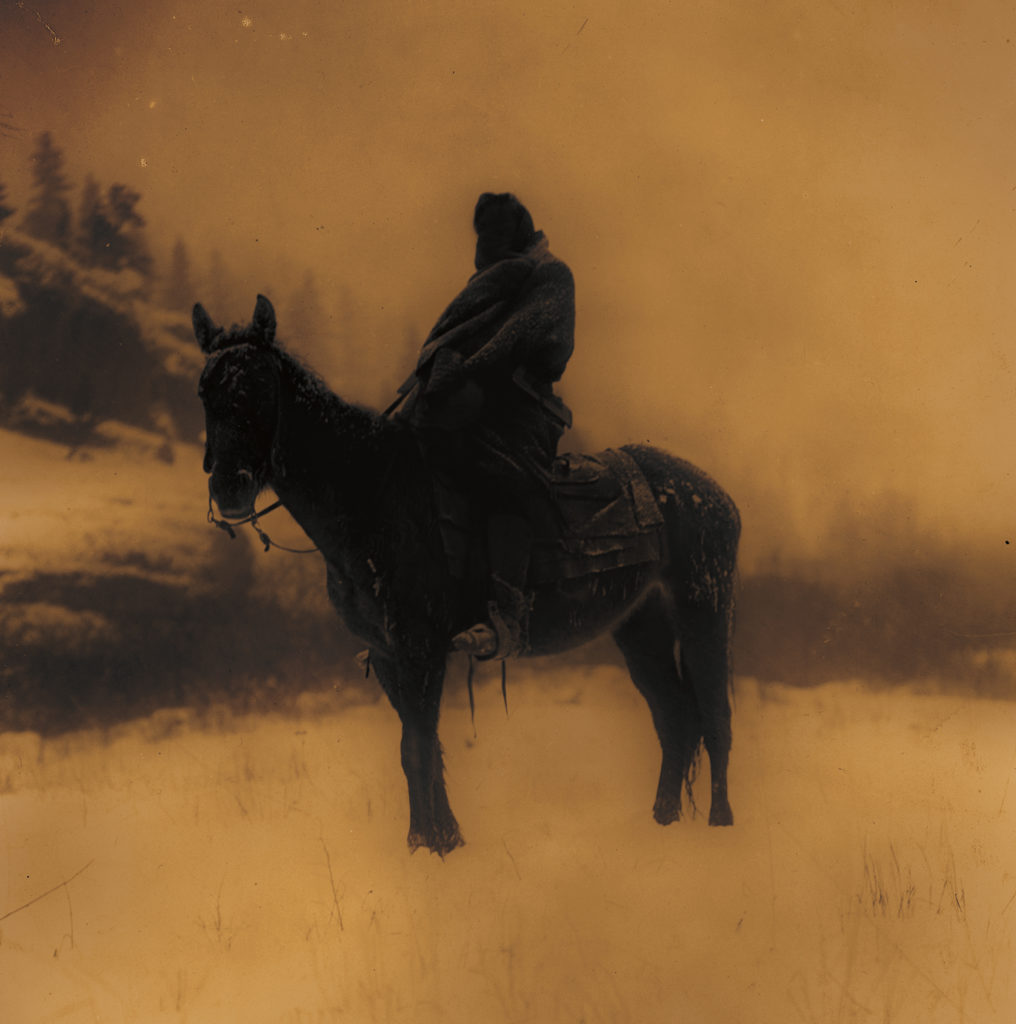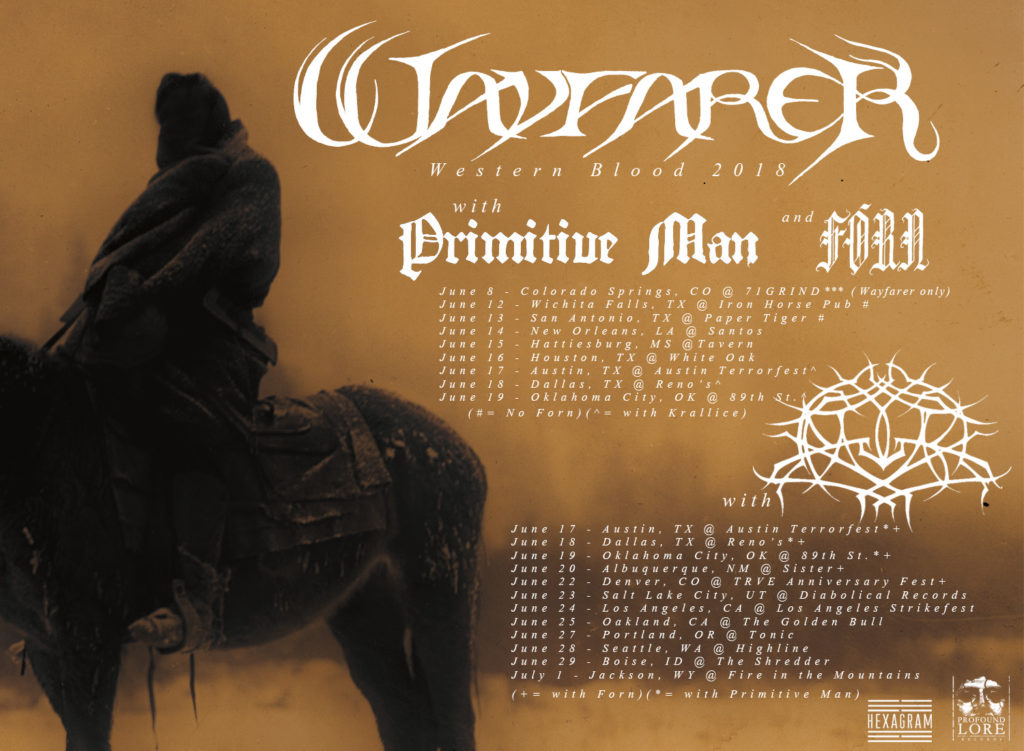 https://www.facebook.com/wayfarercolorado
https://wayfarercolorado.bandcamp.com
http://www.profoundlorerecords.com
http://www.facebook.com/profoundlorerecords
http://www.profoundlorerecords.bandcamp.com