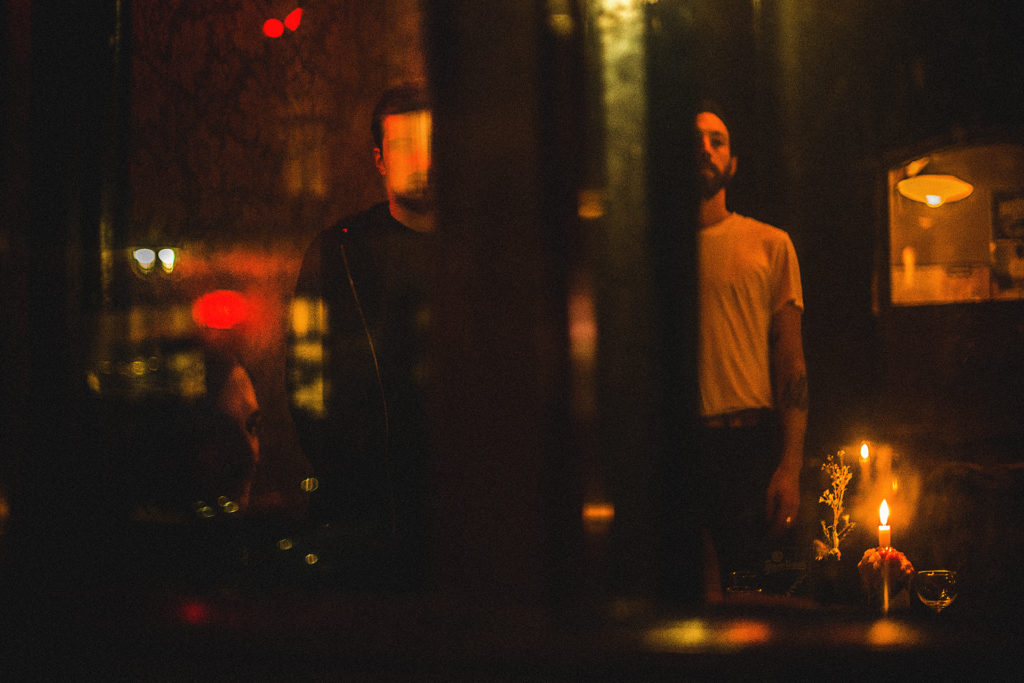 "…an expansive set of anthems that are simultaneously depressive and serene; with an ever-present bubbling of anger and resentment underneath. You'll bob your head to the grooves like you're floating on a sea of Lithium." — Metal Trenche
Collider, the sophomore full-length from German-Australian noise rock/post-punk unit HEADS., is out now in North America.
Available via Corpse Flower Records, with Collider, HEADS. carries an atmosphere of restrained anger and maturity, capturing a somber narrative that continues to resonate and leave its listener pondering long after the record's conclusion. Collider listens like a trudge through inhospitable badlands with each song starting as if it was always there, and you just walk into the music at hearing distance.
HEADS.' Collider is out now in North America digitally and on limited edition vinyl via Corpse Flower Records. For orders and to stream the record in full, go to THIS LOCATION.
If you missed it, view the band's "Wolves At The Door" video, still playing at Decibel Magazine, at THIS LOCATION.
HEADS. will make their way to the US this summer on a two-week live takeover with Maryland's Multicult as well as Vincas, Motherfucker, Narcos Family Band, Cult Objects, Grizzlor, Tramp, Waxeater, Dasher, and Bugg on select shows. See all confirmed dates below.
HEADS.:
8/19/2018 The Earl – Atlanta, GA w/ Vincas, Motherfucker
8/20/2018 The Caledonia – Athens, GA w/ Vincas, Motherfucker
8/21/2018 Slim's – Raleigh, NC w/ Vincas
w/ Multicult:
8/22/2018 Strange Matter – Richmond, VA
8/23/2018 TBA – Baltimore, MD
8/24/2018 Kung Fu Necktie – Philadelphia, PA Narcos Family Band, Cult Objects
8/25/2018 TBA – Brooklyn, NY
8/26/2018 TBA – New Haven, CT w/ Grizzlor
8/27/2018 TBA – Syracuse, NY
8/28/2018 Cellarmens – Detroit, MI
8/29/2018 Kaiju – Louisville, KY w/ Tramp, Waxeater
8/30/2018 TBA – Bloomington, IL w/ Dasher, Bugg
8/31/2018 The Burlington – Chicago, IL w/ Den
9/01/2018 7th Street Entry – Minneapoli,s MN w/ Multicult
Having members spread out over the globe, the HEADS. collective adjusted their writing and recording process of Collider to accommodate work schedules and extended family visits. In addition, the record features a string of guest musicians who infuse the record with extra fresh sounds. Kevin Whitley (Cherubs) joins the band on "Smile," while Luc Hess (Kunz, Closet Disco Queen, ex-The Ocean) lends his incredible drumming to "Youth" and "To Call And Let It Ring." Emilie Zoë (solo, Autisti) and Fabian Bremer (Radare) bring the haunting qualities of their musicianship to "Wolves At The Door." All of this is held together by an impeccable mix and mastering of the one and only Magnus Lindberg (Cult Of Luna). Fans of Bitch Magnet, Slint, The Melvins, Codeine, and The Jesus Lizard pay heed.
"Collider proves HEADS. to be masters at bending noise into narrative and heavy riffing into images of vast wastelands. Collider is art rock meeting sludge in a carefully arranged interplay of grave digging and marble sculpting. A bleak redefinition of heartland rock that's situated on the verge of the savage and the sophisticated." – Arctic Drones
"The title track sounds like an intimate and whiskey-fueled acoustic session with a young Leonard Cohen. Their reverence to various greats is obvious even within a single song. They might start a track as NIN, throw in a Chris Cornell-esque chorus, then go full Sonic Youth, all with an underlying doom/sludge cadence. But rather than ending up with a carelessly compiled Frankenstein, they've managed to string a common thread between the genre's forefathers that we previously hadn't noticed." – Schmutz
"While there are at times a relative calm on moments on Collider, their sound is not quite relaxed; it's dark and expansive but allows more stripped-down moments to come in, creating this sort of immersive and intense experience." – Music & Riot
"HEADS. have captured tangible feelings of gloom and depression with their video for 'Wolves At The Door.' The song and related video feel expansive and lonely, shots of expansive fields, rooms, and highways matching the restrained vocal delivery and slow, slightly sludgy guitars." — Decibel on "Wolves At The Door."
"…a monument to what a compromise between attention to detail and raw sound can deliver." — Itdjents
https://www.facebook.com/headsnoise/
http://www.corpseflowerrecords.com
http://www.facebook.com/corpseflowerrecords
http://corpseflowerrecords.bandcamp.com
http://www.corpseflowerrecords.storenvy.com