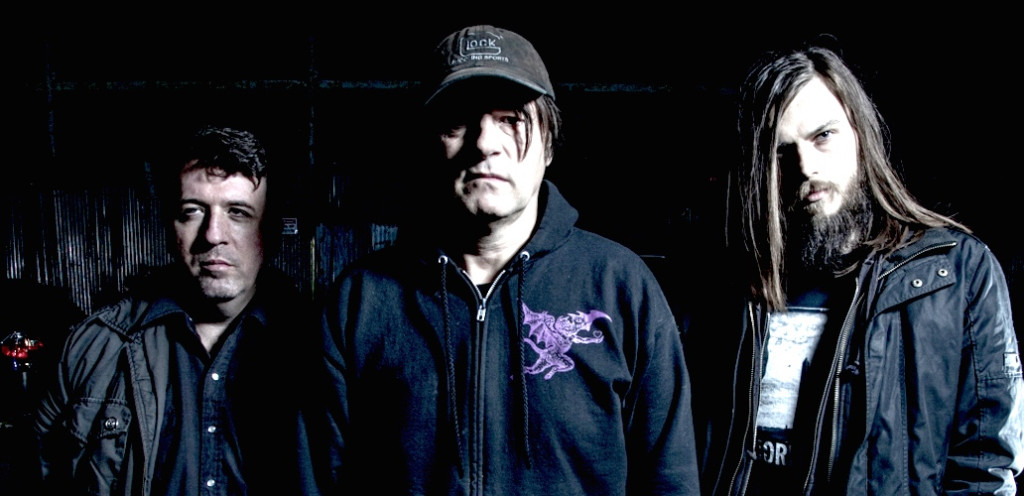 [photo by Nathaniel Shannon]
The mighty TODAY IS THE DAY takes their visionary wrath to devotees across North America on their massive tour this week, which kicked off in Philadelphia Monday night. The band has added additional gigs with tourmates, Abigail Williams, as well as several shows on their own at the beginning and end of the main tour, totaling forty plus shows as of now, as more are still to be added.
TODAY IS THE DAY's tenth studio full-length, and first for Southern Lord, Animal Mother unloads nearly an hour of the band's creepiest and heaviest chaos in years, its wrath recalling elements of their seminal Y2K-era albums, as always in their unclassifiable, prophetic style of metal. The album was recorded, produced and mastered at the frontman's Austin Enterprise (Deadguy, Burn The Priest/Lamb Of God, Jello Biafra) and has reaped international critical acclaim since its release in October. Massive touring followed through the remainder of 2015.
Returning to the road full-time in support of Animal Mother, TODAY IS THE DAY has produced several new merch designs for the tour which are now available. Frontman Steve Austin has sanctioned longtime friend Tom Hazelmyer of Amphetamine Reptile Records (a.k.a. Haze XXL) to create the new Porno Reptile gear; a Lino-Cut design similar to what the artist has crafted for The Melvins, The Cows, and many others. A second new design was commissioned to another ally, Jef Whitehead, world renowned tattoo artist and mastermind of the band Leviathan, who supplied the new Mythical shirt artwork. All current TODAY IS THE DAY merch is available from the band on tour and via mailorder HERE.
Steve Austin recently completed his first full-on solo recording, in the form of an original score for the upcoming Hollywood release of Addiction: A 60's Love Story, which sees its Hollywood premiere in November. The soundtrack also includes re-worked versions of earlier TODAY IS THE DAY songs, material from the Animal Mother LP, and pieces from the other act Austin now fronts, Montreal-based LAE, and their debut LP, Break The Clasp.
TODAY IS THE DAY's video for "Heathen" is playing RIGHT HERE and their "Masada" video HERE.
Animal Mother is available on CD colored vinyl LP including bundles via Southern Lord HERE, and via BandCamp HERE.
Additional shows are still being confirmed, so watch for this continually expanding itinerary to grow once again as the tour embarks.
TODAY IS THE DAY Tour w/ Abigail Williams:
9/09/2015 Fifth Quarter Lounge – Indianapolis, IN *TITD ONLY
9/11/2015 Metro Bar – Salt Lake City, UT
9/12/2015 Roxy Theater – Denver, CO
9/13/2015 Fubar – St. Louis, MO
9/14/2015 Vino's Brewery – Little Rock, AR
9/15/2015 The Social Room – Columbia, MO
9/16/2015 Hideout Bar – Appleton, WI
9/17/2015 Red Line Tap – Chicago, IL
9/18/2015 The Pike Room – Detroit, MI
9/19/2015 Frankie's – Toledo, OH
9/20/2015 The Foundry – Lakewood, OH
9/22/2015 Mohawk Place – Buffalo, NY
9/23/2015 Hard Luck – Toronto, ON
9/24/2015 Maverick's – Ottawa, ON
9/25/2015 Ralph's Diner – Worcester, MA
9/26/2015 Brighton Bar – Long Branch, NJ
9/27/2015 Bowery Electric – Brooklyn, NY
9/28/2015 Club Orpheus – Baltimore, MD
9/29/2015 Ruffhouse Pub – Chesapeake, VA
9/30/2015 The DHP – Fayetteville, NC
10/01/2015 Ground Zero – Spartanburg, SC
10/02/2015 Epic Problem – Tampa, FL
10/03/2015 O'Malley's – Margate, FL
10/04/2015 The Masquerade – Atlanta, GA
10/05/2015 Handlebar – Pensacola, FL
10/07/2015 Korova – San Antonio, TX
10/08/2015 Rail Club – Ft. Worth, TX
10/09/2015 Dirty Dog Bar – Austin, TX
10/10/2015 Rose Park Activity Bldg. – Abilene, TX
10/11/2015 Blu Phoneix Venue – Albuquerque, NM
10/13/2015 Joe's Grotto – Phoenix, AZ
10/14/2015 The Whiskey A Go Go – West Hollywood, CA
10/15/2015 LVCS – Las Vegas, NV
10/16/2015 DNA – Lounge San Francisco, CA
10/17/2015 Blackwater Bar – Portland, OR
10/18/2015 Highline – Seattle, WA *TITD ONLY
10/22/2015 Grumpy's – Minneapolis, MN *TITD ONLY
10/25/2015 Trickshots – Clifton Park, NY *TITD ONLY
10/26/2015 Geno's Rock Club – Portland, ME *TITD ONLY
http://www.todayistheday.us
http://www.todayistheday.bandcamp.com
http://www.facebook.com/todayisthedayofficial
http://www.southernlord.com
http://www.southernlord.bandcamp.com
http://www.facebook.com/SLadmin
http://www.twitter.com/twatterlord