[photo by Thomas Hudson]
Durham, North Carolina-based WAILIN STORMS has announced a wave of Eastern US tour dates in advance of their impending debut LP, which will see Fall release via Magic Bullet Records.
WAILIN STORMS will spend the transition from Summer into Autumn by delivering their gritty, doom/punk inspired Southern anthems to throngs of residents spanning the majority of the East Coast and over into the Midwest states. With performances confirmed in more than two-dozen towns as of now, more tour dates are being confirmed, and the itinerary will expand in the coming days. Highlights of the tour include shows with Magic Bullet labelmates Sweet Cobra in Chicago and with cohorts We Are Hex in Indianapolis, a hometown record release show in Durham alongside Fleshwounds on October 23rd, and a set at The Fest 14 in Gainesville, joining the huge lineup also including Andrew W.K., Cult Leader, Government Issue, Iron Reagan, Lagwagon, Modern Life Is War, Title Fight, Young Widows and dozens more.
Along the upcoming routing, WAILIN STORMS will be playing new material from their upcoming maiden full-length recording, One Foot In The Flesh Grave, which showcases the band's deep, dark, swampy and catchy as hell new material with seven hymns for this ongoing funeral procession of everyday life. One Foot In The Flesh Grave was recorded in four days by Al Jacob at Warrior Sound in Chapel Hill, North Carolina and mixed by Carl Saff, and will see release through Magic Bullet Records this Fall, the album's final details to be announced in the days ahead, with audio samples to follow.
View a brief trailer which cleverly incorporates live footage, artwork and tour info RIGHT HERE.
WAILIN STORMS Tour Dates:
9/12/2015 Hopscotch Day Party/Negative Fun Records showcase – Raleigh, NC
9/18/2015 Union Arts – Washington, DC w/ Polyone, The Maneuvers, Joy Buttons
9/19/2015 Silk Lounge – Allentown, PA w/ Carved Up, Seer
9/20/2015 Metro Gallery – Baltimore, MD w/ Monster Museum, Snakes
9/21/2015 Howlers – Pittsburgh, PA w/ Cruces
9/22/2015 1st Ward – Chicago, IL w/ Sweet Cobra, Haymarket Riot, Rollo Tomasi
9/23/2015 State Street Pub – Indianapolis, IN w/ We Are Hex, Dirtbike
9/24/2015 Green Lantern – Lexington, KY w/ New Strange, Mad Anthony
9/25/2015 FooBar – Nashville, TN w/ Tijuana Goat Ride, Young Wolves
9/26/2015 Mothlight – Asheville, NC w/ Morbids, Shallows
9/27/2015 Garage – Winston Salem, NC w/ Unfortunate Gentlemen
10/23/2015 Pinhook – Durham, NC *record release show w/ Fleshwounds
10/29/2015 Caledonia – Athens, GA w/ Vincas
10/30/2015 The Fest – Gainesville, FL
10/31/2015 Morningwood LA – Savannah, GA w/ Anxiety Junkies, No Sun, Generation Pill
11/01/2015 Reggie's – Wilmington, NC
Originally formed in the unrelenting heat of Corpus Christi, Texas, WAILIN STORMS migrated east and ended up in Durham, North Carolina. Producing a mix of doom-punk and swampy rock with elements of their prior and current surroundings culminate into a unique and volatile brew, overridden with ominous vocal elements reminiscent of bluesy masters like Howlin' Wolf and Samhain, and musically carved from the Southern American East Coast with emotive nods to Destruction Unit, Clockleaner, Unsane and Pussy Galore. The band's output is incessantly passionate and harrowing in its entirety; the songs, dark and gritty, with incisive guitar slicing through heavy, churning rhythms. Lead singer Justin Storms howls convincingly amongst the cacophony, belting along as if he's looking to recruit others to join in with him at any moment.
Recent reports on the band's output include a write-up by RVA magazine which offers, "North Carolina's WAILIN STORMS–named after singer Justin Storms, who is certainly wailin'–have a dark, spooky sound that will make you think simultaneously of The Wipers and Samhain, with maybe a little bit of early TSOL or Social Distortion worked in there." Nine Circles raved about the band's recently-reissued Shiver EP, boasting, "In a sea of Danzig and Cramps impersonators, WAILIN STORMS manages to stand out as a must-listen… WAILIN STORMS' straight-ahead style of swamp rock is a perfection of the psychobilly genre." Rock And Roll Fables' review of Shiver delivers, "WAILIN STORMS sound like a band possessed which would account for some of the songs sounding downright evil here… Shiver may be comprised of just five songs but those songs will completely own you for the rest of 2015 and beyond."
Stand by for much more on WAILIN STORMS in the coming days and throughout the rest of the year.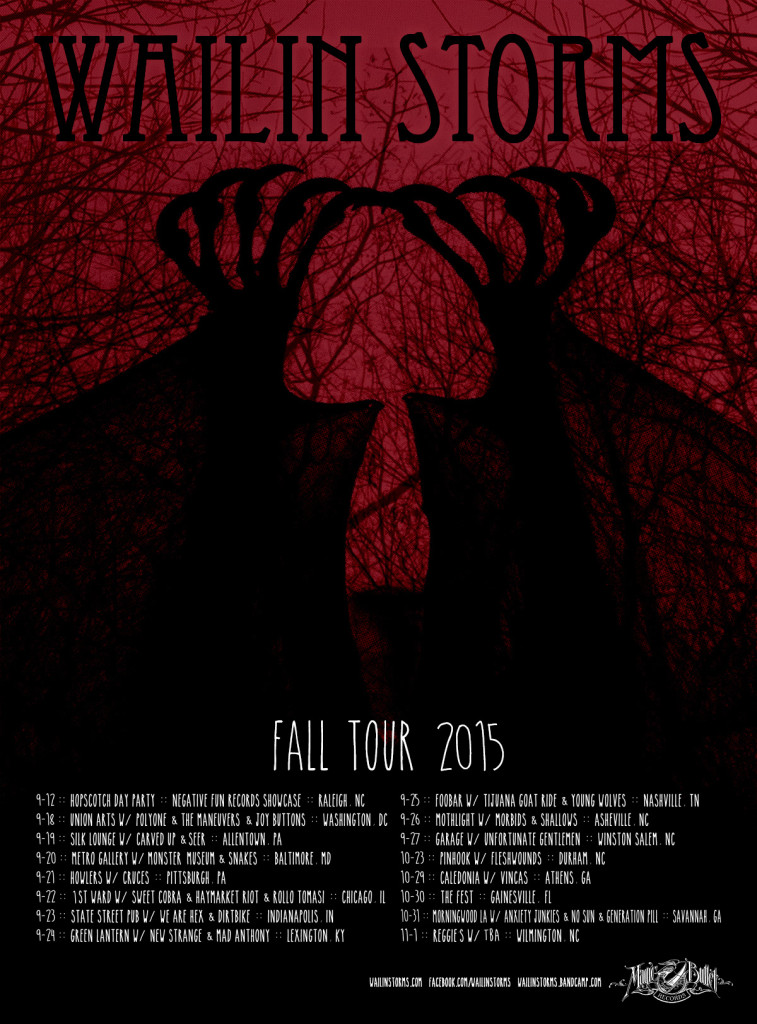 http://www.wailinstorms.com
http://wailinstorms.tumblr.com
http://wailinstorms.bandcamp.com
http://www.facebook.com/pages/Wailin-Storms/160482223983769
http://www.magicbulletrecords.com
http://www.facebook.com/magicbulletrecords
http://twitter.com/magicbulletrecs