[photos by Dan Shook]
Gainesville, Florida-based THUNDERCLAP will release their debut LP, Inebriocean, through Financial Ruin this March. The label has issued the artwork, track listing, and a brief trailer for the album.
Smoothly melding elements of metal and classic rock into a thick layer of swampy southern groove and doom, THUNDERCLAP's output a far cry from its members other/former acts. The trio's members, Todd Rockhill, Ale Gasso, and Danny Welsh, have collectively played with Discount, Army Of Ponch, The Draft, Unitas, J.Page, House On Fire, Black Cougar Shock Unit, and many others through the years before this act.
THUNDERCLAP combines poetry and music with different movements, tones and emotions wrapped together to create a complete experience for listeners rather than just the average one-dimensional song. Breaking away from the traditional hardcore that permeated the scene at the time, they added layers of visual and conceptual feeling to the dark, heavy music which they felt properly reflected what they were feeling inside.
Inebriocean is a journey, combining songs of varying lengths, moods and genres in order to replicate the true experience of life and art. The album's seven lush tunes boast attributes of classic Southern rock and modern doom metal in a seamless blend of empowering riffs and emotive atmospheres. With additional vocals on the track "47" by Rachel Ryder, Inebriocean was recorded, mixed, and mastered by Ryan Williams at Black Bear Studios in Gainesville, and completed with cover art by Ted Lincoln.
See a brief trailer for THUNDERCLAP's Inebriocean RIGHT HERE.
Financial Ruin will release Inebriocean on LP and digital platforms on March 29th, with distribution through Dead Tank Records. Watch for track premieres, preorders, and more to be issued in the coming days.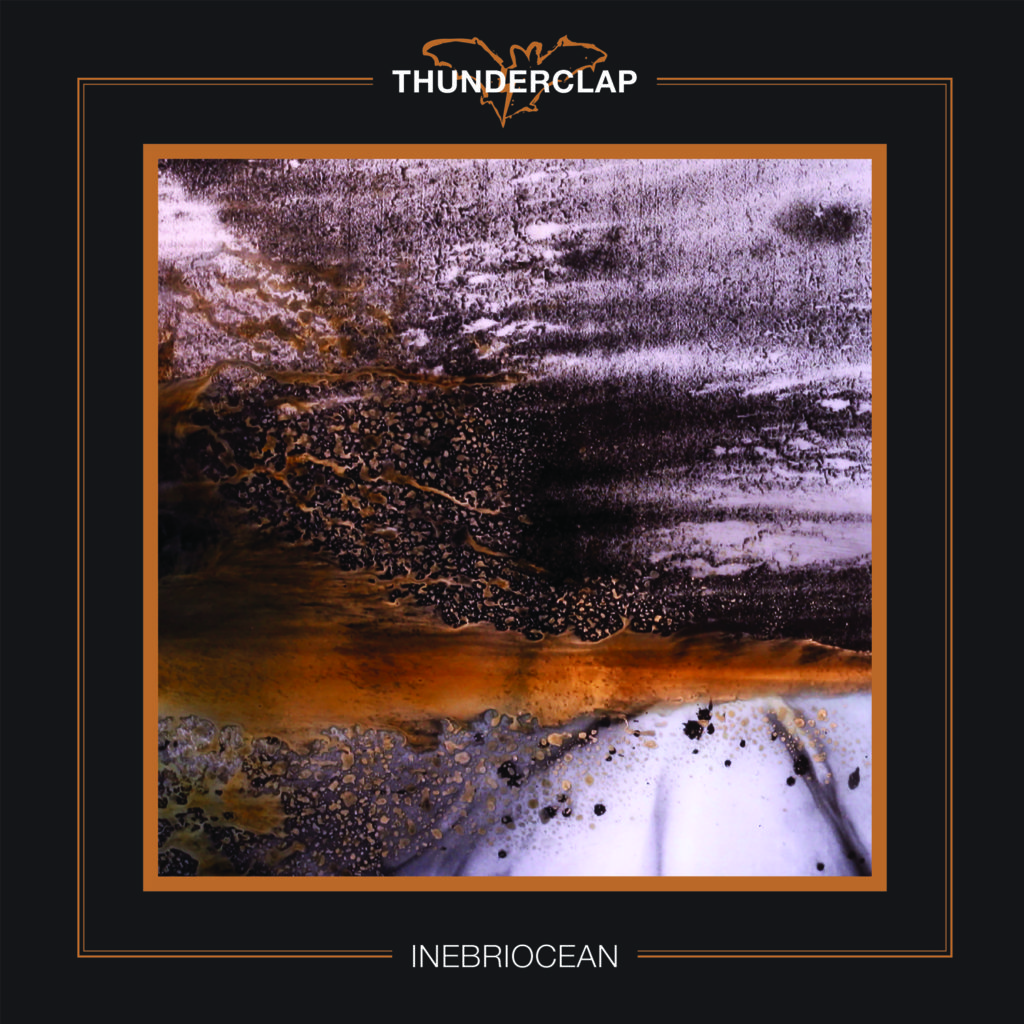 Inebriocean Track Listing:
1. Intro
2. Inebriocean
3. Low End
4. Capsized
5. 47
6. Black Crow Horizon
7. Breach
Following their Florida tour dates with Meatwound in December, THUNDERCLAP is booking new performances surrounding the release of their debut album. Watch for tour dates, a record release show, and other performances to be issued in the days ahead.
Todd Rockhill and Danny Welsh originally formed THUNDERCLAP as a two piece in 2012, a time when Gainesville really didn't have many heavy local bands. They aimed to fill that gap – to create the music they loved. Their music was influenced by metal bands like Judas Priest and Black Sabbath mixed with the down-tuned riffage of sludgy bands like Floor and Cavity. After a few songs were written, Rockhill was working on lyrics when he came upon a book of poems by Ale Gasso. Her dark poems fit the mood of the band and soon were set perfectly to the music. Bassist Jerome Goodman was added to the mix and they released their first record, The Moon Leads, in 2014. Gasso joined as guitarist shortly thereafter. When life took Goodman in a different direction, the band dropped the bass from their lineup and has remained sans-bass trio since, into the creation of their latest album and first LP, Inebriocean.
THUNDERCLAP:
Todd Rockhill – guitar, bass, vocals, piano
Ale Gasso – guitar, vocals
Danny Welsh – drums
https://www.facebook.com/ThunderclapGVL
https://thunderclap666.bandcamp.com/releases
http://www.financial-ruin.com
http://financialruin.storenvy.com
https://financialruin.bandcamp.com