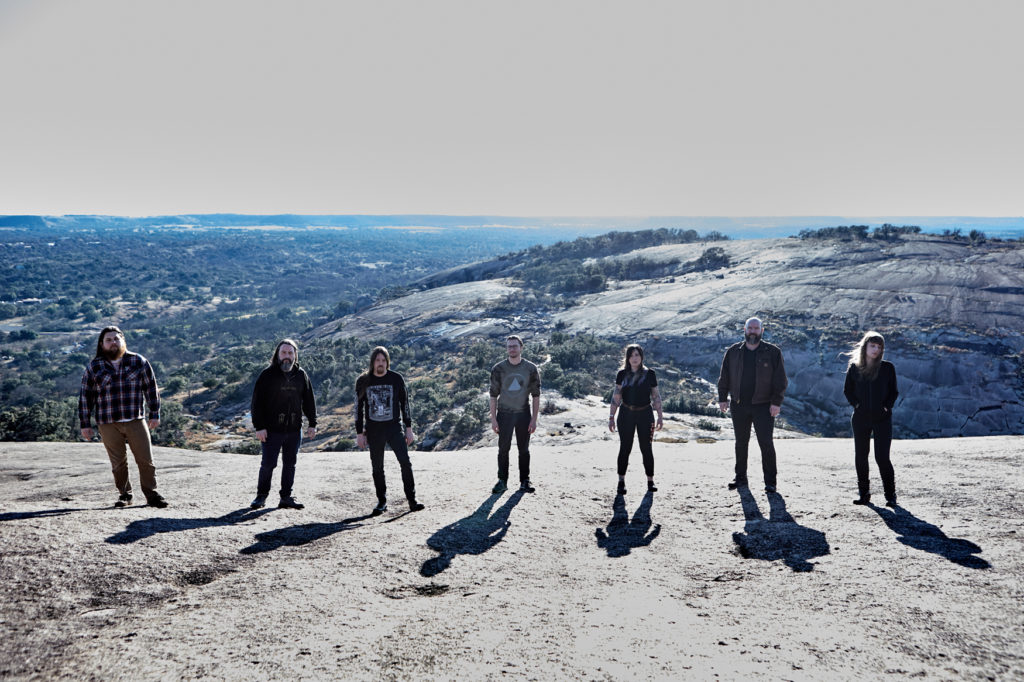 [photo by Kathleen Kennedy]
Profound Lore Records welcomes Texas-based elemental dark metal ensemble DEAD TO A DYING WORLD to the label's roster. The band has completed their long-awaited new epoch, Elegy, for release April 19th. A trailer for the record, as well as its cover art and more, have been posted. The band is confirmed to perform at this year's Northwest Terror Fest and is booking new tour dates to follow.
Following up 2015's ambitious Litany endeavor, Elegy sees the septet take their creative spirit to a new apotheosis resulting in the collective's most focused and moving opus yet. With Elegy, DEAD TO A DYING WORLD crafts their vast aural landscape in such flourish, one consisting of seamless, sonic textures guided by the likes of apocalyptic dark metal, doom metal, and epic, cinematic post-rock. With a musical structure that consists of three monolithic central tracks reinforced by three stirring interval segments, Elegy presents a new grandiosity in DEAD TO A DYING WORLD's audial palette. One of the key musical components in the album are the monolithic melodic surges that thrive throughout its discourse, whether it's through the more aggressive post-black metal-ish flourishes that counter with the more melancholic yet immense melodic components that truly begin to define the band's sound. The dual vocal projection of Mike Yeager and Heidi Moore continues to serve as a defining staple while the band also continue to expand their instrumentation, solidified even more through Eva Vonne's viola which continues to bridge and become a central element in DEAD TO A DYING WORLD's sound as well as including outer-sound instruments like expanded experimental percussion, hurdy gurdy, Hammond organ/piano, and concert bass.
Elegy, a foretelling of a post-human world, explores themes of loss, grief, and the dawn of a new ecology through the eyes of a lone wanderer. The last human grieves the end of humanity, reflecting on the temporal insignificance of man and the sixth extinction caused by the Anthropocene – the end of our kind brought about by our own hubris, greed, and desire for power over one another. Elegy marks the third chapter in the trilogy, which explores our relationship to our world by reflecting on our past, present, and impending future.
Once again produced by Billy Anderson – one of the acclaimed producer's most riveting productions he's done in recent times – Elegy once again sees the band welcoming a small cast of guest musicians. Featuring guest appearances by Thor Harris (ex-Swans, Thor & Friends) on four tracks alone, along with guest vocals by Jarboe (ex-Swans), Dylan Desmond (Bell Witch), and Emil Rapstine (The Angelus), along with contributions from Pablo C. Urusson (Sangre de Muerdago) and Tim Duffield (ex-Sans Soleil), the new contingent of guests helps elevate the narrative of Elegy to a new plateau.
View a brief trailer for DEAD TO A DYING WORLD's Elegy RIGHT HERE.
DEAD TO A DYING WORLD's Elegy will see release through Profound Lore Records on 2xLP, CD, and all digital platforms on April 19th. Watch for preorders, audio samples, and more to be issued in the weeks ahead.
Elegy Track Listing:
1. Syzygy
2. The Seer's Embrace
3. Vernal Equinox
4. Empty Hands, Hollow Hymns
5. Hewn From Falling Water
6. Of Moss And Stone
DEAD TO A DYING WORLD has been confirmed to perform at this year's Northwest Terror Fest in Seattle in late May into early June, joining the likes of Bongzilla, Wolfbrigade, Indian, Pig Destroyer, Gadget, Indian, Cirith Ungol, Thou, Spirit Adrift, and many others. The band will soon announce a West Coast tour following the album's release, with an East Coast to follow this summer. Watch for new tour dates to be announced shortly.
DEAD TO A DYING WORLD Live:
5/30/2019 Barboza – Seattle, WA @ Northwest Terror Fest [info]
DEAD TO A DYING WORLD was formed in 2010 by a collective of musicians with the purpose of harnessing their collective creative spirit and varied musical backgrounds into a project that sought to captivate impassioned musical and emotional duality. In 2011, the band released their self-titled debut studio album and demonstrated their lofty ambition and tremendous creative spirit that would set the tone for years to come. After the release of Dead To A Dying World, the band would spend the next several years regrouping and immersing themselves in writing the defining opus that became 2015's Litany. This monolithic album defined a turning-point for the band, the album awarded high praise for best new music from NPR, Spin Magazine, Noisey, and others, sending the band touring across the United States and Europe. In 2016, DEAD TO A DYING WORLD would release their Live At Roadburn album in accolades to the notorious and honorable Roadburn Festival, comprised of material from Litany. After returning home, the band would again search for higher meaning in new sounds and would subsequently record their cover of Leonard Cohen's "Dance Me To The End Of Love," released conjointly with the band's reimagined self-titled reissue titled Reprise in 2018. Poised to make their most poignant, diverse, collaborative, and concentrated statement to date, DEAD TO A DYING WORLD proudly presents Elegy.
DEAD TO A DYING WORLD:
Mike Yeager – vocals
Heidi Moore – vocals
Eva Vonne – viola
Sean Mehl – guitar
James Magruder – guitar
John Schiller – bass
Josh Dawkins – drums
https://deadtoadyingworld.bandcamp.com
http://www.facebook.com/DeadToADyingWorld
http://www.deadtoadyingworld.bandcamp.com
https://www.instagram.com/deadtoadyingworld
http://www.profoundlorerecords.com
http://www.facebook.com/profoundlorerecords
http://www.profoundlorerecords.bandcamp.com
https://www.instagram.com/profoundlorerecords