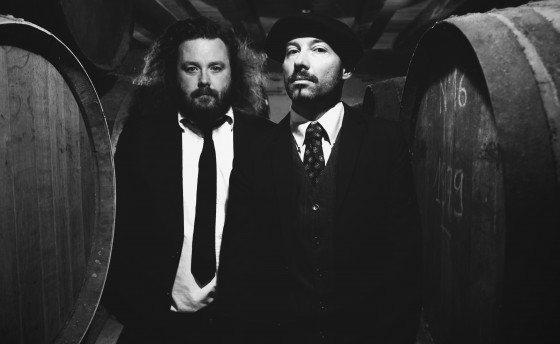 This week, Gascony, France-based, THE INSPECTOR CLUZO, will embark on the final handful of shows in their massive Gasconha Rocks World Summer Tour 2014, the ongoing trek taking the drum and guitar duo through twelve countries on three continents this Summer season. Having already conquered clubs and arenas throughout France, Belgium, Holland, Japan, Taiwan, Korea, Spain, South Africa and the Czech Republic since June, THE INSPECTOR CLUZO this week prepares to raid Austria, Hungary, and their French homelands once again before calling this tour complete.
Along the widespread international tour routing, THE INSPECTOR CLUZO has dominated stages at a substantial list of festivals across Europe and Japan, including headlining the Fuji Rock Festival in Naeba, Japan and much more. The band also appeared on the massive national television program, Why Did You Come To Japan?
Additionally, the overwhelming response from these recent performances has already forced THE INSPECTOR CLUZO to book new gigs in Asia, with two newly-confirmed shows in India and two more back in Japan this November, with even more to be added to this itinerary.
THE INSPECTOR CLUZO continues to your in support of their fourth full-length, Gasconha Rocks, which was released in Europe to massive critical acclaim in September 2013, after which the band signed a US deal with Suicidal Records, run by Suicidal Tendencies/Infectious Grooves frontman, Mike Muir, and home to both artists and more. Suicidal Records is now looking to release the mighty Gasconha Rocks stateside in early 2015, in conjunction with a widespread North American tour for the band. More specific details on the album's American release and the impending trek in its support will be unveiled in the coming weeks.
Watch the band rip Fuji Rock apart RIGHT HERE and the Why Did You Come To Japan? segment featuring THE INSPECTOR CLUZO [from the 11:30 mark to the end] HERE.
THE INSPECTOR CLUZO Tour Dates:
Gasconha Rocks World Summer Tour 2014 [remaining dates]:
9/10/2014 Badeschiff – Vienne, AT
9/11/2014 Heritage Festival – Pécs, HU
9/12/2014 Akvarium – Budapest, HU
9/20/2014 The Fiestival 4 – Marsanne, FR
November Asia Dates:
11/02/2014 NH7 Week Ender Festival – Kolkotta, IN
11/09/2014 NH7 Week Ender Festival – Bangalore, IN
11/20/2014 Club Quattro – Tokyo, JP
11/21/2014 Soma – Osaka, JP
THE INSPECTOR CLUZO's fourth studio full-length, Gasconha Rocks, was recorded in full analog by the band on their old MCI mixing desk on their farm in Mont de Marsan, Gascony. The album's diverse ten tracks capture the act's most closely represented recording of their insanely energetic live show. Delivering a soul/funk-influenced barrage of jacked-up rock, THE INSPECTOR CLUZO formed in 2007 when their bassist never showed up for practice, therefore initiating a lifelong goal of abusing and demoting bassists the world over. Boasting a fully DIY attitude and system in every aspect, the duo — guitarist/vocalist Malcom Lacrouts and drummer/backing vocalist Phil Jourdain — has handled their own management, booking, label and promotion since inception, even amidst their massively and steadily growing fanbase over the years. Their rampant live performances have been heavily documented online, indisputably ranking them one of France's most hard-touring bands.
http://www.theinspectorcluzo.com
https://www.youtube.com/user/theinspectorcluzo
http://www.facebook.com/theinspectorcluzo
http://www.suicidaltendencies.com