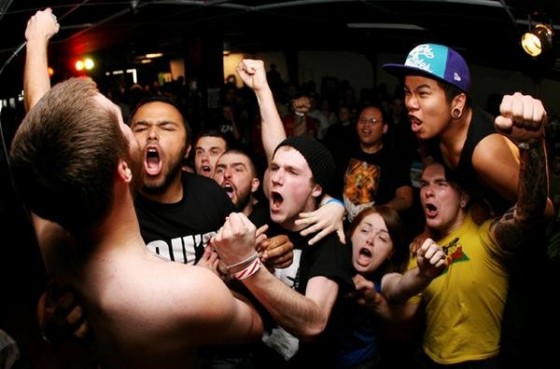 The final recordings from defunct Bay Area brutal crossover act, CRUCIFIED, dubbed the Dead Of Sleep 7″, is out now via Get This Right Records.
With four swiftly crushing previously unreleased tracks, engineered, mixed and mastered by Jack Shirley at The Atomic Garden Studios in Palo Alto, California, the ferocious Dead Of Sleep perfectly displays the band's slick and lethal style to both previous fans and new, and is a testament of their brief but relevant lifespan as a band. Any diehard fans of Ringworm, Terror, All Out War, Gehenna and Disgrace will undoubtedly be enthralled by CRUCIFIED's posthumous intensity.
Dead Of Sleep is now available, the first pressing of the 7″ with a screened cover in a run of 125 copies; 62 on clear with grey smoke and 63 white with grey smoke. Orders for the digital version can be placed HERE and the 7″ HERE.
CRUCIFIED's volatile thrash-influenced hardcore with infectious pick-up parts and monstrous breakdowns saw the band make an instant impact on the late 1990s scene. Their 2008 demo was later released as a split with California's No Truce on Escapist Records, followed by a split with Steel Nation in 2009 on Double Or Nothing Records who also released their Coldest Winter LP in 2010. In May of 2011, CRUCIFIED entered the studio for one last session, yet decided to call it a day before the material saw release. Now, three years after their demise, these seemingly lost tracks become available as the Dead Of Sleep EP.
https://www.facebook.com/pages/CRUCIFIED/330528834293
https://www.facebook.com/gtrrecords
http://getthisrightrecords.bandcamp.com
http://www.coldcutsmerch.com/gtrr