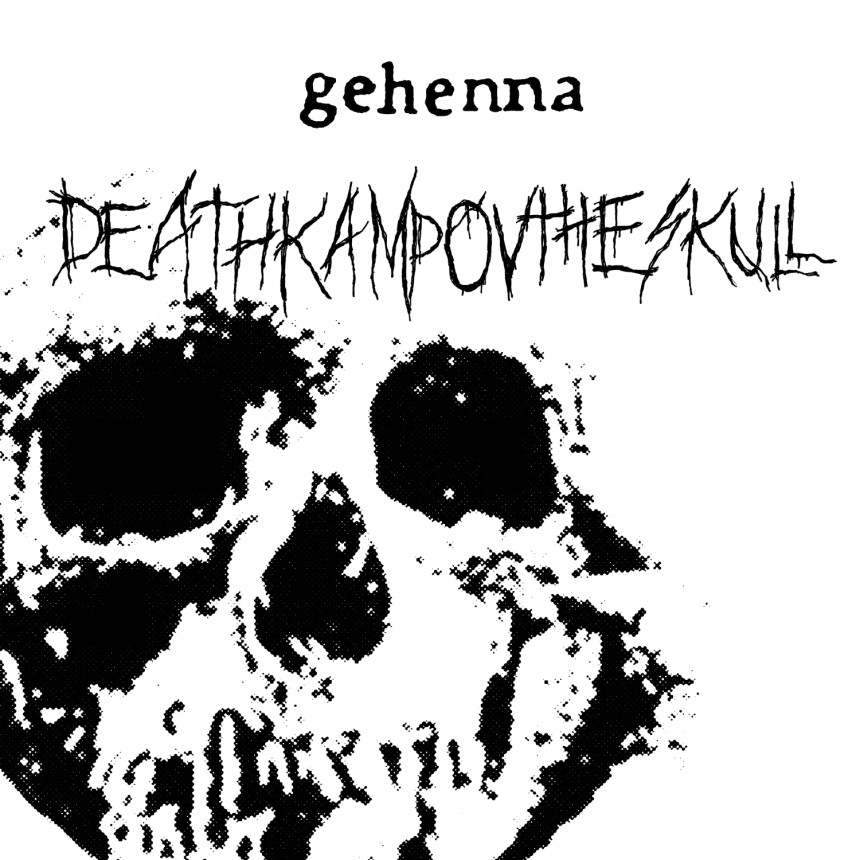 Later in August, Magic Bullet Records will issue the Deathkamp Ov The Skull + Funeral Embrace from West Coast hardcore nihilists, THE INFAMOUS GEHENNA, collecting both of the outfit's two latest 7″ titles onto convenient CD and digital formats.
The first three tracks on the disc comprise Deathkamp Ov The Skull, with the title track itself annihilating all prior expectations of the band. The song alone is nearly eight minutes in length and finds the band exploring more of a slow, brooding heaviness before exploding into their familiar brand of evil thrash and unrelenting blasts of murderous musical napalm just past the five-minute mark. "First Blood Part II" keeps the pedal to the metal, not letting up once. From there, "TormentORR" answers the question, "What happens when THE INFAMOUS GEHENNA and Integrity collaborate on a track?," as Integrity's singer Dwid Hellion and guitarist Rob Orr leave indelible marks with their contributions.
The Funeral Embrace portion is five songs of what THE INFAMOUS GEHENNA is more traditionally known for: absolute violent mayhem, typically in doses of less than two minutes or less. "Amphetamine Psychosis" sounds exactly as fucked up and demented as it reads. "Serve The Cult" isn't so much a call to action as it is a demand punishable by humanity's annihilation. "Savage II" is pure nihilism put to tape; if you play this in front of small children, you are a bad person. "Into the Grave" and "Funeral Embrace" serve almost as a one-two punch about getting real about death and the fate of all men, women, and living things on the planet. It only ends one way, but Hell be damned if the members of THE INFAMOUS GEHENNA aren't going out with their hands around more than a few throats on the way out.
Deathkamp Ov The Skull + Funeral Embrace will see digital release on August 14th, and the CD on August 21st through Magic Bullet Records. Preorders for the CD are available now at THIS LOCATION, and the digital available via Bandcamp HERE and iTunes HERE.
This Fall, THE INFAMOUS GEHENNA will embark on a two-week tour with Theories, with Landmine Marathon joining on several dates. Stand by for exact details to be announced in the coming days.
Deathkamp Ov The Skull + Funeral Embrace Track Listing:
1. Deathkamp Ov The Skull
2. First Blood Part II
3. Tormentorr
4. Amphetamine Psychosis
5. Serve The Cult
6. Savage II
7. Into The Grave
8. Funeral Embrace
http://www.facebook.com/pages/The-Infamous-GEHENNA/98952171508
http://www.gehenna.bandcamp.com
http://www.magicbulletrecords.com
http://www.facebook.com/magicbulletrecords
http://www.twitter.com/magicbulletrecs