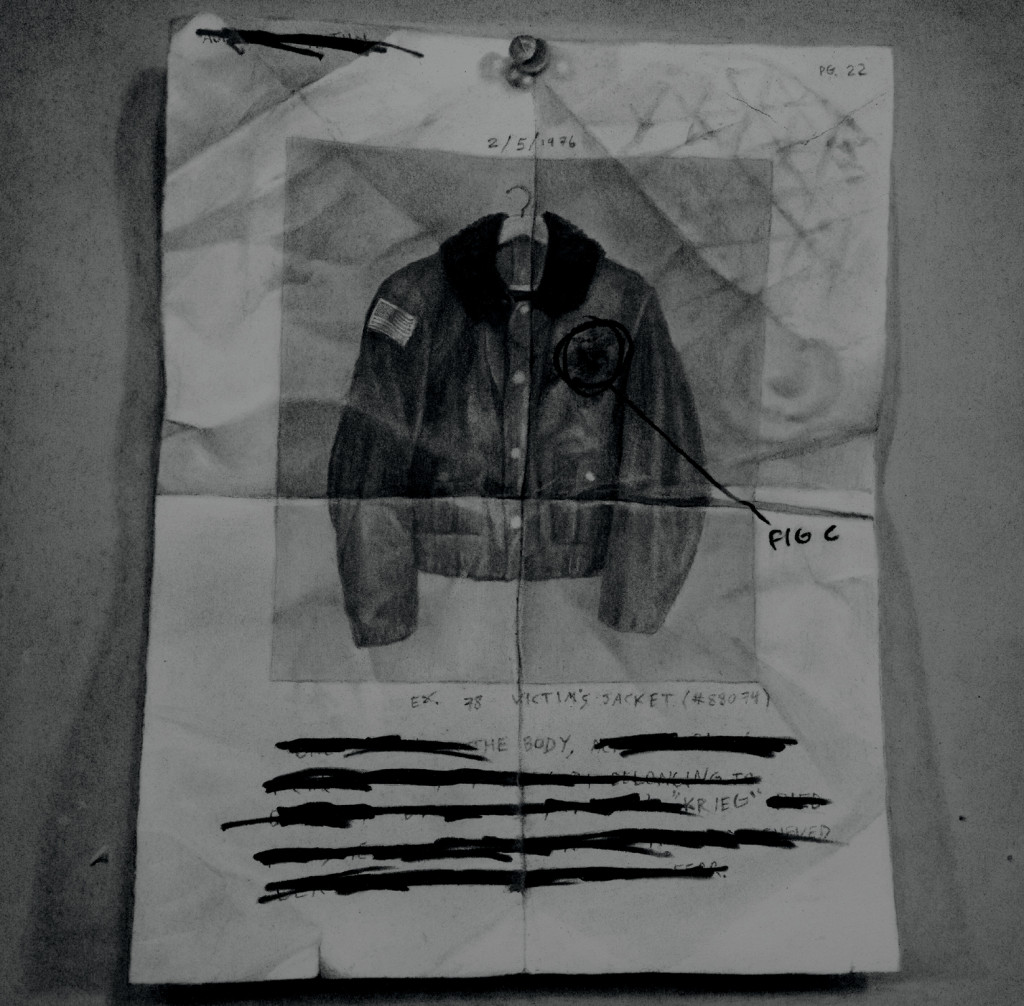 The unsettling and punishing collaborative self-titled LP from THE BODY & KRIEG, set for release through At A Loss Recordings this Friday the 13th, is streaming in its entirety at Vice's music channel, Noisey, alongside an artist-to-artist style interview.
While both the apocalypse-seeking rogue doom duo, THE BODY, and American black metal harbingers, KRIEG, are both widely revered for delivering cutting-edge tactics and pushing boundaries of their respective genres beyond their orthodox realms, the musical madness which ensued in their first collaborative recording sessions together seems transported from another plane of diseased mental existence. The eight cinematic-industrial torture movements are now playing at Noisey just days ahead of its public release, paired with an interview of THE BODY's drummer Lee Buford as interrogated by KRIEG vocalist Neill Jameson. The blog's report on the album's savagery includes, "As one might expect, it's a miserable, malformed thing, all sharp edges and piercing wails and guttural noise. Though the spirit of friendship brought them all together, there's nothing positive on this record. Really, it's like a buddy comedy, except there are no good cops and everyone's already dead."
Stream The Body & Krieg in its entirety at Noisey RIGHT HERE.
At A Loss Recordings will release The Body & Krieg on November 13th on all digital platforms, CD, cassette, and LP with digital download included. The artwork for the package was handled the amazingly Jason Bartell, also of Fang Island fame. Tons of preordering options and bundles are available HERE.
Written and recorded at Machines With Magnets in Providence, Rhode Island during the long sessions of THE BODY's Christs, Redeemers (Thrill Jockey) and I Shall Die Here (RVNG Intl.) LPs, the end result of The Body & Krieg is a forty minute journey into a blackened industrial surge of noise and anguish. Decibel Magazine's review proclaims, "This is the work of veteran extremophiles who know how to elevate second after grueling second to must-listen status without compromising consistency." Invisible Oranges praises, "KRIEG frontman Neill Jameson's specific brand of extreme vitriol brings THE BODY's misanthropy to a peak. Sonically, this is a bit out of left field for what one would expect to be a crushing, blackened doom metal masterpiece… This one-off collaboration slams your psyche again, again, and again – it is a machine built to break your essence." The Metal Observer crowed the record a 9/10 review, including, "the results were nothing short of breath-taking. Certainly not for the faint of heart, The Body & Krieg is a powerful, dark and downright petrifying piece of work." Consequence Of Sound praised the record, their review noting, "As their respective discographies would suggest, THE BODY and KRIEG make depressive music together. The darkness is palpable. This record brings you into its pit of despair; it has the ability to affect your emotions, for better or for worse depending on your mood. Buford, King, and Jameson become a singular entity, and in the realm of industrial doom and abstract metal, the result is an exemplary work."
Collaborative tour dates with KRIEG and THE BODY will take place in 2016.
http://www.facebook.com/pages/the-body/334047229514
http://www.thebody.bandcamp.com
http://www.facebook.com/officialkrieg
http://www.kriegofficial.bandcamp.com
http://www.atalossrecordings.com
http://www.facebook.com/atalossrecordings
http://www.twitter.com/atalossrecords