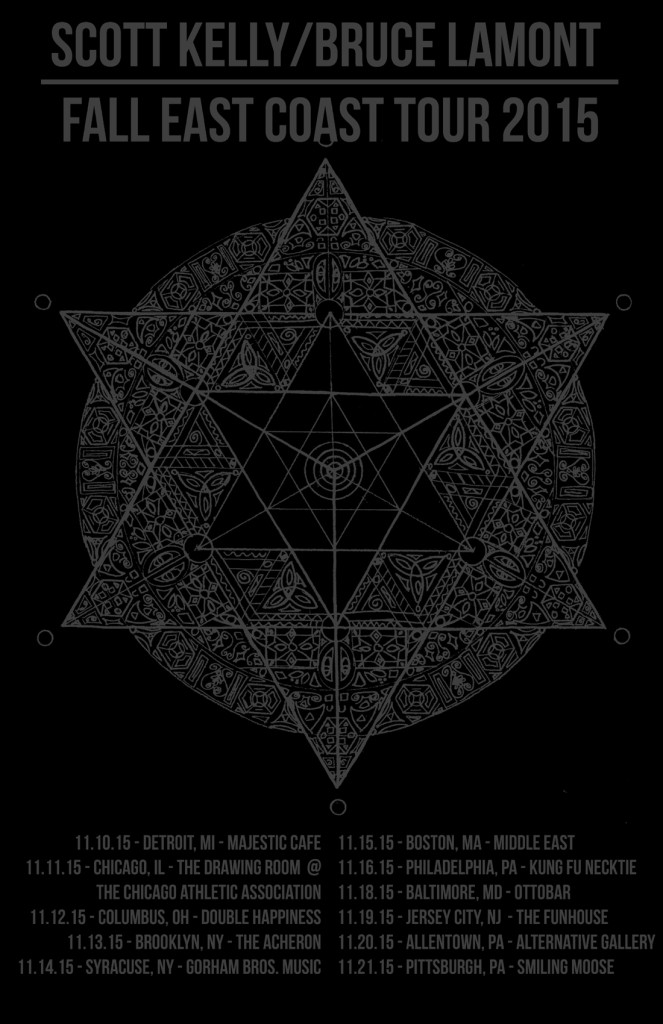 Neurosis' SCOTT KELLY and Yakuza's BRUCE LAMONT — also both of CORRECTIONS HOUSE –– are currently embarked on their cooperative Fall East Coast tour
Having kicked off last night in Detroit, SCOTT KELLY and BRUCE LAMONT will raid Chicago this evening, Wednesday, November 11th, with shows in Columbus, Brooklyn, Syracuse, Boston, Philadelphia, Baltimore, Jersey City, Allentown and Pittsburgh confirmed through the 21st. Throughout the tour, the artists are performing their own respective solo material as well as collaborative performances including CORRECTIONS HOUSE anthems.
SCOTT KELLY and BRUCE LAMONT Fall East Coast Tour:
11/11/2015 Drawing Room @ The Chicago Athletic Club – Chicago, IL
11/12/2015 Double Happiness – Columbus, OH
11/13/2015 The Acheron – Brooklyn, NY
11/14/2015 Gorman Bros. Music – Syracuse, NY
11/15/2015 Middle East (upstairs) – Boston, MA
11/16/2015 Kung Fu Necktie (late show) – Philadelphia, PA
11/18/2015 Ottobar- Baltimore, MD
11/19/2015 The Funhouse – Jersey City, NJ
11/20/2015 Alternative Gallery – Allentown, PA
11/21/2015 Smiling Moose (late show) – Pittsburgh, PA
SCOTT KELLY (Neurosis, Corrections House) will deliver his signature hymns of pain, reflection and redemption with tracks off his solo outings – the bleakly atmospheric Spirit Bound Flesh and starkly minimalist The Wake as well as The Forgiven Ghost In Me album, released in 2012 under the moniker SCOTT KELLY AND THE ROAD HOME and tunes from the moving Songs Of Townes Van Zandt collection as well as newly recorded numbers to be released next year. With a sound that's at once soulful, morose and healing few artists can manifest with such devout sincerity, when KELLY sits quietly, with his guitar, there's rarely a dry eye in the room when he bows out at the end.
Multi-instrumentalist and vocal sorcerer BRUCE LAMONT (Yakuza, Corrections House, Led Zeppelin 2) has performed/collaborated with an array of artists throughout his storied career. On this run, Lamont will be performing versions of some of the material on his 2011-issued debut solo album Feral Songs For The Epic Decline as well as newer/unreleased material. As with his previous solo outings, LAMONT will be executing multiple instruments and a plethora of vocal styles, with an incredibly layered looping system that culminates into some of the most entrancing live solo artist work one could ask for.
In addition, both KELLY and LAMONT will unite each evening following their respective sets to deafen the masses with renditions of various CORRECTIONS HOUSE hymns. CORRECTIONS HOUSE – which features within its ranks KELLY, LAMONT, Sanford Parker (Buried At Sea), Mike IX Williams (Eyehategod) and recently institutionalized minister of propaganda, Seward Fairbury – unleashed their long-awaited sophomore full-length, Know How To Carry A Whip, via Neurot Recordings last month. A nine-track, forty-five-minute exercise in sonic indecency, the record was captured by Parker alongside Fairbury in a subterranean bunker complex in Vietnam and dispels a disconcerting air of danger, paranoia and looming defeat marked by an inexplicable sense of catharsis.
http://www.facebook.com/ScottKelly.official
http://www.facebook.com/brucelamontmusic
http://www.facebook.com/CorrectionsHouse
http://www.neurotrecordings.com
http://www.facebook.com/neurotrecordings