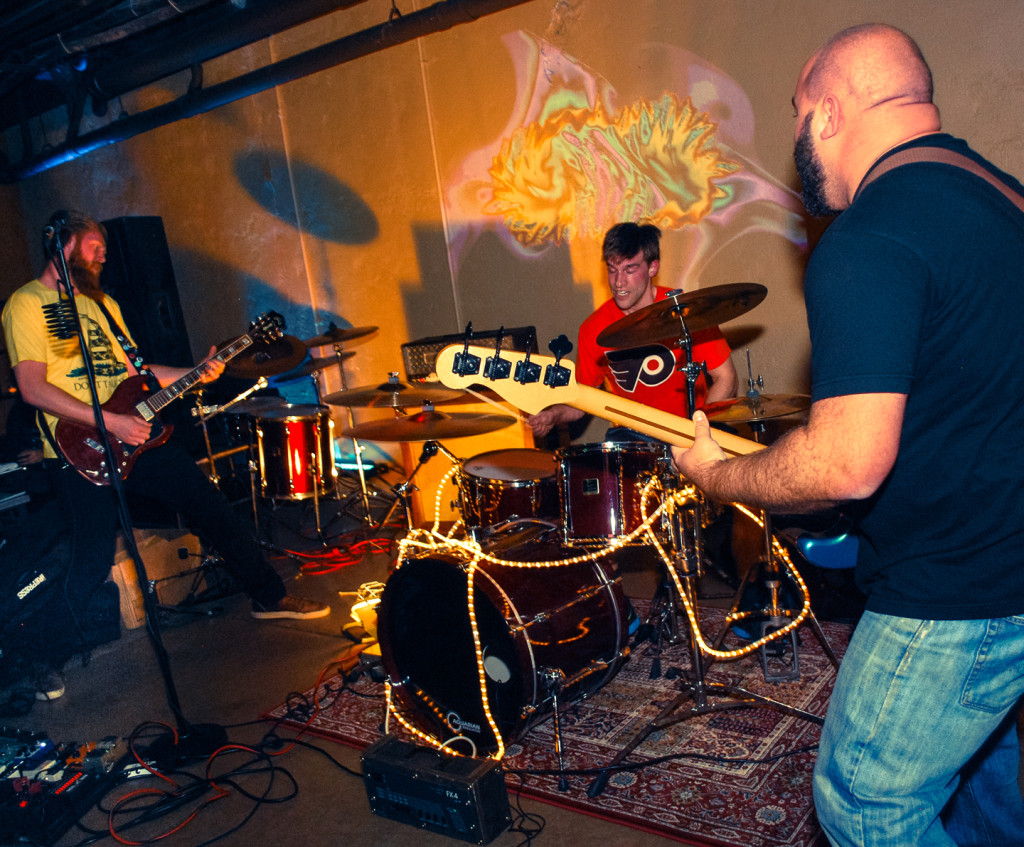 Just days ahead of its official release, Matador — the riff-pummeling debut LP by Pennsylvania/New Jersey-based mega-trio, CARVED UP — is playing in its rock-raging entirety through an early stream at American Aftermath.
For nearly forty-three minutes, CARVED UP goes batshit crazy with riff overdose, getting so jacked-up on their own hooks on Matador they left vocals off of nearly half the album, letting the axes and skins to the antagonizing on their own. Even the track titles reflect this, with four of the album's ten tracks getting riffy with titles, "We Built Riff City," "Riffer Phoenix," "The Riffer Wild," and of course, "Mystic Riffer."
With Crowquill Records prepping the LP for deployment this Friday the 13th, American Aftermath is now playing the entire Matador album early, offering, "These guys are killing it with the riffs," the piece joined by a mini-interrogation with the band.
Get an early beating by CARVED UP's Matador LP through at American Aftermath RIGHT HERE.
Matador will see release through Crowquill Records on on all digital platforms and 140-160 gram 12″ vinyl with 150 on black and 100 on oxblood. Preorders for the wax and digital are available HERE.
CARVED UP's Matador shows throughout the region continue as the band celebrates three more record release shows this week alongside their comrades in Die Choking, including a double record release show for both bands in Bethlehem, Pennsylvania on November 13th, a show in Meadville, Pennsylvania the 14th, and the third on Sunday, November 15th in Brooklyn, New York also with CARVED UP labelmates, Spotlights.
CARVED UP Live:
11/13/2015 Burner's – Bethlehem, PA *double record release show w/ Die Choking
11/14/2015 Voodoo Brewery – Meadville, PA w/ Die Choking
11/15/2015 Saint Vitus Bar – Brooklyn, NY w/ Die Choking, Godmaker, Spotlights
CARVED UP's Matador showcases the high-caliber metallic rock mayhem this trio deploys with ease, packing ten tunes record recorded and mixed at Skylight Studio by Vince Ratti (Circa Survive, Title Fight, Turmoil) with additional recording by Will Yip, Brad Wallace, Sam Pinola, and John Fachet, and guest contributions of cello, violin, and other noise by Greg Bortnichak and Erin Murphy of Teach Me Equals. BrooklynVegan issued, "These guys call to mind KEN mode circa-Entrench with a caustic, funny, and consistently riff-focused approach to post-hardcore." Blow The Scene reported in an early track premiere, "We've had the pleasure of catching CARVED UP live on several occasions witnessing the many amalgamations the band has transcended through including instrumental sets and others featuring a stand-alone vocalist. We can fully verify the group's ability to reign down with countless layers of distorted riffs, falling somewhere on the musical spectrum between Botch and Russian Circles." And Outlaws Of The Sun blog raved over the new LP, summing up the review with, "Matador definitely lives up to expectations and has to be one of, if not the noise rock records of the year and one that should be on many album of the year lists of 2015. A brilliant debut from a band that will undoubtedly get bigger based the quality on show that oozes from this riff laden masterpiece."
http://www.carvedup.com
http://www.facebook.com/carvedupband
http://www.carvedup.bandcamp.com
http://www.twitter.com/carvedupband
http://www.crowquillrecords.com
http://www.twitter.com/crowquillrx
http://www.facebook.com/crowquillrecords