[photo by Alvino Salcedo]
20 Buck Spin welcomes Arizona's psychedelic desert doom unit, SPIRIT ADRIFT – featuring members of Gatecreeper, Goya, and others – signing the act for the October release of their second LP, Curse Of Conception.
Curse Of Conception was engineered and mixed by Sanford Parker (Yob, Pelican, Eyehategod) and features artwork by Joe Petagno (Motörhead, Magic Circle, Autopsy). In conjunction with the public announcement of the album details, the album's title track has also been issued early.
Stream and share SPIRIT ADRIFT's "Curse Of Conception" at THIS LOCATION.
Curse Of Conception will see release through 20 Buck Spin worldwide on CD, LP, and digital formats on October 6th; find physical preorder options HERE, Bandcamp preorders HERE, and iTunes HERE.
With widespread touring in support of Curse Of Conception impending, SPIRIT ADRIFT has already booked two release shows for the LP. The first takes place on their home turf in Tempe, Arizona on October 7th alongside Atriarch, Take Over And Destroy, and Divine Hammer. The second release show invades Denver, Colorado a week later, playing October 14th with now-labelmates Khemmis as well as Abrams. Stand by for additional live updates.
SPIRIT ADRIFT Curse Of Conception release shows:
10/07/2017 Yucca Tap Room – Tempe, AZ w/ Atriarch, Take Over And Destroy, Divine Hammer
10/14/2017 The Hi-Dive – Denver, CO w/ Khemmis, Abrams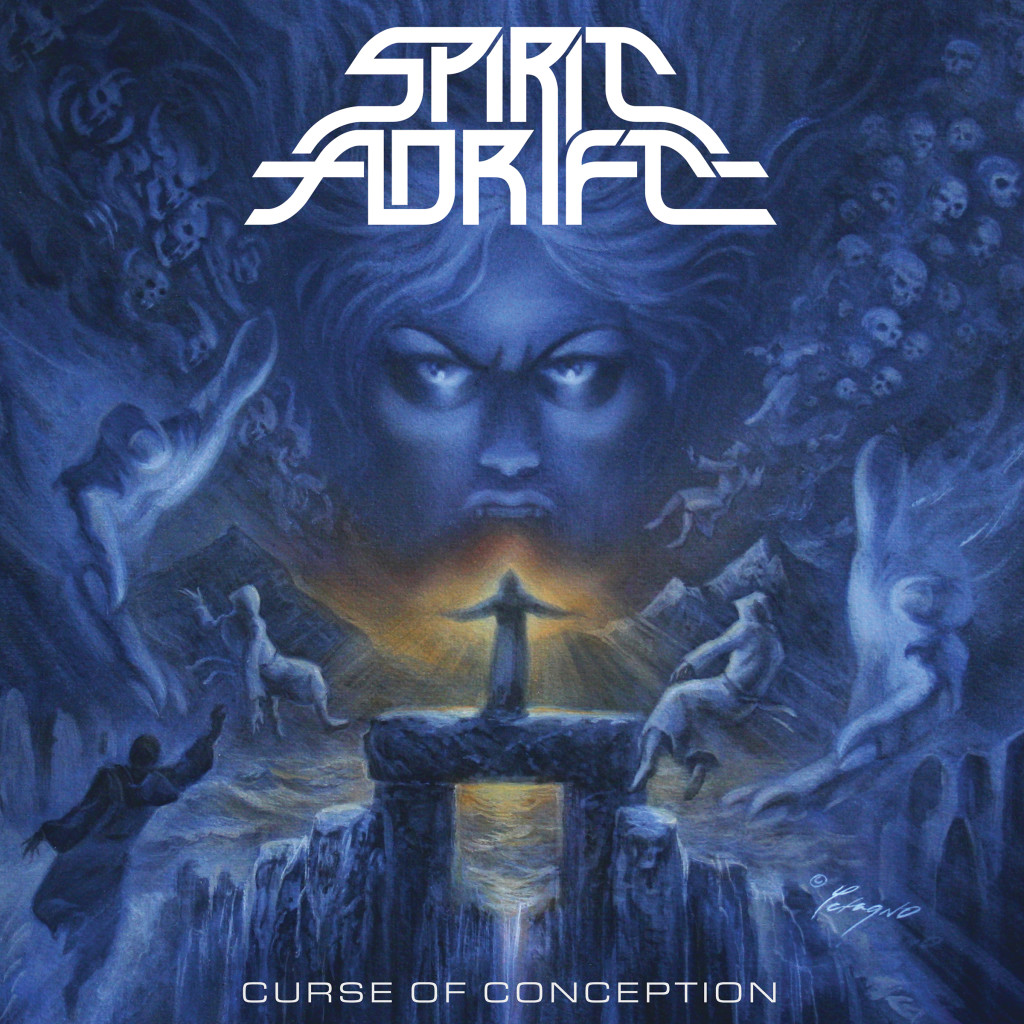 Curse Of Conception Track Listing:
1. Earthbound
2. Curse Of Conception
3. To Fly On Broken Wings
4. Starless Age (Enshrined)
5. Graveside Invocation
6. Spectral Savior
7. Wakien
8. Onward, Inward
While SPIRIT ADRIFT caused many listeners to take notice with their debut album Chained To Oblivion, it is on Curse Of Conception that the band has taken a giant leap forward in songwriting prowess, production and confidence. From the Metallica/'Priest-like opening moments of "Earthbound" to the epic closing of "Onward, Inward," SPIRIT ADRIFT is aiming sky high with burning focus and peak vigor. "Earthbound" is a standard bearer for album-opening songcraft, leading into the colossal title track, a grungy and twisting radio-ready crawler. "To Fly On Broken Wings" and "Graveside Invocation" continue to show that any of the eight tracks on "Curse Of Conception" could stand as featured singles. Throughout the duration brick-heavy riff assembly, somber southern atmospherics and grand melodies entwine flawlessly into perfect metallic majesty, exemplified succinctly and totally in the instrumental "Wakien" for example.
With a host of fantastic albums released by their contemporaries lately, SPIRIT ADRIFT has taken their craft to an ascendant new level on Curse Of Conception earning their rightful place among the top tier of modern metal bands clawing their way above and beyond the underground scene. Now more than at any time metal has become the lifeblood of rock music and SPIRIT ADRIFT offers Curse Of Conception as an embodiment of that perseverant vitality.
While SPIRIT ADRIFT's vocalist/guitarist Nathan Garrett and bassist Chase Mason also play in Gatecreeper, Garrett also recently filled in on vocals for Pallbearer for a full show in Pittsburgh. SPIRIT ADRIFT recently released a split 7″ with Khemmis through War Crime Recordings, where they covered the traditional folk song, "Man Of Constant Sorrow." Fans of Crowbar, Metallica, Judas Priest, Testament, Khemmis, Thin Lizzy, Rwake, Yob, Alice In Chains, Baroness, Pallbearer, Mastodon, and Katatonia, pay heed to the band's entrancing riffs.
SPIRIT ADRIFT:
Nate Garrett – Vocals, Guitar
Jeff Owens – Guitar
Chase Mason – Bass
Marcus Bryant – Drums
https://spiritadrift.bandcamp.com
https://www.facebook.com/SpiritAdrift
http://spiritadrift.bigcartel.com
http://www.20buckspin.com
http://www.facebook.com/20buckspin
http://www.twitter.com/20buckspinlabel