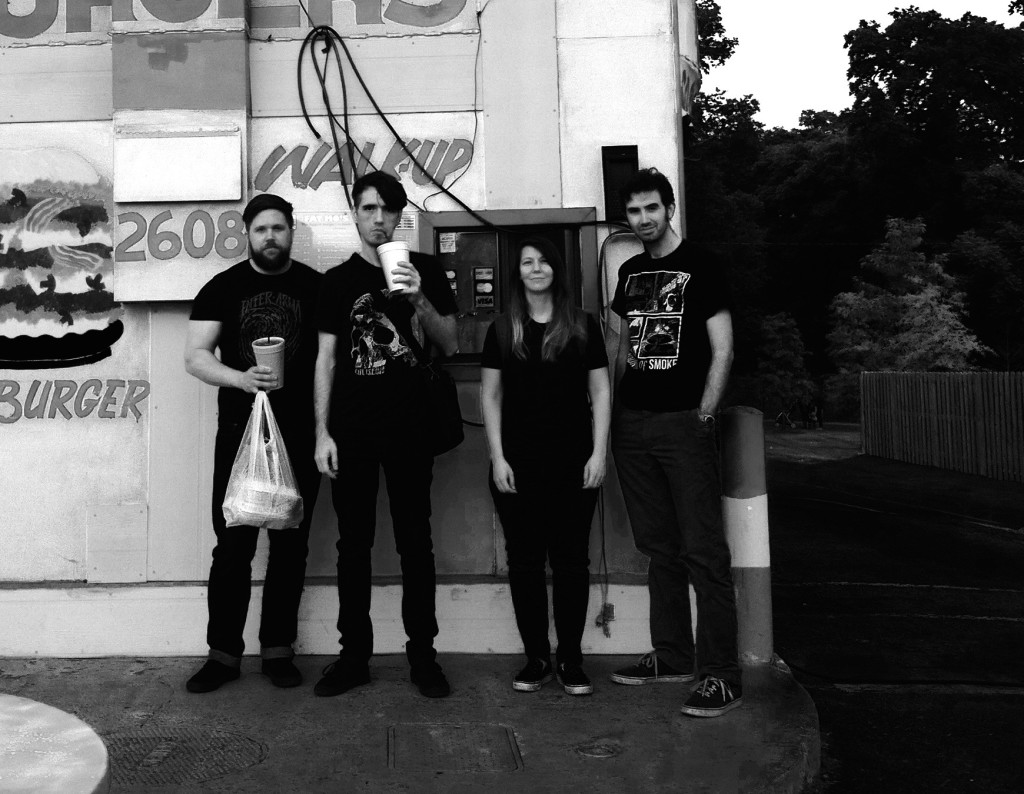 [photo by Angela Lee]
Tofu Carnage Records confirms the October release of A Ruined Oak, the mammoth new 2xLP from Houston, Texas-based OMOTAI, a mega-assault of relentless riff dynamics, pummeling low-end thunder, and infectious hooks. Alongside the new album's details, the opening track "Welcome To The Adders' Land" has been premiered exclusively at Decibel Magazine.
A meditation on the lost colony at Roanoke, A Ruined Oak is centered on abandonment and responsibility, the lyrics haunted by loss and violence. This sprawling, diverse work shows a greater range than anything OMOTAI has done before, with songs drawing from thrash, doom, sludge, extreme metal, hardcore punk, and post-rock. A Ruined Oak was recorded by Chris Ryan at Dead City Sound and mastered by James Plotkin, and completed with art by Wolfbat and design by Sean Mehl.
Decibel issues in part, "While they most easily fit under the banner of sludge metal, OMOTAI have reached all over the spectrum of heavy music to arrive at A Ruined Oak. Everything from doom and thrash to hardcore punk and post-rock can be heard on the album and a good introduction is with album opener 'Welcome to the Adders' Land.'"
Hear OMOTAI's "Welcome To The Adders' Land" only at Decibel RIGHT HERE.
Tofu Carnage Records will issue A Ruined Oak on 2xLP and digital formats on October 6th. Find preorders at THIS LOCATION.
Stand by for additional audio samples from A Ruined Oak and more to be announced in the days ahead.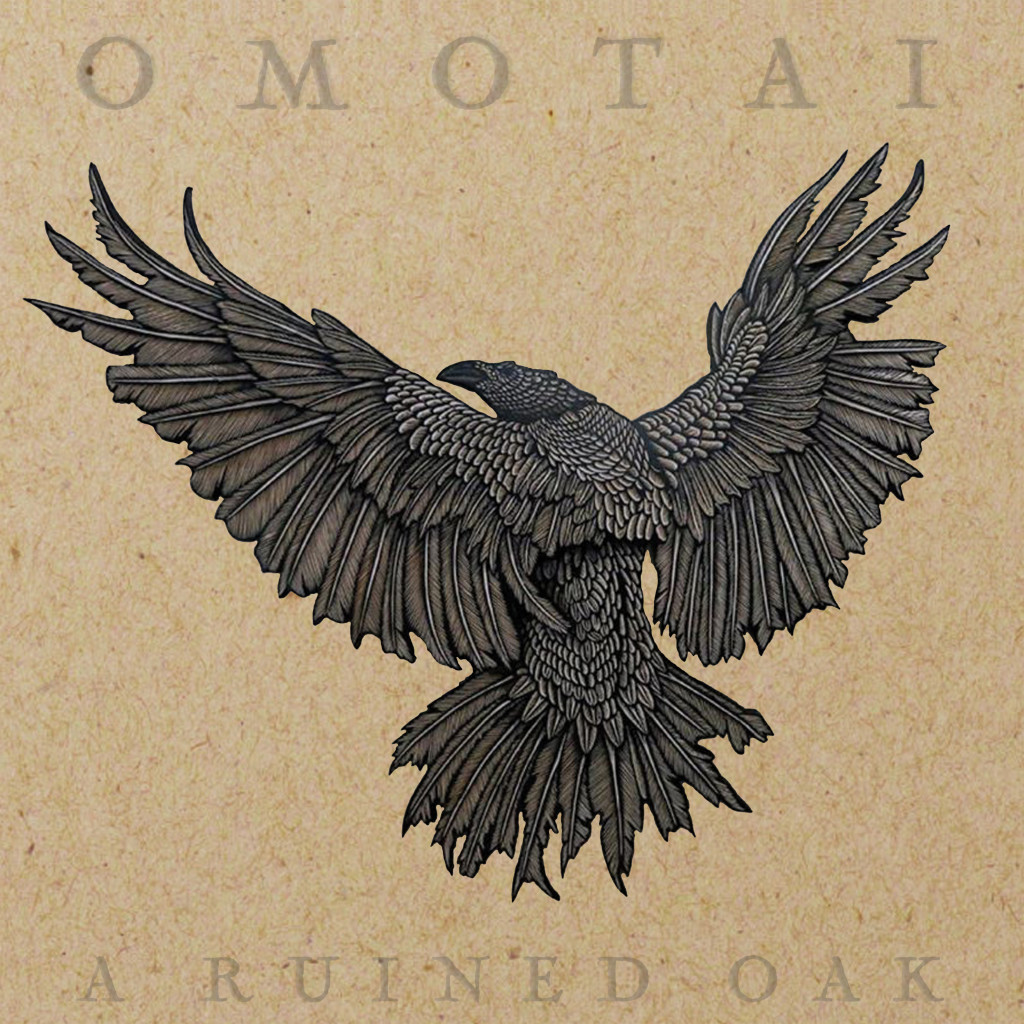 A Ruined Oak Track Listing:
1. Welcome To The Adders' Land
2. A Ruined Oak
3. Last Of The Green Vial
4. Arms That Flood
5. Blackjaw
6. Back To The Drifting Satellite
7. A Cruel Weight, Thy Wound
8. Fire Is A Whore
9. A Maiden Nerve
10. The Savage Sky
11. Augustina
12. Tusk Aurora
OMOTAI has also booked a run of tour dates across the western half of the country surrounding the release of A Ruined Oak. From September 29th through October 14th the band will run a counter-clockwise trail out to the West Coast and back, with the final venues being locked up now.
OMOTAI Tour Dates:
9/29/2017 Sunshine Bar – Arlington, TX
9/30/2017 The Blue Note – Oklahoma City, OK
10/01/2017 Streets Of London – Denver, CO
10/03/2017 TBA – Kalispell, MT
10/04/2017 Mootsy's Tavern – Spokane, WA
10/05/2017 The Black Lodge – Seattle, WA
10/06/2017 Le Voyeur – Olympia, WA
10/07/2017 Jub Jub's Thirst Parlor – Reno, NV
10/08/2017 Hemlock Tavern – San Francisco, CA
10/09/2017 Blacklight District Lounge – Long Beach, CA
10/10/2017 TBA – San Diego, CA
10/11/2017 Yucca Tap Room – Phoenix, AZ
10/12/2017 Burt's Tiki Lounge – Albuquerque, NM
10/13/2017 Depot District Oyster Bar – Lubbock, TX
10/14/2017 Faust – San Antonio, TX
OMOTAI was founded in Houston in 2010 by guitarist Sam Waters, drummer Anthony Vallejo, and bassist Melissa Lonchambon. The band recorded their debut release, Peace Through Fear, within two weeks of formation; this confrontational EP drew on both modern heavy underground rock, ranging from Keelhaul to High On Fire, and the early industrial sounds of Godflesh and Skullflower, and was bolstered by Vallejo's insurmountable wall of noise. OMOTAI's first West Coast tour followed only a few short months later.
Over the next four years, OMOTAI completed two LPs that showcased impressive stylistic evolution, first into the violent but purposeful hardcore of 2012's Terrestrial Grief, and then the patient, layered sludge metal of 2014's Fresh Hell. During post-production on the latter, the trio recruited Jamie Ross, a shockingly adept post-rock guitarist with unique harmonic sensibilities that provided for an immense expansion in the band's sound. Vallejo departed in 2014, and was replaced by journeyman punk drummer (and Waters' previous collaborator) Daniel Mee, whose staggered blasts and dynamic finesse tempered the band's brute force. After touring with the new lineup, OMOTAI threw themselves into the writing process for what would become their third and most expansive album, A Ruined Oak.
OMOTAI:
Sam Waters – Guitar, Vocals
Melissa Lonchambon Ryan – Bass, Vocals
Jamie Ross – Guitar, Vocals
Daniel Mee – Drums, Vocals
https://www.facebook.com/Omotai
https://omotai.bandcamp.com
https://twitter.com/killomotai
https://www.instagram.com/omotaitheband