The PSYCHO LAS VEGAS countdown is on! Set to take place at the Hard Rock Hotel And Casino Las Vegas in Las Vegas, Nevada from August 18th and run through August 20th, with a special pre-party on August 17th, the event offers up the best heavy lineups ever put together for an American festival and recently earned Best Festival accolades from Las Vegas Weekly, the publication noting, "The heavy-rock bash made an auspicious Hard Rock Hotel debut in 2016, blending stoner-rock subgenres from metal to psych, and next month's follow-up looks just as enticing, with Swans, King Diamond, The Brian Jonestown Massacre, and many more set to join the party."
Day-to-day set times are now available at THIS LOCATION.
Saturday day tickets are now SOLD OUT with only a few remaining for Friday and Sunday. Secure yours today at THIS LOCATION.
Payment options for PSYCHO LAS VEGAS 2017 are available through Affirm, with immediate delivery of tickets. More info at THIS LOCATION. Hotel discounts at the Hard Rock Hotel And Casino are also available using the code "psych17" (Note: You must use this special code at the time of booking; not when you arrive at the hotel). Book today at THIS LOCATION.
PSYCHO LAS VEGAS 2017's monolithic lineup includes headlining performances from Atlanta goliaths, Mastodon, notorious psychedelic rock legends, The Brian Jonestown Massacre, and heavy metal legend King Diamond performing the zenith Abigail opus in its entirety as a US-exclusive. Additionally, reunited UK doom icons, Warning, will grace the fest alongside cult stoner/desert rock unit Slo Burn, fronted by Kyuss' John Garcia, Sleep, Diamond Head, Ace Frehley, Neurosis, Gojira, Corrosion Of Conformity, Carcass, Yawning Man, Myrkur, Cirith Ungol, Zeal & Ardor, Abbath, Cult Of Luna with Julie Christmas, and over sixty more! See a full listing below.
Adding to the four-day adventure, the curators of PSYCHO LAS VEGAS added an additional show – now SOLD OUT – featuring cosmic doom trio Yob. The band with lay their purifying riff rituals upon the Hard Rock Hotel & Casino on August 17th directly following the pool party. Additional support will be provided by experimental doom practitioners Subrosa.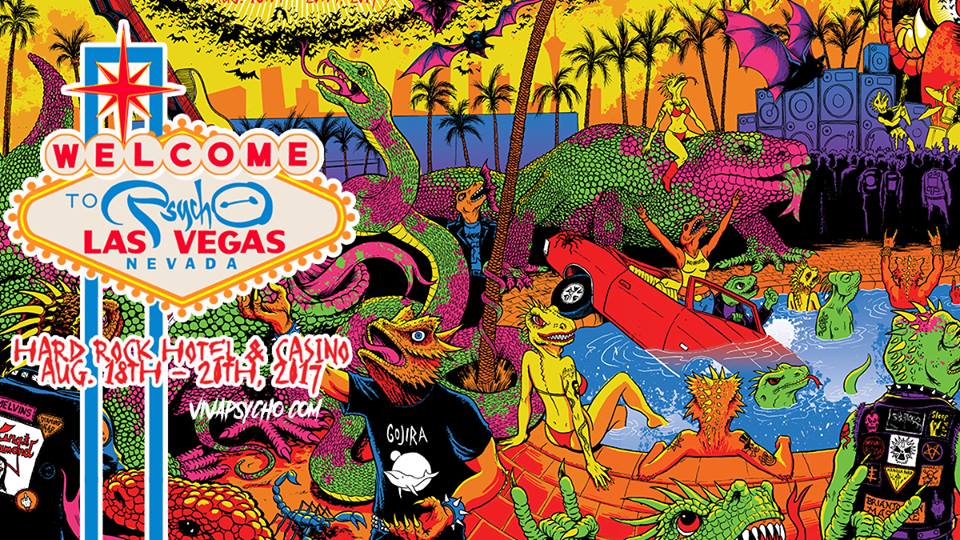 PSYCHO LAS VEGAS 2017 At The Hard Rock Hotel And Casino – Las Vegas, Nevada Day-To-Day Lineup:
THURSDAY Pre-party – August 17th, 2017
Conan
Goya
Graf Orlock
Great Electric Quest
Mustard Gas & Roses
Pentagram
Ruby The Hatchet
Sasquatch
Urchin
Yawning Man
THURSDAY – August 17th, 2017 [SOLD OUT]
Yob + SubRosa
FRIDAY – August 18th, 2017
Black Anvil
Brian Jonestown Massacre
Chelsea Wolfe
Dark Castle
Fister
Khemmis
Magma
Melvins
Mothership
Mouth Of The Architect
Mulatu Astake
Pelican
Royal Thunder
Sleep
Slo Burn
Sons Of Otis
Sumac
The Rods
Toke
Usnea
Vhol
Wolves In The Throne Room
Young And In The Way
Youngblood Supercult
SATURDAY – August 19th, 2017 [SOLD OUT]
Ace Frehley
Blood Ceremony
Carcass
Celeste
Cough
Cult Leader
Diamond Head
Earthless
Elephant Tree (Aka Flights)
Gojira
Gost
Heavy Temple
Hollow Leg
Inter Arma
Jex Thoth
King Diamond
Morne
Myrkur
Neurosis
Saturndust
Slomatics
Snail
Summoner
The Skull
Weedeater
SUNDAY – August 20th, 2017
Abbath
Cirith Ungol
Cloud Catcher
Corrosion Of Conformity
Code Orange
Cult Of Luna With Julie Christmas
Domkraft
Floorian
Gatecreeper
Manilla Road
Mastodon
Merlin
Minsk
Murder City Devils
North
Pigeonwing
Psychic TV
Swans
Warning
Windhand
Wizard Rifle
Year Of The Cobra
Zeal & Ardor
http://www.vivapsycho.com
http://www.facebook.com/psychoLasVegas
http://www.instagram.com/psycholasvegas