Seattle's quintessential, exploratory doom metal quartet, SAMOTHRACE, has broken their live silence with another round of national tour dates for this Spring, today announcing their upcoming cross-country May tour with UK doom/stoner outfit, Conan, and German sludge act, Mantar. On the slow, steady, international tour campaign in support of their 2012-released Reverence To Stone LP, SAMOTHRACE has toured Europe twice since the album's release — once for Heavy Days in Doomtown III in 2013 and again for Roadburn Festival in 2014, with additional tour dates surrounding both festivals — yet the band has not had an opportunity to tour heavily in their native country for quite some time.
Enticed to get back into stateside touring again, SAMOTHRACE will begin dredging their slow-motion, organic, tonal exodus across the US for the first half of May, beginning as they rendezvous with the then-ongoing cross-country Conan and Mantar tour on May 11th, in Denver, Colorado. From there, the unstoppable caravan will cut a line from the Southwestern Rockies realm out to the West Coast, down through the Southwest and up through the lower Midwestern states to the Northeastern lands, while each band boasts specific and exclusive one-off performances throughout the trek. SAMOTHRACE will then execute a return headlining performance at Brooklyn's Saint Vitus Bar on May 24th, and then end their portion of the journey with a stop in Colorado Springs to play as part of What's Left Presents Seven-One-Grind Fest alongside a list of carnage including Capitalist Casualties, Weekend Nachos, Theories, Connoisseur, Destroyer Of Light, Hummingbird Of Death, Primitive Man, and many others. The first round of dates have been released and another batch will follow in the coming days.
SAMOTHRACE Tour Dates:
5/11/2015 Marquis Theater – Denver, CO w/ Conan, Mantar
5/14/2015 Oakland Opera House – Oakland, CA w/ Conan, Mantar
5/16/2015 51 West – Tempe, AZ w/ Conan, Mantar
5/18/2015 The Conservatory – Oklahoma City, OK w/ Conan, Mantar
5/23/2015 Kung Fu Necktie – Philadelphia, PA w/ Conan, Mantar
5/24/2015 Saint Vitus Bar – Brooklyn, NY
5/30/2015 Seven-One-Grind Fest – Colorado Springs, CO w/ Capitalist Casualties, Weekend Nachos, Primitive Man, more [info]
In addition to more tour plans in the works, SAMOTHRACE is writing and prepping for not only a yet-to-be announced split release with some good friends from down South, as well as their next LP to be recorded later this year.
In the meantime, a SAMOTHRACE Live at Roadburn 2014 LP is now available for preorder through Burning World/Roadburn Records, the platter limited to 300 copies. The band will have a limited supply in-hand by the beginning of the tour but they are not expected to last long. The band will also have the repress vinyl editions of Reverence To Stone as well as their debut LP, Life's Trade, and several new merch items on tour with them, which are also available now on the SAMOTHRACE Bandcamp page HERE, and the vinyl via 20 Buck Spin as well, right HERE.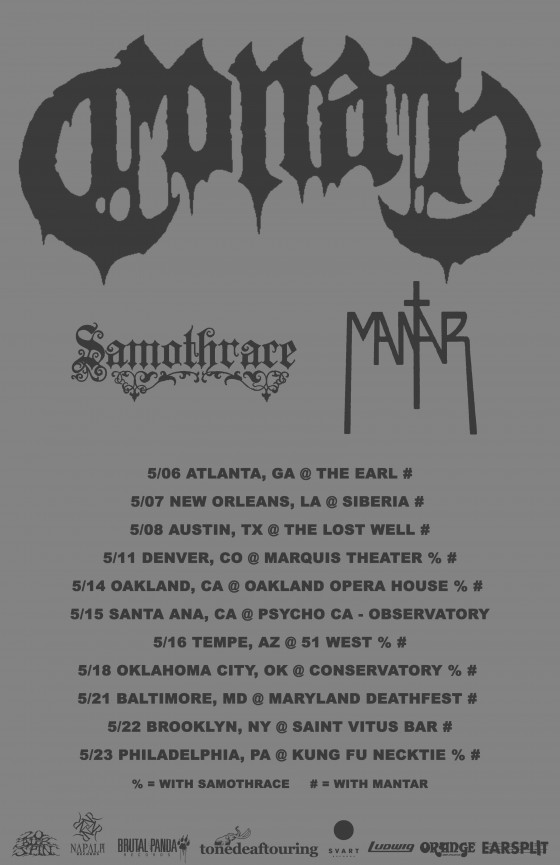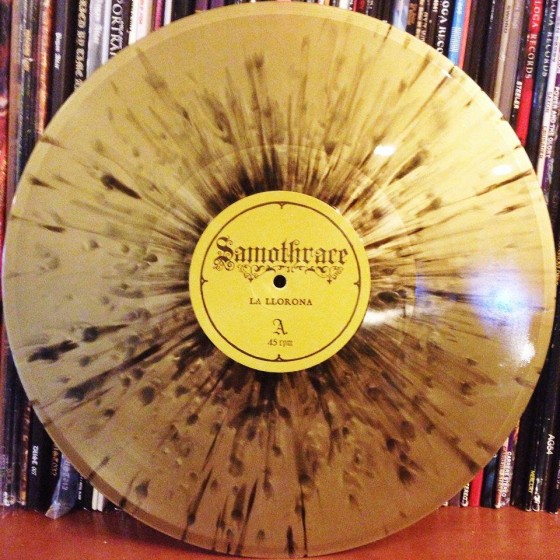 http://samothrace.bandcamp.com
https://www.facebook.com/samothracedoom
http://www.20buckspin.com
http://www.facebook.com/20buckspin
http://twitter.com/20buckspinlabel