Writhing from unfathomable, abyssal depths like eleven inescapable, strangulating tentacles are the movements that create Gateway To The Antisphere, the second LP from Germany's SULPHUR AEON, proven today as the album comes ripping to life in its leviathan entirety at No Clean Singing. From one awestruck glance at the album's intense cover artwork, Gateway To The Antisphere draws you in with the force of gale-ridden tides, packing an unforgiving fifty-two minutes of SULPHUR AEON's most fatal works yet, the album leaves a lasting impression upon even one listen. As treacherous as the stunning layout artwork by Ola Larsson is the production by Simon Werner, which captures this top-tier act at its most grim and devastating, here delivering a whirlwind of apocalyptic atmosphere.
Through the harsh passageway at No Clean Singing, Gateway To The Antisphere can now be endured in its entirety days ahead of its release through the combined efforts of Ván Records and Imperium Productions, the portal offering in part this warning to all who venture near this beast, "It would be sad if SULPHUR AEON's new album failed to live up to the vivid Lovecraftian power and richly imagined detail of the cover art that Ola Larsson created for it. Thankfully, the sound is more than a match for the imagery: Gateway To The Antisphere is one of the most terrifying, and hands-down one of the best, death metal albums of this year." The review continues: "On a purely technical level, the instrumental and vocal performances, and the production, are exceptional. The flensing riffs are fleet and savage, the eye-popping drumwork is precise and varied, and the vocals are multi-hued but never less than voracious. The production delivers these combined forces with clarity and galvanizing potency… This one, we'll be listening to for years to come."
Enter No Clean Singing to experience SULPHUR AEON's Gateway To The Antisphere at THIS LOCATION.
Through their deathly mélange of ferocious riffs, ultra-precise drums and sepulchral incantatory chants, combined with a high level of musical competence and songwriting to the most haunting and wicked death metal, SULPHUR AEON once again proves itself a leading act, crushing with the likes of Ulcerate, Morbus Chron, Abyssal, Vanhelgd and Watain. Gateway To The Antisphere, will be released this Friday, April 3rd on massive, gatefold 2xLP, CD and digital download. View ordering options HERE.
Stand by for news of SULPHUR AEON taking their brute new anthems to the stage in the months ahead.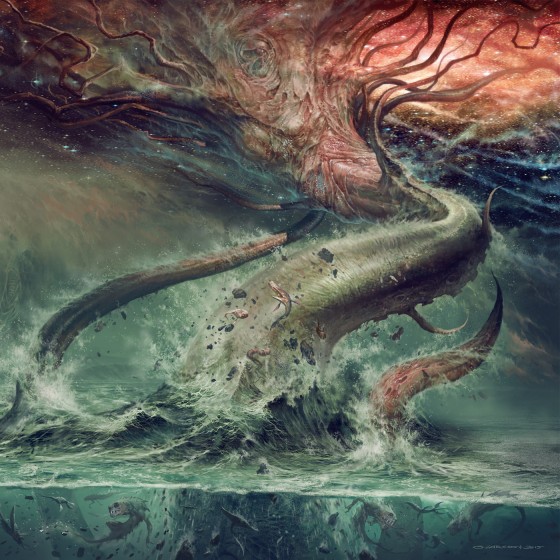 http://www.facebook.com/SulphurAeon
http://www.sulphuraeon.bandcamp.com
http://www.van-records.de
http://www.facebook.com/vanrecs
http://vanrecords.bandcamp.com