[photo by Sarah Churchill]
Road warriors POWER TRIP have added another massive tour to their 2017 itinerary, as the band will support Cannibal Corpse this fall.
POWER TRIP will be out on the road supporting Obituary and Exodus on their massive North American tour from September 14th through October 14th, with Dust Bolt confirmed as the opener. That month-long venture is followed by a set at the Monster Energy Houston Open Air in Houston, Texas on October 15th, where they'll share the stage with Avenged Sevenfold, Stone Sour, Mastodon, Suicidal Tendencies, Five Finger Death Punch, Marilyn Manson, Prophets Of Rage, and many others. October 22nd will see POWER TRIP at the Monster Energy Aftershock Festival in Sacramento, California, alongside Ozzy Osbourne, Nine Inch Nails, A Perfect Circle, Run The Jewels, Marilyn Manson, Mastodon, and tons more.
It has also been confirmed that POWER TRIP is one of the initial performers set to play at the inaugural Loudwire Music Awards ceremony in Los Angeles on October 24th. Black Sabbath's Tony Iommi has been announced as the Courage Award honoree, and Judas Priest's Rob Halford will be receiving the "Lemmy" Lifetime Achievement Award, in addition to performances by Body Count, Halestorm, Starset, POWER TRIP, and more to be announced.
Directly following the two Monster Energy festivals and Loudwire Awards, the newly-announced tour will see POWER TRIP providing direct support for Cannibal Corpse on the band's US fall trek. The tour will run from November 3rd through December 8th, with Gatecreeper providing opening support.
POWER TRIP vocalist Riley Gale has been documented performing with Volbeat at a recent concert the two bands played together, performing their track "Evelyn". See the video RIGHT HERE.
Nightmare Logic, POWER TRIP's most powerful effort yet, was released early this year to high critical acclaim and anticipation — their sophomore release does not disappoint. With hooks and tightness comparable to greats like Metallica, Pantera, or Pentagram, POWER TRIP punishes fans not only sonically but with pure songwriting skill. Nightmare Logic proves to be one of the year's smartest and most crucial releases to spawn from the metal and punk scenes.
See POWER TRIP's "Executioner's Tax (Swing Of The Axe)" video RIGHT HERE, stream Nightmare Logic at YouTube, Spotify, iTunes, and find ordering options at THIS LOCATION.
POWER TRIP Tour Dates:
9/14/2017 Motorco Music Hall – Durham, NC #
9/15/2017 Shaka's Live – Virginia Beach, VA #
9/16/2017 Baltimore Soundstage – Baltimore, MD #
9/17/2017 Starland Ballroom – Sayreville, NJ #
9/19/2017 Music Hall Of Williamsburg – Brooklyn, NY #
9/20/2017 The Palladium – Worcester, MA #
9/21/2017 Higher Ground – Burlington, VT #
9/22/2017 Imperial Bell – Quebec City, QC #
9/23/2017 Bronson Centre – Ottawa, ON #
9/24/2017 London Music Hall – London, ON #
9/26/2017 Intersection – Grand Rapids, MI #
9/27/2017 Park Street Saloon – Columbus, OH #
9/28/2017 Deluxe – Indianapolis, IN #
9/29/2017 The Forge – Joliet, IL #
9/30/2017 Skyway Theater – Minneapolis, MN #
10/01/2017 Ready Room – St. Louis, MO #
10/03/2017 Granada Theatre – Lawrence, KS #
10/04/2017 Aggie Theatre – Ft. Collins, CO #
10/07/2017 Teragram Ballroom – Los Angeles, CA #
10/08/2017 The Observatory North Park – San Diego, CA #
10/10/2017 The Rock – Tucson, AZ #
10/11/2017 Sunshine Theatre – Albuquerque, NM #
10/12/2017 Tricky Falls – El Paso, TX #
10/14/2017 Paper Tiger – San Antonio, TX #
10/15/2017 Monster Energy Houston Open Air – Houston, TX [info]
10/22/2017 Monster Energy Aftershock Festival – Sacramento, CA [info]
10/24/2017 LA Live – Los Angeles, CA @ Loudwire Music Awards [info]
11/03/2017 Mavericks – Jacksonville, FL *
11/04/2017 Vinyl Music Hall – Pensacola, FL *
11/05/2017 Saturn – Birmingham, AL *
11/06/2017 New Daisy Theater – Memphis, TN *
11/08/2017 Trees – Dallas, TX *
11/09/2017 White Oak – Houston, TX *
11/10/2017 Sound On Sound Festival – Austin, TX *
11/12/2017 Club Red – Phoenix, AZ *
11/13/2017 The Observatory – Santa Ana, CA *
11/14/2017 Slim's – San Francisco, CA *
11/15/2017 Slim's – San Francisco, CA *
11/17/2017 Neumos – Seattle, WA *
11/18/2017 Hawthorne Theater – Portland, OR *
11/19/2017 Knitting Factory – Boise, ID *
11/20/2017 The Complex – Salt Lake City, UT *
11/22/2017 Summit – Denver, CO *
11/24/2017 Thalia Hall – Chicago, IL *
11/25/2017 St. Andrews Hall – Detroit, MI *
11/26/2017 Agora Ballroom – Cleveland, OH *
11/28/2017 Royale – Boston, MA *
11/29/2017 Stage 48 – New York, NY *
11/30/2017 TLA – Philadelphia, PA *
12/01/2017 Broadberry – Richmond, VA *
12/02/2017 The Throne Theater – Wilmington, NC *
12/03/2017 Pete's – Greensboro, NC *
12/05/2017 Mercury Ballroom – Louisville, KY *
12/06/2017 Exit/In – Nashville, TN *
12/07/2017 Masquerade – Atlanta, GA *
12/08/2017 The Orpheum – Tampa, FL *
# w/ Obituary, Exodus, Dust Bolt
* w/ Cannibal Corpse, Gatecreeper
"You don't need to be a metalhead to have a blast with Nightmare Logic… POWER TRIP's fist-pumping choruses, ricocheting grooves, and ample charm are so animated that they leave us with something addictive and, well, fun. – Pitchfork / Best New Music
"possesses a certain monolithic quality Lemmy would admire: a massive rawness and a sludgy, heavy hopelessness that thrashes with punk immediacy and metal intricacy…it's a track preparing for war" – NPR
"one of the most highly anticipated records in aggressive music in recent memory" – The New Yorker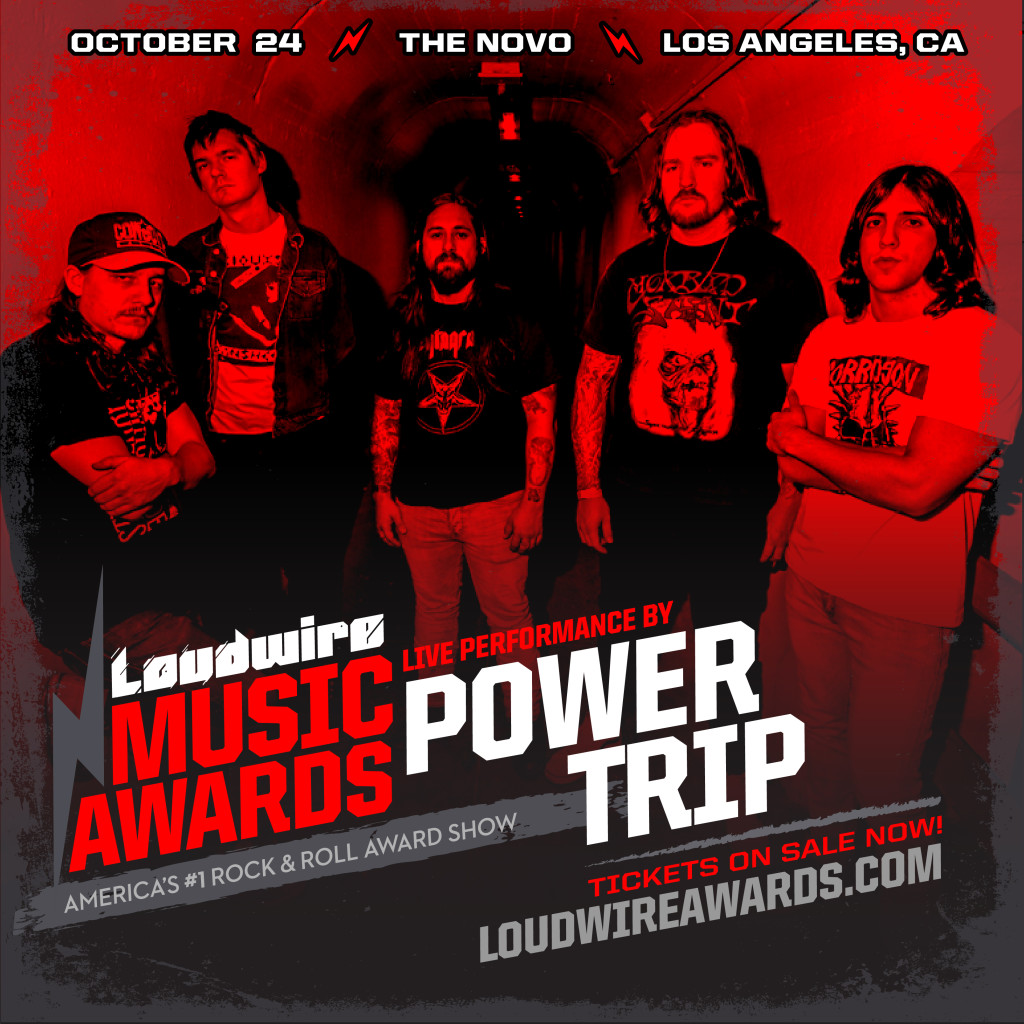 http://powertripsl.bandcamp.com
https://twitter.com/PowerTripTX
http://www.facebook.com/powertripTX
http://www.southernlord.com
http://southernlord.bandcamp.com