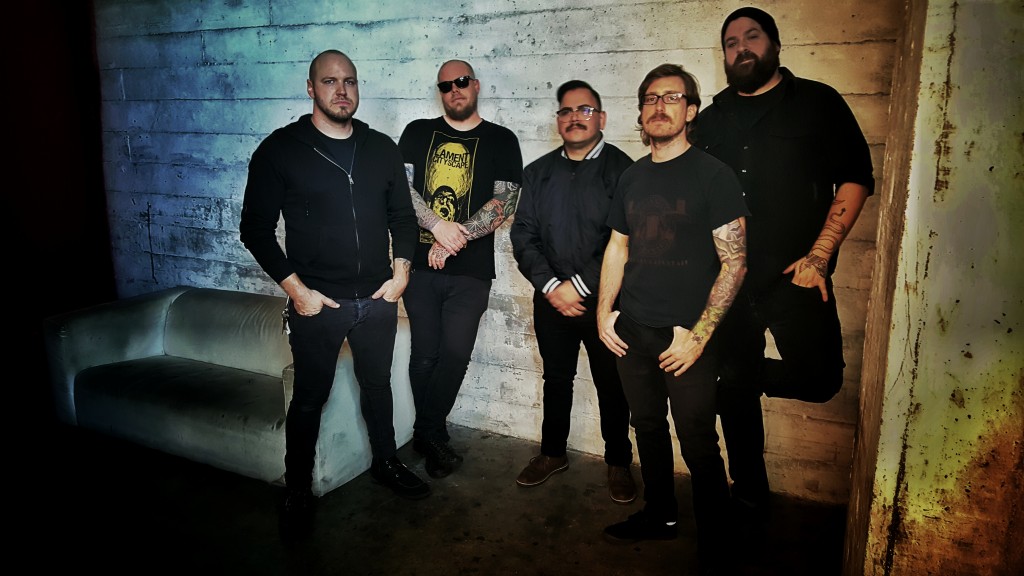 [photo by Stephanie Allen]
The first song from California-based MOUNTAINEER has been made available to the public, highlighted at MetalSucks, as the band announces their first tour dates.
MOUNTAINEER, a newly-found act with the roots of its members tracing to Secrets Of The Sky, Lycus, Lament Cityscape, and others, will release their debut recordings as a two-song 7″, which leads off with "Coma Fever", and sees "Siren Song" on the B-side. Both tracks are culled from the band's impending LP which will see release sometime in the future, yet are being released together early on a special, limited edition 7″ through Battleground Records. The EP will be pressed on a picture disc lathe cut, limited to 55 copies, which will be released August 4th exclusively for the band's upcoming debut live performances.
MetalSucks delivers the band's first single, "Coma Fever," noting, "If you liked Secrets of the Sky you'll probably enjoy MOUNTAINEER, although they're a bit more chilled out, post-y and doomy than the former."
MOUNTAINEER prepares to make its live debut with a trek through the upper West Coast US the first week of August in support of the 7″. The band will play Sacramento, Seattle, Portland, and Oakland August 4th through 8th, supporting Come to Grief on the latter two shows. Additional live performances will be announced in the coming weeks as well.
MOUNTAINEER Live:
8/04/2016 Starlite Lounge – Sacramento, CA
8/05/2016 Victory Lounge – Seattle, WA
8/06/2016 Panic Room – Portland, OR w/ Come To Grief
8/07/2016 The Metro – Oakland, CA w/ Come To Grief
MOUNTAINEER was formed in late 2015 by guitarist Clayton Bartholomew (ex-Secrets Of The Sky, ex-Lycus) and longtime friend, vocalist Miguel Meza. The two demoed out a full album and soon after recruited guitarist Mike McClatchey (Lament Cityscape), drummer Sean McCullough (Lament Cityscape), and bassist David Small (Cutworm) to round out the live band. While elements of the more doom-laden, low-end thunder of the creators' prior works are present in this new act's sound, MOUNTAINEER displays a dense but accessible, organic style of emotional rock, their output ranging from dense and epic movements to more stripped-down and accessible passages.
In March of this year, MOUNTAINEER entered Nu-Tone Studios with engineer Ben Hirschfield to record their debut. While the album is not being released until later this year, the band has decided to release two songs early via a special advance vinyl EP in conjunction with a West Coast tour in August. Bearing the tracks "Coma Fever" and "Siren Song," the two-song EP
http://mtnr.bandcamp.com
http://www.facebook.com/mountaineerbayarea
http://www.facebook.com/battlegroundrecords
http://www.battlegroundrnr.com
http://www.twitter.com/battlegroundrnr
http://battlegroundrecords.bandcamp.com