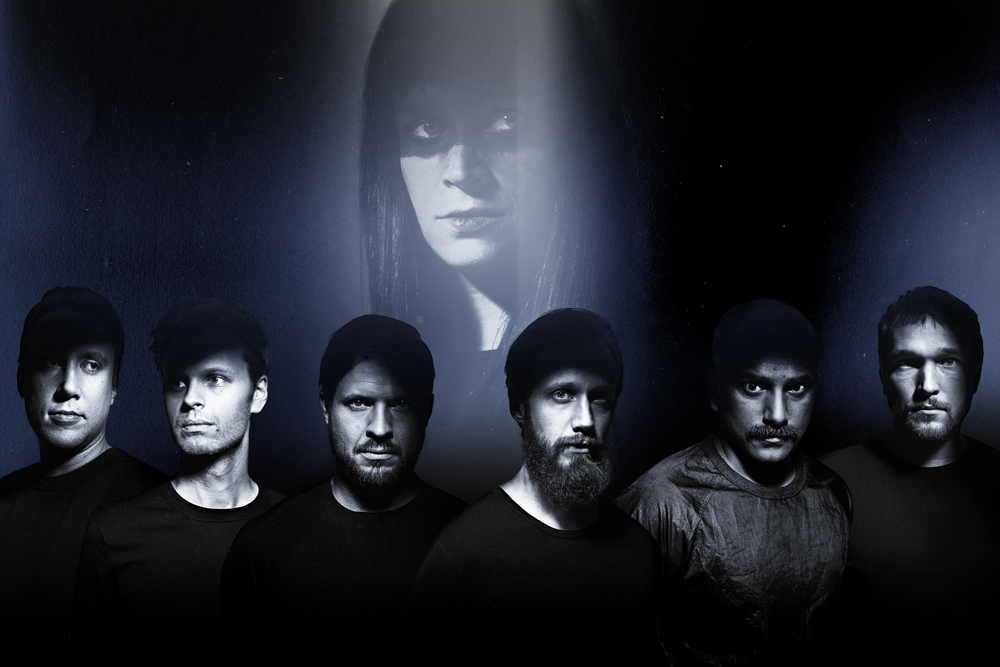 Today CULT OF LUNA and JULIE CHRISTMAS issue the official new video for the track "Chevron." Directed by Javier Longobardo, the tripnotic new clip comes by way of their Mariner full-length, a collaborative release that transports listeners to the outer rim of the ever-expanding boundaries of the cosmos – where the rules of man are not applicable and the cold, dark nothing envelops the harsh realities of the universe.
Cast your eyes on the kaleidoscopic visual alchemy of "Chevron," courtesy of Decibel Magazine, at THIS LOCATION.

In related news, CULT OF LUNA and JULIE CHRISTMAS will bring their psalms to European stages on a short run of live dates this Fall.
Elaborates guitarist/vocalist Johannes Persson "Mariner was never supposed to be played live. It was under this premise that we started working together with Julie over two years ago. The goal was to release the album, which was hard enough considering that we live on two sides of the gigantic Atlantic Ocean. But if there's one thing that life has taught me, it's that you should never say never, however unlikely an event seems to be. Usually unlikely events are bad things that happen despite all precautions but in this case, let's just say that the outcome is yet to be decided. The stars have aligned perfectly and I am going to have to take back what I've repeated in numerous interviews this past year: That Mariner will not be played live, because it will. We have managed to sync our schedules and in November we will do a select few shows in Europe. Note that we will only play Mariner from start to finish. There will be five CULT OF LUNA and JULIE CHRISTMAS shows in Europe, nothing more and nothing less. There are no plans to perform the album live again. We are as excited to hear how this plays out live as you might be because we haven't played the songs together before."
CULT OF LUNA/JULIE CHRISTMAS:
11/02/2016 Debaser Medis – Stockholm, SE
11/03/2016 Les Docks – Lausanne, CH
11/04/2016 De Kreun – Kortrijk, BE
11/05/2016 Damnation Festival – Leeds, UK
11/06/2016 Lera Odos – Athens, GR
Mariner was captured in multiple locations with drums and bass recorded by Magnus Lindberg at Tonteknik Recording in Umeå, Sweden and additional recordings by Kristian Karlsson at Studio Hufvudstaden in Söderköping, Sweden. JULIE CHRISTMAS' vocals were produced and engineered by Andrew Schneider at Translator Audio and Loho Studios in New York City. The entire five-track gem was mixed and mastered by Magnus Lindberg at Redmount Studios in Stockholm, Sweden. Mariner is available on CD, LP and vinyl at the following locations. Amazon HERE. iTunes HERE. Indie Shop HERE.
Mariner continues to reap unanimous mass approval from critics globally. In a perfect 10/10 score, Metal Injection gushes, "I literally can't find anything wrong with Mariner. It is quite possibly perfect in every way, shape and form. This is an album that guides you from start to finish on the backs of monster riffs, gargantuan vocals, and a sense of sonic superiority that is going to leave you in awe. CULT OF LUNA and JULIE CHRISTMAS have just unleashed some of the best work of their respective careers here, and this is an album that I can guarantee will stand the test of time." In a 4/5 rating, New Noise Magazine writes, "Mariner is a dense album that reveals its secrets with multiple listens. CULT OF LUNA provides JULIE CHRISTMAS with the dynamic palette that only they can achieve and in turn, she gives them a fresh vocal quality that pushes their melodies to a new sonic and emotional level. This union benefits the sound of both and makes for a fine piece of collaborative art that you do not want to miss out on." In a 9/10 grade, Metal Wani hails, "Every facet of this combination is enthralling and charismatic, with some of the most expressive vocals I have ever heard." Heavy Blog Is Heavy awards the record a 5/5 review noting, "Mariner is proof that post-metal is not a stagnant genre, and CULT OF LUNA are not a stagnant band. Calling on eighteen years of experience in the genre, CULT OF LUNA has crafted what could potentially be their crowning achievement." In a 4/5 verdict, Sea Of Tranquility applauds a, "hypnotic, dramatic, and at times ominous release that proves what great pairing CULT OF LUNA and JULIE CHRISTMAS are." Adds MetalSucks in a 4/5 score, "All the mood and atmosphere here – yes, you can name drop Radiohead and Mogwai all you want, certainly add the aforementioned Floyd and maybe Bjork – doesn't mean 'Call' or 'Cygnus' won't totally pummel you by song's end."
Since uniting in 1998, CULT OF LUNA has released seven albums, been awarded the top rock/metal award at the Swedish national radio awards and cemented their status as one of the true innovators of the metal genre. In 2013, the Swedes teamed up with Indie Recordings for the release of perhaps their most successful work to date in the shape of Vertikal I and Vertikal II. These cohesive pieces of work received worldwide recognition and praise and only elevated the band's status to greater heights. For their eighth effort, the post-metal pioneers join forces with the talented JULIE CHRISTMAS (Battle Of Mice, Made Out Of Babies) from Brooklyn, who adds an even larger depth to CULT OF LUNA's sound – powerfully displayed on Mariner.
http://www.cultofluna.com
http://www.facebook.com/cultoflunamusic
http://www.twitter.com/cultoflunaoffical
http://www.facebook.com/Julie-Christmas
http://www.indierecordings.no