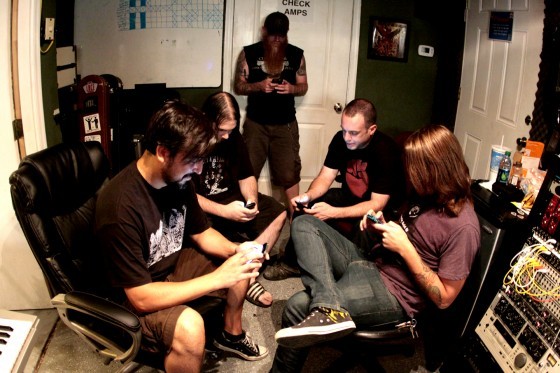 Tucson sludge deviants GODHUNTER have been destroying Arcane Digital Studios (Exhumed, Misery Index) with Ryan Butler (Landmine Marathon, Unruh), the sessions being used to construct the band's official full-length LP, City Of Dust. A concept album about life and death in a decaying desert shithole of a hometown, little else has been released on the album other than it shall prove to be another bulldozing supply of booze and bong-friendly hardcore-infused sludge pulverization.
City Of Dust will soon be completed and the remaining parts constructed over the coming months for disbursement on CD, LP and digital in March of 2014. Though GODHUNTER stands by a stern "labels can suck it" philosophy, a direct alliance with The Earsplit Compound has been forged for the albums' release, which will also be preceded by a limited 7″ from the band this Fall. Further details on this mission will be released in the coming weeks.
Hazy previews of the album coming together and other GODHUNTER visual debauchery can be scoped below.
GODHUNTER continues to book sporadic shows, the henchmen confirmed to hit share the stage with Truckfighters, Orange Goblin, Holy Grail, Clutch, The Sword and more over the coming months. The pending roster of shows also includes a throwdown with Kylesa, Demon Lung and nearly sixty other bands at the four day long 2nd annual Southwest Terror Fest in Tucson this October, once again fully curated by GODHUNTER themselves.
GODHUNTER Live:
8/31/2013 The Rock – Tucson, AZ w/ Truckfighters, Powered Wig Machine
10/02/2013 Yucca Tap Room – Phoenix, AZ w/ Orange Goblin, Holy Grail
10/10/2013 The Rock – Tucson, AZ @ Southwest Terror Fest w/ Kylesa, Demon Lung
11/08/2013 The Rialto – Tucson, AZ w/ Clutch, The Sword
http://godhunter.bandcamp.com
https://www.facebook.com/godhuntertucson666
https://twitter.com/godhuntertucson
http://godhunter.bigcartel.com