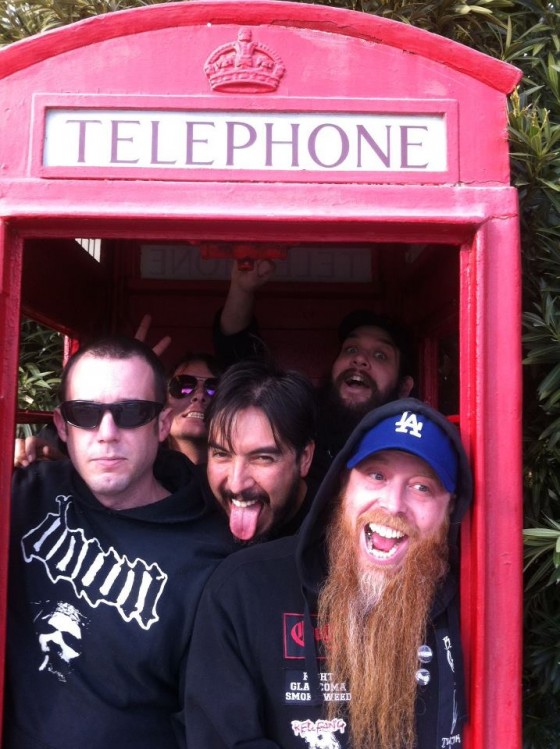 Following their three-part tour leading up to their rampage through SXSW, Tucson trauma squad GODHUNTER hurls a new tune at you all exclusively through Heavy Planet, just in time for their hometown support slot sharing the stage with Ghost B.C. and Ides of Gemini this week.
The first new material from the outfit to be released since their late 2011 Wolves EP, the suffocating bass tone, pummeling mid-paced dueling guitar hooks and jacked-up corrosive vocal bellow of "Vultures' Wake" culminate into the most pounding GODHUNTER dust storm yet, and is the first new noise from the bandits to be recorded with new drummer Andy Kratzenberg. "Vultures' Wake" was recorded by Ryan Bram (Territory) at Homewrecker Studios in Tucson, and mastered by Brad Boatright (From Ashes Rise) at Audiosiege, and will be available on an upcoming split 7″ with fellow Tucson act Anakim.
The new track is let off the chain just as GODHUNTER prepares to support occult horde Ghost B.C. on their massive American pilgrimage with support from ethereal LA-based trio Ides of Gemini as the national tour infiltrates Tucson tomorrow, Tuesday, April 23rd. The band will wrap up their rigorous 2012/2013 tour schedule with two more local shows in early May, and will then take the Summer off to wrap up pre-production work on their upcoming City Of Dust full-length. The album is to be recorded in August by Ryan Butler (Landmine Marathon, Unruh) at Arcane Digital Studios in Chandler, Arizona, and as always released independently in GODHUNTER's strict "labels can suck it" ethos.
GODHUNTER Live:
4/23/2013 The Rialto Theatre – Tucson, AZ w/ Ghost B.C., Ides Of Gemini
5/07/2013 TLMS – Tucson, AZ w/ Blighter, Down On Knees I'm Weak
5/08/2013 Yucca Tap Room – Phoenix, AZ w/ Early Graves, Soveriegn
http://godhunter.bandcamp.com
https://www.facebook.com/godhuntertucson666
https://twitter.com/godhuntertucson
http://godhunter.bigcartel.com