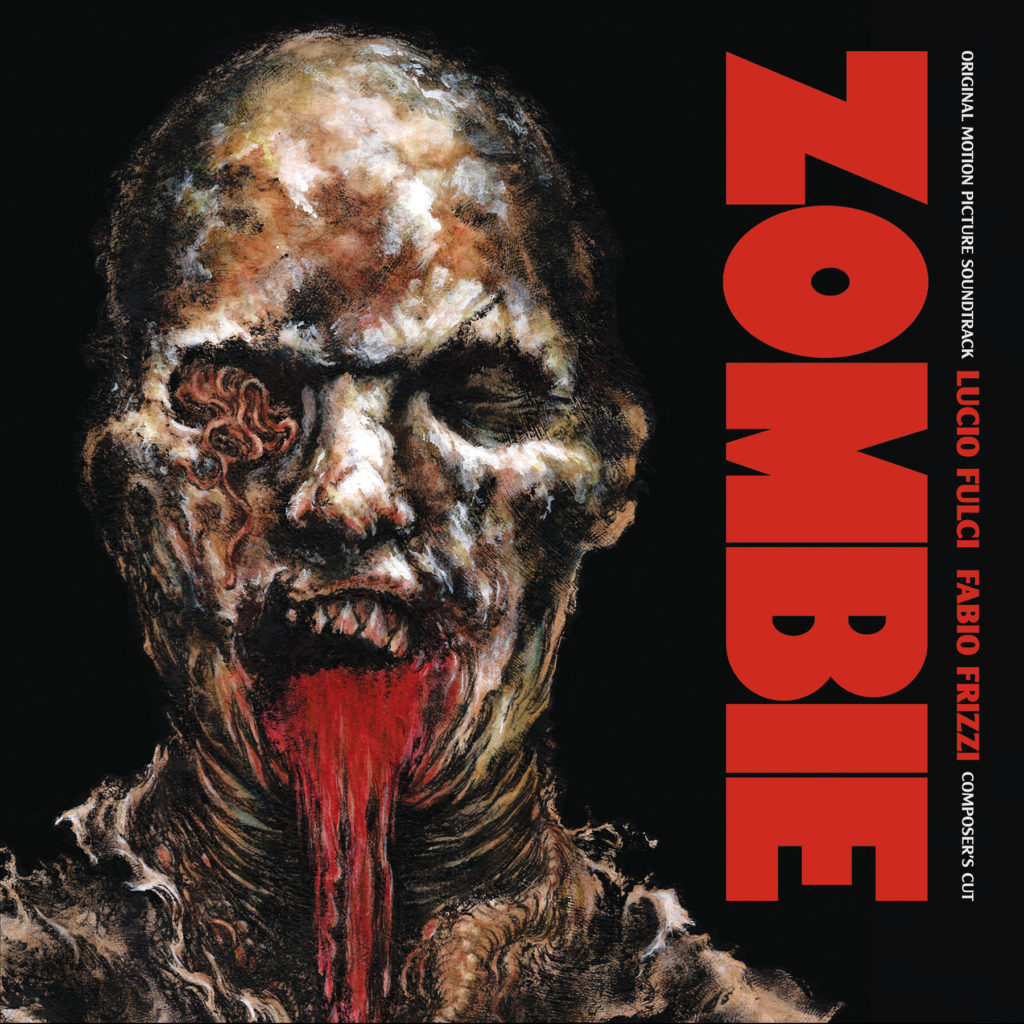 FABIO FRIZZI's Zombie: Composer's Cut is out now on Cadabra Records, purveyors of nightmares on vinyl.
Lucio Fulci's Zombie has maintained status as a cult favorite in the horror world for over forty years, and the score by FABIO FRIZZI undoubtedly holds top-tier status as one of the most iconic and influential horror film soundtracks of all time. Following FABIO FRIZZI's international live performances for the Cadabra-released The Beyond: Composer's Cut LP, Covid hit, and Italy shut down. At home with his instruments, the maestro began work on this new opus.
Zombie: Composer's Cut is not just a re-recorded rendering of the classic score, nor is it a completely re-imagined version. Keeping the vision of the original at the forefront, FRIZZI carefully orchestrates new music to this timeless score, infusing new elements to accent specific scenes in the film in the listener's mind, while adhering to Fulci's monstrous film.
The complete uncut score of FABIO FRIZZI's Zombie: Composer's Cut is here delivered in a plush vinyl edition, pressed on 150-gram colored vinyl in multiple variants, packaged in a deluxe heavyweight tip-on gatefold jacket, adorned in newly commissioned art by Jeremy Hush that starkly resembles the look of the original film and movie artwork. The inlay features brand new essays by Stephen Thrower and J. Blake Fichera, as well as liner notes from FRIZZI himself.
Stream FABIO FRIZZI's Zombie: Composer's Cut tracks "The Boat Can Leave Now, Tell The Crew" and "Paula's Eye" RIGHT HERE.
Zombie: Composer's Cut is now available at local record shops and at the Cadabra Records webshop HERE.
Other recent related titles through Cadabra Records include The Eyes Of The Cat Original Soundtrack LP by FABIO FRIZZI based on the graphic novel by Alejandro Jodorowsky and Moebius, the Dark Chamber 2xLP featuring acoustic renditions of the films of Lucio Fulci by FABIO FRIZZI with Riccardo Rocchi, Lucio Fulci's The Beyond: Composer's Cut by Fabio Frizzi 2xLP, among others. Additionally, Backstage and Beyond: An Autobiography by Fabio Frizzi, is also now available through Chiroptera Press HERE.
"…sees the master of auditory suspense carefully orchestrate new music to this timeless score, infusing new elements to accent specific scenes in the film in the listener's mind, while adhering to Fulci's monstrous film…" – Decibel Magazine
"Cadabra Records, purveyors of such nightmares on vinyl as The Beyond: Composer's Cut and The Eyes Of The Cat Original Soundtrack reteams with macabre music maestro FABIO FRIZZI for what will surely be the genre music release of the year… Zombie: Composer's Cut features an all-new re-recorded version of the haunting, hard-driving score to Lucio Fulci's beloved living dead classic Zombie (aka Zombi 2, Zombie Flesh Eaters). More than merely a redux of Zombie's score, this release orchestrates new music to accent specific scenes in the listener's mind while keeping the original compositions firmly in the forefront." – Rue Morgue Magazine
http://www.cadabrarecords.com
http://www.twitter.com/cadabra_records
http://www.instagram.com/cadabrarecords