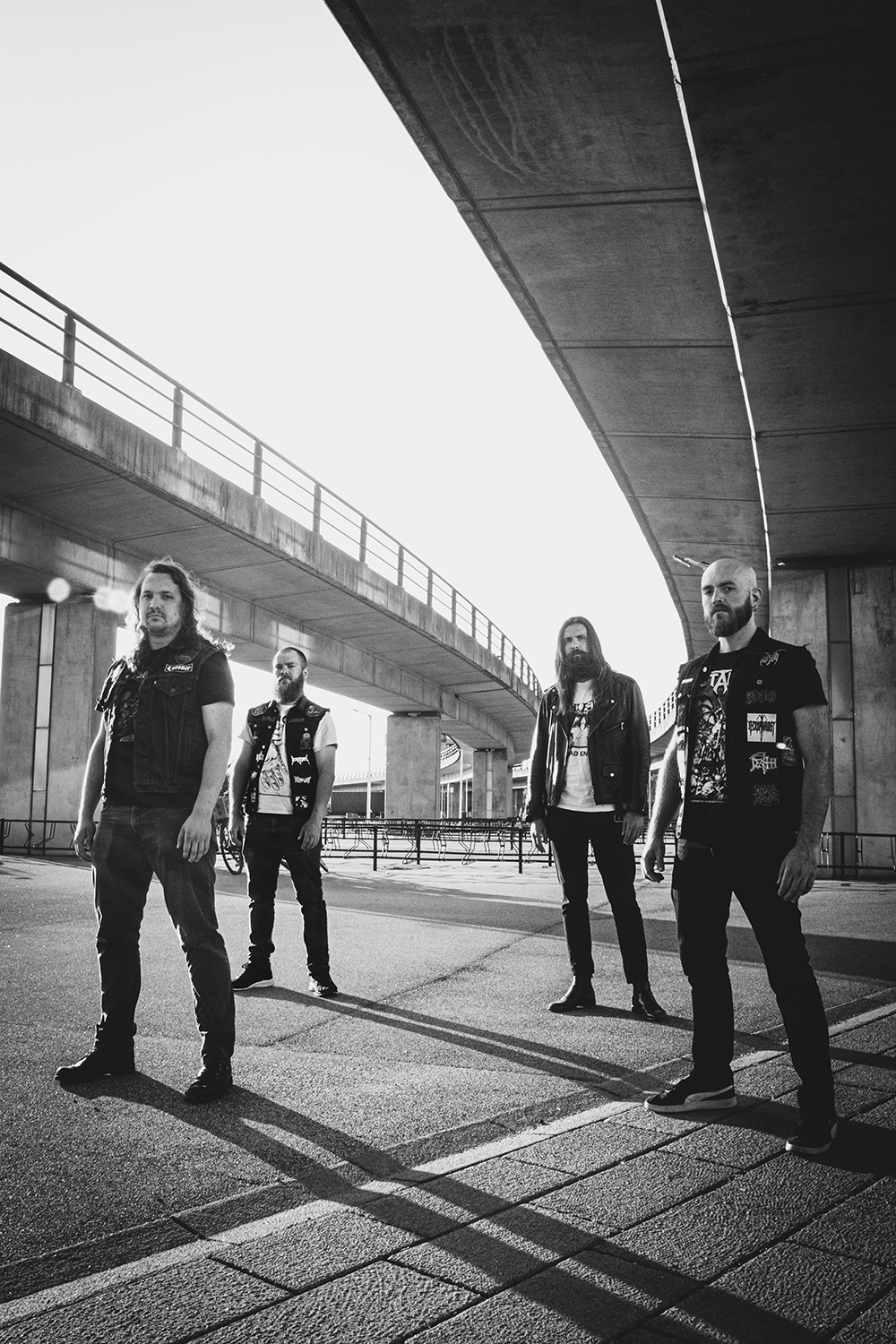 photos by Theis Wilmer Poulsen
Danish/American hyperthrash band TERMINALIST today unleashes a new video for "Mutating Fractures," the second single from their impending second LP, The Crisis As Condition, out in early September on Indisciplinarian.
Just as on their debut album, TERMINALIST teamed up with producer Lasse Ballade, The Crisis As Condition recorded and mixed at Ballade Studios in Copenhagen and mastered by V. Santura (Triptykon, Dark Fortress) at Woodshed Studios in Germany. Also, the same as the first album, British painter Ryan T. Hancock is again responsible for the unique artwork, and photography is handled by Theis Wilmer Poulsen.
The disturbing video for "Mutating Fractures" was created in cooperation with videographer Johan Von Bülow. TERMINALIST vocalist, lyricist, and guitarist Emil Hansen elaborates on the song theme, stating, "The crises we face affect and worsen each other. Whether we're talking climate, war, or inequality, these issues each play a part in a larger whole. 'Mutating Fractures' is an attempt to convey this message through imagery inspired by the Covid crisis where the crises resemble fractures constantly mutating, presenting new problems along the way. It's a deeply pessimistic track which, although catchy and riffy, also itself mutates, diverting from the original theme before the last reprise."
Watch the video for the new TERMINALIST single "Mutating Fractures" RIGHT HERE and stream the single HERE.
The Crisis As Condition will be released September 8th on LP – gatefold with 100 on Orange Vinyl and 300 on Black Vinyl – as well as CD, CS, and digital formats via Indisciplinarian. physical formats can now be preordered at the label webshop HERE. Also watch the video for the album's title track HERE.
TERMINALIST has just supported sci-fi legends Voivod in Copenhagen, where the band will also play its release show at Loppen, Christiania on September 8th with support from power thrashers Exelerate. Additional live excursions are to be expected following the album's release.
TERMINALIST Live:
9/08/2023 Loppen – Copenhagen, DK *LP Release show w/ Exelerate [tickets]
Rooted in 1980s technical thrash metal, on The Crisis As Condition, TERMINALIST updates the socio-political criticism known from the genre's heyday in the late-1980s and early-1990s—a time that was also characterized by political upheaval, yet marked by a belief in better times ahead.
On The Crisis As Condition, this worldview is turned inside out. The optimism of earlier times and faith in progress have been replaced by a bleak and pessimistic realism. Transformation turns to turmoil; the state of emergency is the new normal.
Where the 2021 debut album, The Great Acceleration, was a commentary on the (future) space race and the inherently destructive side of technology, The Crisis As Condition is a simultaneously detached and impassioned look at the present. Science fiction fantasies have been shelved in favor of a fierce analysis and castigation of contemporary crisis-ridden society. This is expressed through hard-hitting and dynamic music rich in detail that has its basis in thrash metal, but which draws parallels to progressive metal and black metal with its intricate rhythms and ambitious songwriting.
https://www.facebook.com/terminalist
https://www.instagram.com/terminalistcph
https://terminalist.bandcamp.com
https://indisciplinarian.com
https://www.facebook.com/indisciplinarian
https://www.instagram.com/indisciplinarian_
https://indisciplinarian.bandcamp.com