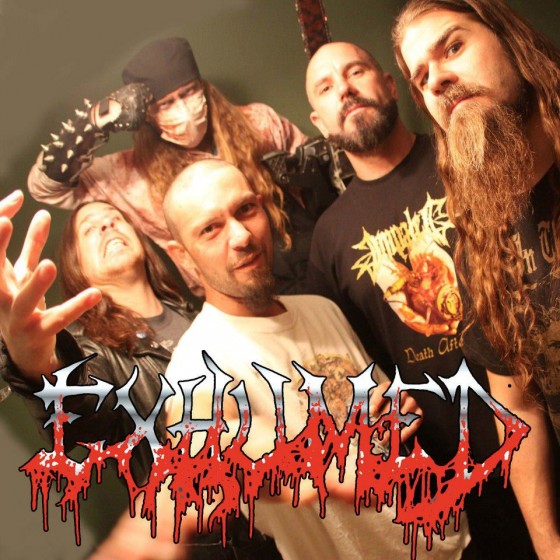 In conjunction with EXHUMED's forthcoming North American live takeover, set to commence this weekend, today Guitar World delivers a thorough track-by-track breakdown of Necrocracy. Released last month via Relapse Records, and crowned, "one of the year's best death/goregrind releases," by About.com, the record serves as the band's most musically adept, sonically punishing and conceptually provocative recording of their gorestrewn catalog.
Scroll on over to Guitarworld.com, where EXHUMED's Matt Harvey delivers a comprehensive track-by-track dissection of Necrocracy's compelling themes and compositions at THIS LOCATION.
Additionally, fans can still blister their ear holes with bonus tracks from Necrocracy, streaming at at the EXHUMED BandCamp page HERE.
Prior to their month-long North American ambush with labelmates Dying Fetus, EXHUMED will rampage through several cities, including Los Angeles this weekend for two very special shows alongside Carcass! See updated tour dates below.
EXHUMED:
9/28/2013 The Troubadour – Los Angeles, CA w/ Carcass
9/29/2013 Troubadour – Los Angeles, CA w/ Carcass
10/01/2013 Riot Room – Kansas City, MO
10/02/2013 Brass Rail – Peoria, IL
10/03/2013 The Shrunken Head – Columbus, OH
EXHUMED w/ Dying Fetus, Abiotic, Waking The Cadaver:
10/04/2013 Mojo 13 – Wilmington, DE
10/05/2013 Ziggy's by The Sea – Wilmington, NC
10/06/2013 Back Booth – Orlando, FL
10/07/2013 The Orpheum – Tampa, FL
10/09/2013 Fitzgerald's – Houston, TX
10/10/2013 Red 7 – Austin, TX
10/11/2013 Trees – Dallas, TX
10/12/2013 Chameleon Room – Oklahoma City, OK
10/13/2013 Lumenscapes – Algodones, NM
10/14/2013 Club Red – Tempe, AZ
10/15/2013 Observatory – Santa Ana, CA
10/16/2013 The Whisky – W. Hollywood, CA
10/17/2013 DNA Lounge – San Francisco, CA
10/18/2013 Branx – Portland, OR
10/19/2013 Studio Seven – Seattle, WA
w/ Dying Fetus, Abiotic:
10/20/2013 Rickshaw Theater – Vancouver, BC
10/22/2013 Republik – Calgary, AB
10/23/2013 Pawn Shop – Edmonton, AB
10/24/2013 Riddell Centre – Regina, SK
10/25/2013 Park Theater – Winnipeg, MB
w/ Dying Fetus. Abiotic, Rivers Of Nihil:
10/26/2013 Skyway Theater – Minneapolis, MN
10/27/2013 Reggie's – Chicago, IL
10/28/2013 The High Noon Saloon – Madison, WI
10/29/2013 Peabodys – Cleveland, OH
10/30/2013 Chance Theater – Poughkeepsie, NY
10/31/2013 Palladium – Worcester, MA
11/01/2013 Gramercy Theater – New York, NY
11/02/2013 Empire – Springfield, VA
To order your copy of Necrocracy, point your browser to THIS LOCATION. The record is also available via iTunes HERE. And if you missed it, peep the visuals for "Coins Upon The Eyes" HERE.
"The album seethes with virtriol, visceral shredding and thunderous grooves and it yields not a dull moment across its 29 minutes. 9/10" – Outburn
"Matt Harvey and his merry maniacs know exactly what they're doing, and have spent 20-odd years perfecting their poisonous formula. The riffs still bludgeon, the snare still snaps, and the dual vocal assault still growls and yelps with the best of them. The wailing solos and brilliant flashes of melodic death metal perfection are a welcome addition, as is their maturing approach to songwriting." — Pitchfork
"This is death metal the way it should be, but hardly is anymore: complex but still compact, well-played without being wanky, brutal without going to ridiculous extremes, and listenable, if not inviting, in spite of its inherent ghastliness. Necrocracy kills, plain and simple." – Metal Insider
"…as solid a record as EXHUMED have ever created. Full of as much soul as it has guts, Necrocracy is simultaneously cool, true, and different in the ways that matter. Death lives. 4/5″ – MetalSucks
"EXHUMED have accomplished what they set out to do here, namely give the world a thoughtful, well-crafted death metal album in a mid-90s vein, where melodic leads had begun to creep in but the genre hadn't gone full Maiden yet." – Metal Injection
"If we were going to do something daft like compare phases of EXHUMED's career with any other band, then Necrocracy is their South Of Heaven. They've slowed down where it counts whilst retaining their bloody, jagged edge and still know when to up the BPMs for maximum effect, whilst every area of the writing is stronger and they've even learned a few new tricks to crank up the tension at key points…. the heaviest point of their career to date. 5/6″ – Thrash Hits
"Necrocracy is very much an intelligent, calculated incision into your brain tissue, cutting just delicately enough for them to juxtapose the surgeon's work by trampling over the rest of your broken body. I'm sure they'll get elected into office when Necrocracy drops on the sixth of August. 4/5" – Sputnik Music
http://www.gorefuckingmetal.blogspot.com
http://www.facebook.com/ExhumedOfficial
http://www.myspace.com/exhumed
http://www.relapse.com