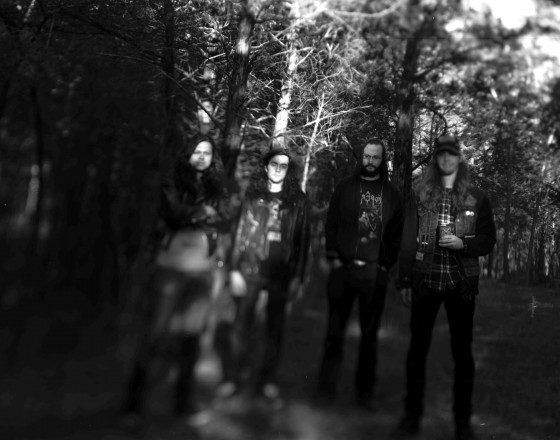 The latest live expedition for Harrison, Virginia-based EARTHLING is now underway, beginning tonight with an invasion of the nation's capital. The band will lay waste to city after city for a full month, pummeling a counter-clockwise arc through the Midwest, down to the Gulf Coast and then eastward closing the trek with a home state show on October 26th, bludgeoning audiences with Vektor, Lord Almighty, Ashencult, Primitive Man and countless others along the way.
EARTHLING Fall Tour 2013:
9/26/2013 The Fillmore – Washington, DC w/ Vektor, Midnight Eye
10/01/2013 house show – Boston, MA w/ Lord Almighty
10/02/2013 Union Pool – Brooklyn, NY w/ Mutilation Rites, Syphilitic Lust
10/03/2013 Millcreek Tavern – Philadelphia, PA w/ Casket, Ashencult, Repellers
10/04/2013 Sidebar – Baltimore, MD
10/05/2013 31st Street Pub – Pittsburgh, PA w/ Liquified Guts
10/06/2013 Elimination Chamber – Morgantown, WV
10/07/2013 Carabar – Columbus, OH w/ Artillery Breath, Nail Bat
10/08/2013 Casa Demise – Dayton, OH
10/09/2013 Brass Rail – Fort Wayne, IN w/ Nakay, Shamesquats, ShitHearts
10/10/2013 The Mutiny – Chicago, IL w/ Warboner, Gnarly Death, Savas
10/11/2013 TBA – Milwaukee, WI
10/12/2013 TBA – Appleton, WI
10/13/2013 The Hexagon – Minneapolis, MI
10/14/2013 The V-Spot – Madison, WI w/ Primitive Man, Mellow Harsher
10/15/2013 house show – Cincinnati, OH w/ Impia, Valdrin
10/16/2013 Sidecar – Lexington, KY
10/17/2013 PK's – Carbondale, IL
10/18/2013 Murphy's – Memphis, TN w/ Hosai Bro's
10/19/2013 The Taquaria – Dallas, TX
10/21/2013 The Grand – Austin, TX w/ Widower, Dethroned
10/22/2013 – TBA
10/23/2013 Siberia – New Orleans, LA
10/24/2013 – TBA – Birmingham, AL
10/25/2013 Static Age Records – Asheville, NC w/ Shadow Of The Destroyer
10/26/2013 Screamers – Radford, VA @ Samhain Fest w/ Death Shroud, Evicera
A furious and infectious maelstrom of doom-infused thrash mastery, Dark Path — the blazing debut LP from the Harrison-based EARTHLING quartet — was released via their cohorts at Forcefield Records in May, and was well-received by humans involved in the underground music media as well as innocent bystanders. Through an organic, blackened, thrashing hybrid of metal drawing influences from across the spectrum of extreme music, the band's corrosive live attack was finally captured on record. Recorded by Garret Morris (Windhand, Cough, Parasytic, Bastard Sapling) and mastered by Mikey Allred (Inter Arma, Hellbender, Across Tundras), Dark Path is a coarse, diverse display of the band's terrorizing spirit; a ravenous force that has guided the group through countless shows, relentless demo recordings, and over five years of sheer sacrifice.
"Earthling shifts between various speeds of thrash… Those changes in direction and speed allow Earthling to push each part of the song decisively into the red, so that, just when the whole thing starts to wobble, they transition and regain their footing. The instability breeds the same sort of excitement as a mosh pit, where the risk of wiping out only increases the thrill of serving as a standing pinball." – Pitchfork
"…a ripping blend of crust and proto-black metal riffs that boil from a vast melting pot of extremity; their truly diverse extreme sound also brings with it the incessant need to thrash." – Terrorizer
"…like bong ripping yourself into a black hole where the other side is the embodiment of Mob Rules era Sabbath with the addition of some major Mega Man shred duals." – Mxdwn
"…a potent blend of Southern riffs and black metal atmospheres, casting off much of that genre's pretentious silliness in favor of an earthier pummel." – The Aquarian Weekly
"The urgent speed that the band goes at for the most part easily reminds one of the early days of Teutonic thrash, and bands such as Kreator and Destruction quickly come to mind with the extremity that is present on the record." – Heavy Metal Tribune
http://www.earthlingva.com
https://www.facebook.com/earthling.virginia
http://www.forcefieldrecords.org
https://www.facebook.com/ForcefieldRecords