Gore metal maniacs EXHUMED are pleased to announce the Grind Over Europe II headlining tour. The trek begins April 12th in Paris, France, and runs through eighteen cities, drawing to a close April 29th in Antwerp, Belgium. Direct support will be provided by Rotten Sound and Implore. Prior to their European excursion, EXHUMED the will take to the seas on the 2018 edition of 70000 Tons Of Metal alongside Cannibal Corpse, Enslaved, Goatwhore and so many more. See all confirmed dates below.
EXHUMED will be touring in support of their Death Revenge full-length, recently released via Relapse Records. Frontman Matt Harvey comments, "We're fuckin' psyched to head back across the pond and unleash some Death Revenge on our European friends and exceptionally stoked to be playing with killer bands like Rotten Sound (again!) and Implore! The package is awesome, the beats will be blasting, and a splattersome time will be had by all the freaks, mutants, and maniacs with the intestinal fortitude to attend these gigs! See you there!"
Death Revenge sees EXHUMED tread into ambitious new territory as their first concept album; a thirteen-part musical melodrama based on shocking true events. Death Revenge takes place in the late 1820s in Edinburgh, Scotland and tells the macabre tale of a series of brutal murders where the victims' cadavers were sold to anatomists, amid a grisly underground trade of grave-robbery. Recorded with producer Jarrett Pritchard (Goatwhore, Gruesome), Death Revenge takes the band's signature gore-drenched, death metal mayhem to theatrical and ghastly new depths.
Death Revenge is out now on CD, LP, and digital formats via Relapse Records. Physical packages and digital orders are available via Relapse.com HERE and Bandcamp HERE where the record can be streamed in full.
Additionally, EXHUMED has shared a live video of "Unspeakable" from Death Revenge. The clip was filmed on November 28th, 2017 at Saint Vitus Bar in Brooklyn, New York by Frank Huang (Maximum Volume Silence). Watch the performance below.
A full collection of EXHUMED music videos and audio is available at THIS LOCATION.
EXHUMED:
2/01-05/2018 70000 Tons Of Metal – Ft. Lauderdale, FL
Grind Over Europe II Tour w/ Rotten Sound, Implore:
4/12/2018 Gibus Live – Paris, FR
4/13/2018 Turock – Essen, DE
4/14/2018 Headbangers Bash – Amersfoort, NL
4/15/2018 Rosenkeller – Jena, DE
4/16/2018 Alte Zuckerfabrik – Rostock, DE
4/17/2018 Klub U Bazyla – Poznan, PL
4/18/2018 Cassiopeia – Berlin, DE
4/19/2018 Schwarzer Adler – Tannhei, DE
4/20/2018 Rocking Chair – Vevey, CH
4/21/2018 Haus Der Kulturen – Gottingen, DE
4/22/2018 The Escape – Vienna, AT
4/23/2018 Randal Club – Bratislava, SK
4/24/2018 Durer Kert – Budapest, HU
4/25/2018 Barrak – Ostrava, CZ
4/26/2018 Hafenklang – Hamburg, DE
4/27/2018 Pitfest – Erica, NL
4/28/2018 Ms Connexion Complex – Mannheim, DE
4/29/2018 Het Bos – Antwerp, BE
"…artfully conceived, lurid fun…" – Pitchfork
"…a fun, worthwhile listen, especially with Halloween just around the corner. I'm especially impressed with the historical inspiration, which gives it some more weight than the usual slasher fest." – Metal Injection
"…a magnum opus that sees a much more ambitious EXHUMED." – Paste Magazine
"…serious killer classic headbanging shit…" – Team Rock
"The album is filled with blood-curdling growls and powerful drumming, which is to be expected from Matt Harvey and company, but it still feels fresh and compelling. And while EXHUMED have always had a theatrical aspect to them, Death Revenge has brought out a more pensive side of the band. It was an ambitious undertaking and it paid off, proving just how much psychotic creativity they still have to offer. – Exclaim!
"…an absolute blast of a record. Six studio albums into their career, and EXHUMED continue to show their commitment and talent for creating fun and pulse racing death metal. With an intriguing concept and incredibly fast and technical instrumentation that creates emotion, EXHUMED present a terrific work that will get folks moshing through graveyards and partying with the dead." – New Noise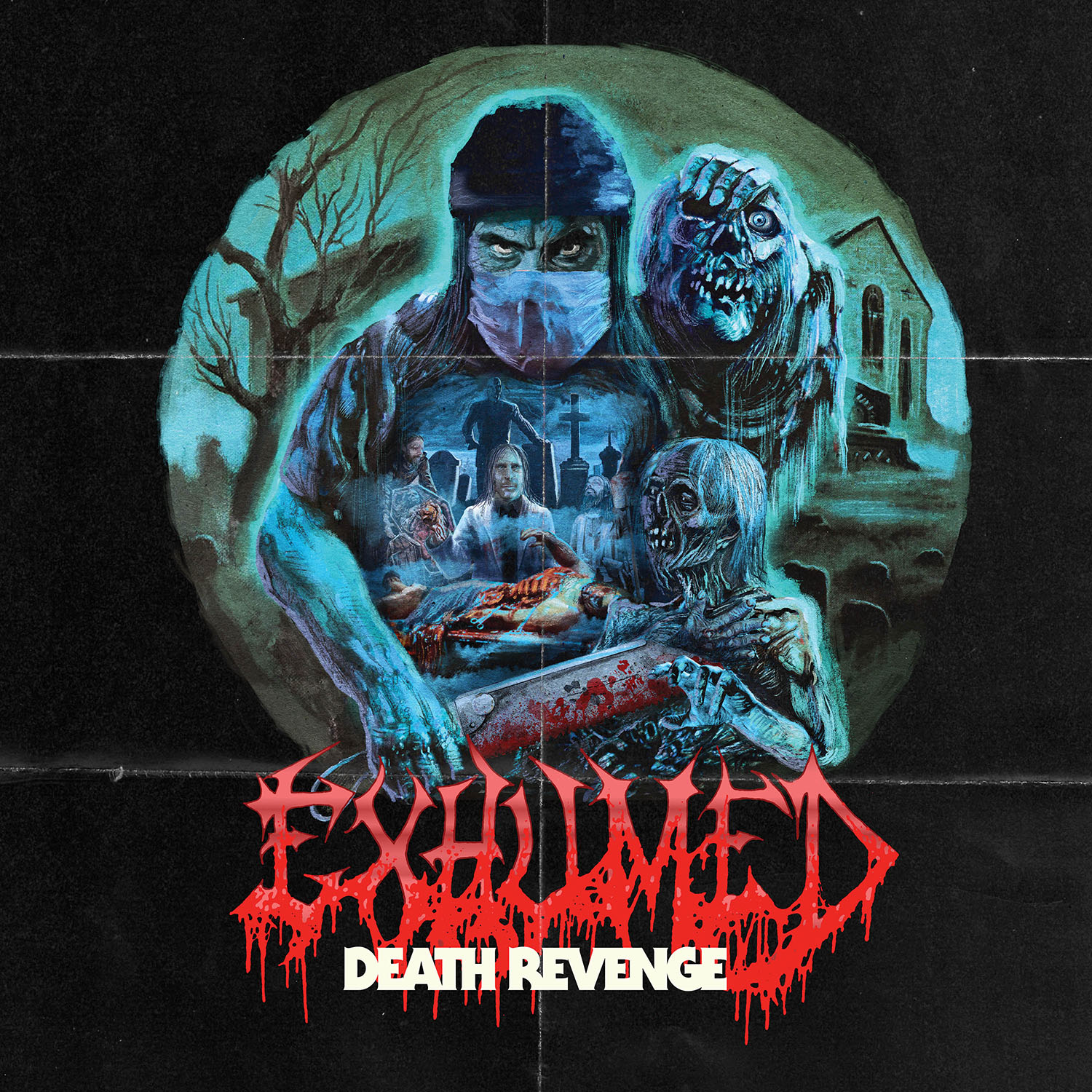 http://www.facebook.com/ExhumedOfficial
http://www.relapse.com
http://www.relapserecords.bandcamp.com
http://www.facebook.com/RelapseRecords
http://www.twitter.com/RelapseRecords