The first single from III – Hear Me, O' Death (Sing Thou Wretched Choirs), the suffocating third full-length movement from US death/doom duo, ENCOFFINATION, is now playing courtesy of an exclusive stream at Decibel Magazine.
III – Hear Me, O' Death (Sing Thou Wretched Choirs), the anticipated follow-up to ENCOFFINATION's 2011-released O' Hell, Shine in Thy Whited Sepulchres LP, sees the group building on even more blackened occult passages, incorporating choral elements and organs to their already elementally disturbing hymns. The nearly seven minute second track to the album, "Charnel Bowels Of A Putrescent Earth," simply reeks of death, a slow-motion dirge swelling with amplification and utter dread. Decibel Magazine's Deciblog has unearthed this devastating track today, alongside a brief interrogation with the band's guitarist/bassist/vocalist Ghoat.
Tune in to the end-time sounds of "Charnel Bowels Of A Putrescent Earth" via Decibel at THIS LOCATION.
Poland's Selfmadegod Records will release ENCOFFINATION's III – Hear Me, O' Death (Sing Thou Wretched Choirs) on CD and via digital delivery in North America on October 21st, and a month later on 2xLP. A limited edition CD run is also in production. Preorders for the standard CD version is available stateside via Earsplit Distro HERE, and the deluxe CD housed in a special screen-printed O-card, limited to 200 copies, is available exclusively via Selfmadegod's webstore HERE. Links to preorder the vinyl CD will be available in the coming days.
Formed in 2008 by drummer Elektrokutioner (Black Pentagram Cult, Father Befouled, Festered, Scaremaker, etc.) and guitarist/bassist/vocalist Ghoat (Father Befouled, Festered, Vomitchapel, ex-Hills of Sefiroth, etc.), ENCOFFINATION perpetuates a suffocating style of slow-motion, dirge-infused death metal with funeral doom bleakness. Their 2010-debut EP, Temples Descend Below the Earth, instantly attained the attention of the underground, but it was their devastating Ritual Ascension Beyond Flesh LP that inundated the scene like a plague. Now, with three solid years of putrid silence having passed since the cross-country based duo has released an LP, the deadly follow-up album is being prepared for exhibit, as. III – Hear Me, O' Death (Sing Thou Wretched Choirs), an album which takes ENCOFFINATION's tar-encrusted tones, slow-motion seismic rhythms and soulless, guttural conjuring to their most claustrophobic levels to date, with more occult influence, and implement some of the most ghoulish, slug-paced funeral death to ever be recorded. Constructed over a full year, the album was recorded in various sessions throughout 2013, the drums recorded at Universal Sound in San Diego, California, and the rest at Graf Yairden in Atlanta. Funeral vocal choirs, organs and other elements influence the flow of the album, making this one of the most harrowing releases of the year, no only one of the most slowly destructive.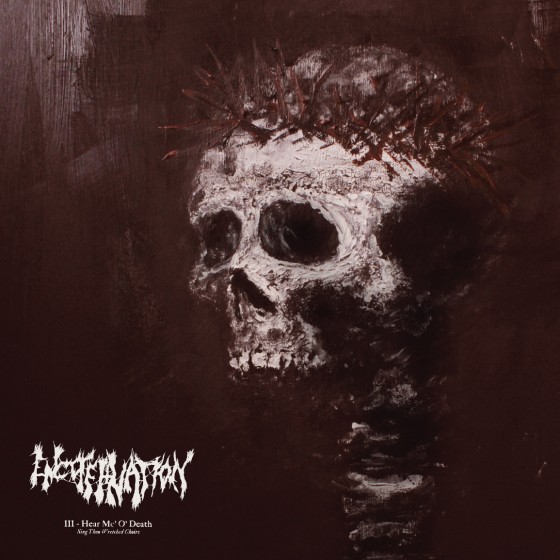 https://www.facebook.com/templeofencoffinment
http://www.selfmadegod.com
http://selfmadegod.bandcamp.com
http://www.facebook.com/selfmadegod