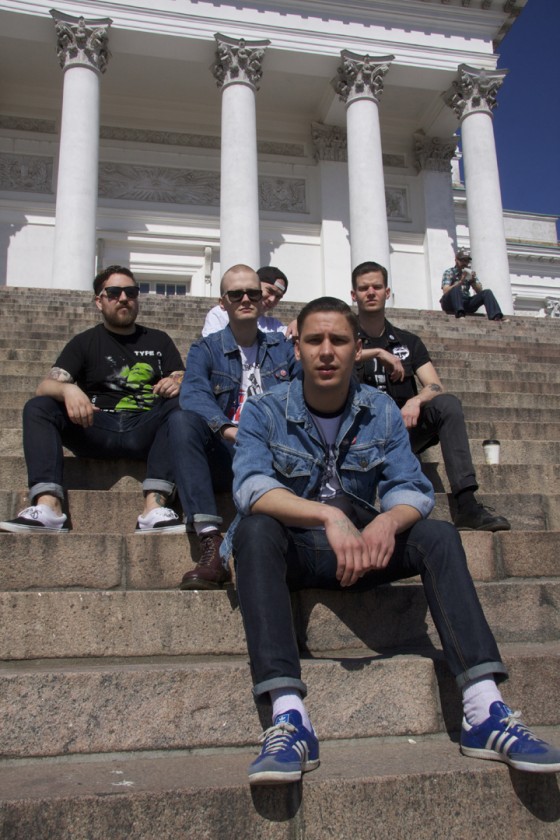 A full two months before it detonates upon the masses, today humanity gets a foreboding first listen to Helsinki Savagery, the debut LP from Finnish crossover killers, FORESEEN HKI, as Cvlt Nation hosts a stream of "Death Injection."
Amidst the ten roaring tracks packed into the nearly thirty-seven minute massacre, one of the most ripping outbursts on Helsinki Savagery comes in the form of the LP's second track, "Death Injection," which is one of the longer songs FORESEEN HKI here unloads, making its by-the-throat approach all the more relentless. Explosive riffs and divebombs heavy enough to sink battleships, rampant, unchained aggressiveness in the tempos and utterly maniacal razorwire vocals raze everything in earshot in this number. In their public disbursement of the track, Cvlt Nation issues, "FORESEEN HKI strap you down, duct tape your mouth and shoot 'Death Injection' directly into your brain with their frenzied, pounding sound!"
To get the FORESEEN HKI injection, CLICK HERE.
20 Buck Spin will unleash Helsinki Savagery via digital delivery and CD on November 25th, with an LP pressing to hit on February 3rd and co-released in Europe by Take It Back Records.
On Helsinki Savagery, FORESEEN HKI's raw crossover shows the band effortlessly fusing the 1980s iterations of US thrash and hardcore to create a merciless album of absolute jawbreakers. A distinctly Finnish rawness and hostility, that's been a hallmark of the countries incredible hardcore punk bands since the early '80s, pervades the LP. Bringing back a concrete toughness to thrash that's largely been missing for years, on Helsinki Savagery, FORESEEN HKI takes their place among the elite of modern crossover bands, infusing a lethal urgency and unrestrained devotion to crafting ideal songs for wild, anarchic live shows, documenting a band in its hungry, formative prime. With high speeds and fierce leads that shred, United Forces are back from the dead. Recorded and mixed at Black Floyd's Analog Lab by Tapio Lepistö, the CD and digital mastering was handled by James Plotkin and the full analog chain LP mastering by Timmion Records, Finland, the album bears appropriately grim but colorful, old-school heavy metal artwork by Chad Keith. Circle pit-dwellers who live by the lessons of S.O.D, Nuclear Assault, Integrity, Cro-Mags and Leeway, or frequent more contemporary works by Audiopain, Noisem and Power Trip should keep their ears glued to the airwaves to keep up on FORESEEN HKI. The band is also planning to invade the US for the first time in 2015.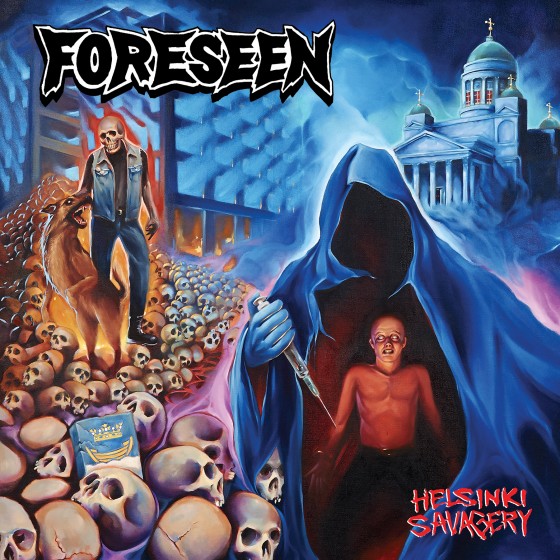 https://www.facebook.com/Foreseen
https://foreseen.bandcamp.com
https://foreseen.bigcartel.com
http://www.20buckspin.com
http://www.facebook.com/20buckspin
http://twitter.com/20buckspinlabel