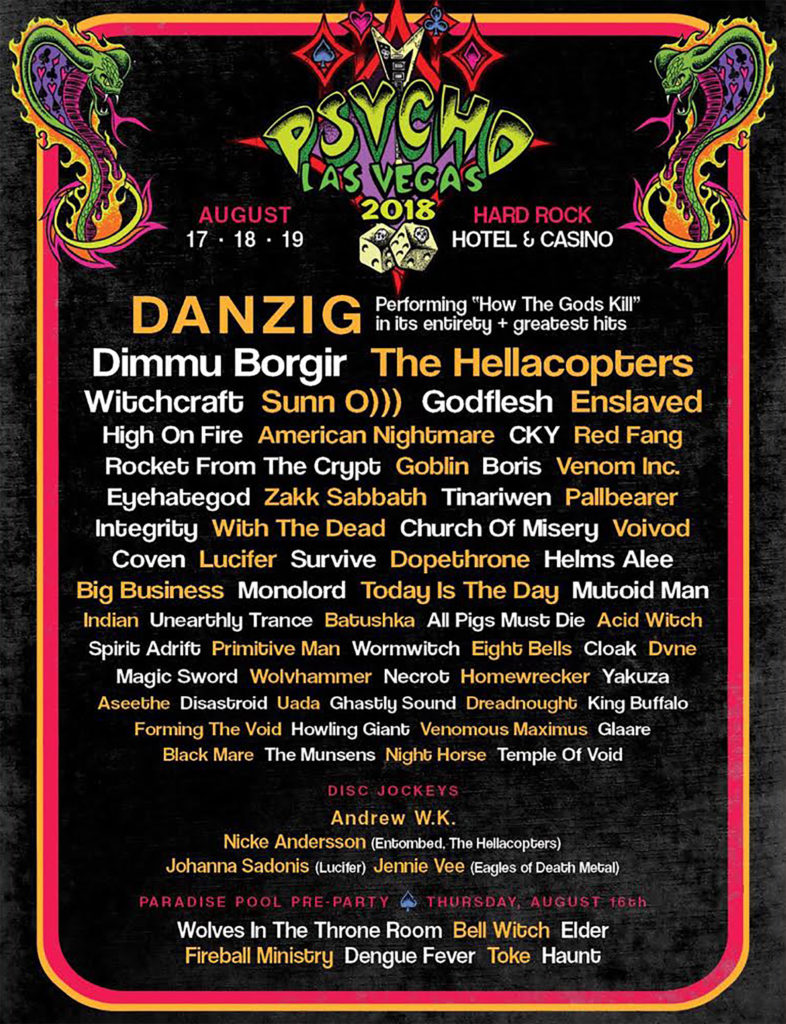 Headed to Psycho Las Vegas this week? Don't miss these sets!
ALL PIGS MUST DIE: Saturday, August 18th – Vinyl Stage (5:25pm – 6:00pm) – ALL PIGS MUST DIE released their monstrous Hostage Animal full-length in 2017. The band, now a five-piece with the addition of Brian Izzi (Trap Them) on guitar, is comprised of some of the most well-seasoned musicians on the eastern seaboard – Kevin Baker (The Hope Conspiracy), Ben Koller (Converge), and Matt Woods and Adam Wentworth (both of Bloodhorse). Hostage Animal is their most dynamic collection of work thus far and is an aural representation of the band as a whole; concise, intense, aggressive, and carrying a bleak world view. Don't miss ALL PIGS MUST DIE Saturday on the Vinyl stage! Hostage Animal is available through Southern Lord on CD, LP, and all digital formats; stream the album HERE and find physical orders in the US HERE.
BATUSHKA: Saturday, August 18th – The Joint (2:00pm – 3:00pm) – Polish black metal legion BATUSHKA will open The Joint stage on Saturday. Pronounced "Batjushka," the band's Cyrillic name Батюшка means "father" and is used to address an Eastern Orthodox priest. Despite their themes and imagery, they are not a Christian act. The identities of the members are unknown, but they are involved with other bands. Their live lineup contains eight members. Metal Blade recently reissued BATUSHKA's stunning Litourgiya full-length, initially released in 2015 in limited quantity via Witching Hour Productions. Despite its relative cult status, the record earned critical accolades from journalists "in the know." Wrote No Clean Singing concurred, "The music is dark, heaving, and very heavy – with bombastic outbreaks of wildfire and thunder – and the bleak, majestic melodies are effective at getting under the skin. But what sets the music apart and makes the album especially memorable are the vocals. In addition to the incinerating shrieks that you might expect in a black metal album, you'll hear reverberating liturgical chants in what I'm told is Church Slavonic – the language used in the Orthodox Church in such places as Poland, Russia, and Ukraine, as well as nations in the Balkan Peninsula." Preview and purchase Litourgiya at metalblade.com/batushka.
BLACK MARE: Sunday, August 19th – Vinyl (5:25pm – 6:00pm) – BLACK MARE released their Death Magick Mother full-length last fall. Mixed by Andrew Clinco of Drab Majesty and mastered by Dan Randall at Mammoth Sound Mastering, the record's seven haunting tracks capture driving force, Sera Timms, amidst a dynamic cohesion and confluence of inspiration unlike any prior. Whereas previous output operated under a founding principle of rhythmic repetition and atmospheric simplicity toward trace-like escapism, the critically-adored Death Magick Mother is Timms stepping right in front of the lens for a closeup. Stream Death Magick Mother via Dark Operative at THIS LOCATION and don't miss Timms' sound séance Sunday at Vinyl.
DVNE: Friday, August 17th – The Joint (12:30pm – 1:30pm) – Edinburgh-based progressive metal/sludge juggernauts DVNE (pronounced dune) will make their first-ever US appearance at Psycho this year. The journey follows their recent UK tour supporting Eyehategod. Said Cvlt Nation in a recent live review, "DVNE take the audience on an inter-galactic journey of epic proportions through a sometimes utopic sometimes dystopic landscape with a surprising twist behind every corner. The climbing and descending between delicate and intricate then brutal and pounding drawn out riffs and guitar solos and minimal vocals is astounding and when delivered almost anonymously behind a darkened hazy red cloud of smoke is truly emotive, crushing, mesmerizing and constantly spine chilling…" DVNE released the critically-lauded debut full-length, Asheran, last year via Wasted State Records. A sixty-minute epic narrative following the tale of the rise and fall of civilizations, the return of an empire thought millennia lost, and the world-spanning events that consequently unfold, Asheran is steeped in themes of science fiction, environmental issues, and both dystopic and utopic visions for the future of mankind. Asheran was captured at Chambers Studio in Edinburgh, and mixed and mastered by Tom Dring of Vagrant Studios (Dragged Into Sunlight, Venom Prison). A special orange clear 2xLP edition of Asheran is currently available at THIS LOCATION where the record can be streamed in its stunning entirety.
EYEHATEGOD: Saturday, August 18th – Paradise Pool Stage (8:40pm – 9:40pm) – Fresh off a tour with Black Label Society and Corrosion Of Conformity, EYEHATEGOD will pillage the Paradise Pool stage Saturday night. Following vocalist Mike IX Williams' successful liver transplant in 2016, the band has been ravaging the tour circuit both stateside and abroad, now as a four-piece with longtime guitarist Brian Patton having recently announced his retirement. EYEHATEGOD continues to deafen the masses in support of their self-titled LP which dropped in 2014 via Housecore Records, breaking the band's decade-and-a-half gap since their prior full-length and marking the most successful release of the band's storied history landing at #82 on the Billboard Current Album chart, #92 on the Top 200 chart, #26 on the Rock chart, #4 on the Hard Rock chart and #12 on the Indie chart upon its first week of release. Having helped define the "NOLA sound" with their signature down-tuned, blues-inflected guitars awash in furious distortion, underpinning the tormented screams of Williams, over a thundering rhythm section, with EyeHateGod the band reemerged stronger and more determined than ever before. EYEHATEGOD is celebrating its thirtieth anniversary this year. Stay tuned for special releases to be announced in the future. In the meantime, orders for EyeHateGod in North America can be placed via Housecore Records HERE.
INDIAN: Sunday, August 19th – The Joint (2:00pm – 3:00pm) – Reunited doom behemoths INDIAN will open The Joint stage Sunday afternoon. The band played their first show recently as the surprise opener for Yob and Bell Witch at Reggie's on their home turf of Chicago. It was their first performance since the passing of founding member and drummer Bill Bumgardner in 2016 (drummer Noah Leger now sits behind the kit). Proclaimed Noisey of the set, "As a unit, INDIAN was absolutely punishing, and just as ugly, mean, and confrontational as I remember; with lips curled and eyes squeezed shut, guitarists Will Lindsay and Dylan O'Toole traded off corrosive howls, Ron DeFries dug into the low end, anchoring the agony, and Mark Solotroff of Bloodyminded and Anatomy Of Habit held court in a corner of the stage, unfurling peals of anxious noise. This was a warm-up gig for their appearance at the Psycho Las Vegas festival later this summer, and man, if this was just a warm up… INDIAN release their fifth full-length, From All Purity in 2014 via Relapse Records. A corrosive audio collage where tar-black doom unites with expansive waves of noise to create a near smothering sensation of revulsion, suffering, and imminent degeneration, the six-track From All Purity, which debuted at #24 on the Billboard Heatseekers Chart, is the true sound of the earth dying. Stream it in full at the INDIAN BandCamp page HERE.
NECROT: Sunday, August 19th – Vinyl (9:30pm – 10:05pm) – Bay Area death dealers NECROT– founded by current and former members of Acephalix, Vastum, Saviours, Mortyous, Watch Them Die, Atrament, and more — unleashed their critically-adored Blood Offerings full-length via Tankcrimes in 2017. Captured by Greg Wilkinson (Vastum, Graves At Sea) and mastered by Brad Boatright (Nails, Gatecreeper), the record earned the #29 spot on Billboard's Hard Rock Chart and #52 on Billboard's New Artist Chart upon its first week of release. Additionally, Blood Offerings earned year-end accolades from the likes of Decibel Magazine and Revolver and continues to reap the praise of fans and critics globally.NECROT's Blood Offerings is out now on CD, digital, and vinyl formats at THIS LOCATION. Stream Blood Offerings in full at THIS LOCATION.
PRIMITIVE MAN: Saturday, August 18th – Vinyl (10:20pm – 11:05pm) – Denver's favorite doom practitioners PRIMITIVE MAN will crush the Vinyl stage Friday night. Their performance comes one day after their split release with labelmates Unearthly Trance (playing Sunday at Vinyl) via Relapse Records. Physical packages, digital downloads, and streaming services are available at Relapse.com HERE. The band's most recent full-length, the nihilistic Caustic, is out now. Captured at Flatline Audio by Dave Otero (Cobalt, Cephalic Carnage, Cattle Decapitation et al), the record delivers over seventy-five minutes of bloodcurdling howls, abysmal tones, and dense, unsettling feedback, spewing forth a cesspool of utter misery. With lyrical themes ranging from political corruption, personal struggle, and the crumbling social climate facing the world today, Caustic serves as a cataclysmic soundtrack for a world gone awry. Preview and purchase Caustic via Relapse.com HERE and HERE.
SPIRIT ADRIFT: Saturday August 18th – Paradise Pool Stage (10:00pm – 11:00pm) – Comprised of members of Gatecreeper, Goya, and more, SPIRIT ADRIFT has taken their psychedelic doom/metal to an ascendant new level on their latest LP, Curse Of Conception. Now more than at any time metal has become the lifeblood of rock music and SPIRIT ADRIFT offers Curse Of Conception as an embodiment of that vitality. The album was engineered and mixed by Sanford Parker (Yob, Pelican, Eyehategod) and features artwork by Joe Petagno (Motörhead, Magic Circle, Autopsy). Don't miss their set Saturday night under the stars at the Paradise Pool stage. Curse Of Conception is available through 20 Buck Spin worldwide on LP, CD, and digital formats; find the record at Bandcamp HERE, the label webshop HERE, and at iTunes HERE.
SUNN O))): Sunday, August 19th – The Joint (10:00pm – 11:30pm) – For twenty years, SUNN O))) has been challenging the way we think about music. From 1999's The Grimmrobe Demos to 2015's Kannon, core members Stephen O'Malley and Greg Anderson have forged connections between the worlds of metal, drone, contemporary composition, jazz, and minimalism with startling results while remaining true to the eternal principles of volume, density, and weight. In 2015, SUNN O))) released their first full-length LP in six years, Kannon, with its roots in recent collaborations with Norway's Ulver (Terrestrials) and Scott Walker (Soused). SUNN O))) will be reissuing both WHITE albums this summer, coinciding with Southern Lord's 20th anniversary. Submerge yourself in SUNN O))) at THIS LOCATION. Saturday night, SUNN O))) will transform The Joint into a sonic ritual not to be missed.
THE MUNSENS: Friday, August 17th – Vinyl (2:10pm – 2:55pm) – Denver, Colorado-based THE MUNSENS will perform Friday o the Vinyl stage. In conjunction with the festivities, the band has issued a single, "Dirge (For Those to Come)," which is pulled from their recently-completed new LP, Unhanded, set for release this Fall. THE MUNSENS make noise from a Colfax Avenue dungeon. Having carved out a place of their own in the much-lauded Denver metal scene, the band's debut full-length comes on the heels of a productive summer that included appearances at 71Grind IV, Austin Terror Fest, and Electric Funeral. The band's impending Unhanded comprises five new tracks, running approximately forty minutes in length and is the band's most caustic and critical release to date. A final release date will be announced in the coming weeks. In the meantime, check out THE MUNSENS' crushing "Dirge (For Those to Come)" at YouTube RIGHT HERE, Spotify HERE, and Bandcamp HERE.
TODAY IS THE DAY: Saturday, August 18th – Vinyl (7:25pm – 8:10pm) – Among one of the most influential extreme bands of the past two decades TODAY IS THE DAY's violent and anthemic style, which blends metal, noise, psychedelia, and rock, has received worldwide acclaim ever since the debut album, Supernova, was released in 1993. The band, slate to destroy Vinyl Saturday evening, is currently preparing for the release of The Man Who Loves To Hurt Himself documentary on frontman Steve Austin and is in the process of completing their next full-length album. 2017 saw TODAY IS THE DAY celebrating the twentieth anniversary of their seminal Temple Of The Morning Star LP with a reissue of the album and an extensive tour. Earlier this year, the band toured across North America again supporting Nailbomb. TODAY IS THE DAY founder Steve Austin proclaims, "We're on a mission, set to destroy. I've been a life-long fan of Godflesh and Danzig's bands and am so psyched to play Psycho Las Vegas with them and our friends in Eyehategod and more. This show is gonna' destroy! I can't wait to see all of you!"
UNEARTHLY TRANCE: Sunday, August 19th – Vinyl (3:15pm – 4:00pm) – UNEARTHLY TRANCE's set comes just two days after the release of their split LP with labelmates Primitive Man (appearing Saturday at Vinyl). An exercise in complete and total suffering, both bands tap into some of the most uncomfortable, vile realms of blackened doom and dissonant, harsh noise put to tape in the new millennium. The split sees release August 17th on CD, LP and digital formats through Relapse.com HERE. UNEARTHLY TRANCE's recent full-length Stalking The Ghost is out now via Relapse. An esoteric ritual of seismic doom, Stalking The Ghost taps into the darkest realms of the occult over the course of seven tracks that reek of utter despair. Preview and purchase the record via Relapse.com HERE.
WOLVHAMMER: Friday, August 17th – Vinyl (8:30pm – 9:15pm) – Supporting their Blood Music-released fourth LP, The Monuments Of Ash & Bone, WOLVHAMMER will trounce the stage of Vinyl Friday night. The band will be performing with guitarist Jarrett Pritchard (Pulchra Morte, Eulogy) who engineered and mixed The Monuments Of Ash & Bone. Merging the black metal tendencies of Enslaved with the mid-tempo sludge of Celtic Frost, The Monuments Of Ash & Bone delivers nearly forty-two minutes of savagery through seven new songs that go straight for the throat; no experimental drivel, just the sound of rotten flesh and slow decay. WOLVHAMMER's The Monuments Of Ash & Bone was released on CD, LP, and digital formats in early May. Find physical ordering options at the Blood Music webshop HERE and digital via Bandcamp "name your price" HERE.
http://www.vivapsycho.com
http://www.facebook.com/psychoLasVegas
http://www.instagram.com/psycholasvegas