Seattle doom/sludge trio DEATHCAVE today unleashes their rendition of "Leash." Now playing courtesy of Decibel Magazine, the track comes off the Monuments To Arson – A Tribute To His Hero Is Gone compilation, set for release via Satanik Royalty Records.
A compilation honoring Memphis, Tennessee quintessential cult neo-crust act His Hero Is Gone, the collection features DEATHCAVE alongside Many Blessings, Open Veins, Isenordal, Heiress, Nightmare Fuel, Old Iron, Githyanki, HEEL, Blast Cells, Impulse Noise, Nuclear Dudes, Wretched Fuck, and Plaguestate. All digital and vinyl proceeds (minus shipping costs) from the Monuments To Arson… collection will be donated to the Fairbanks Native Association, an indigenous organization that assists with drug and alcohol dependency, mental wellness, and more. The compilation marks the first of many the label plans to release for charity.
Comments DEATHCAVE bassist and Satanik Royalty Records head Michael Freiburger, "When I created the label, I knew I wanted to do albums where I would be donating all the proceeds to charities that are important to me. As an Alaskan native who grew up seeing the damage of alcohol and drug abuse within indigenous communities and within my own family, it seemed like a good place to start. I will be donating all the proceeds from digital and physical releases of the album to the organization my mom used to be the director of called the Fairbanks Native Association.
"His Hero Is Gone seemed like a no brainer when it came time to choose the first band to cover," Freiburger continues. "The messages delivered in their lyrics, the raw and heavy power of their riffs, and just the approach to underground music can't be matched even all these years later.  'Leash' was my choice. Fifteen Counts Of Arson was the first His Hero Is Gone album I got in high school and those songs hit a little harder than the other ones. 'Leash' was just the first to come to mind off the album because I love how it changes the feel halfway through and felt DEATHCAVE could have fun with it."
Stream DEATHCAVE's version  "Leash" exclusively at Decibel Magazine at THIS LOCATION.
Catch DEATHCAVE live this September with Yatra on their West Coast tour. See all confirmed dates below.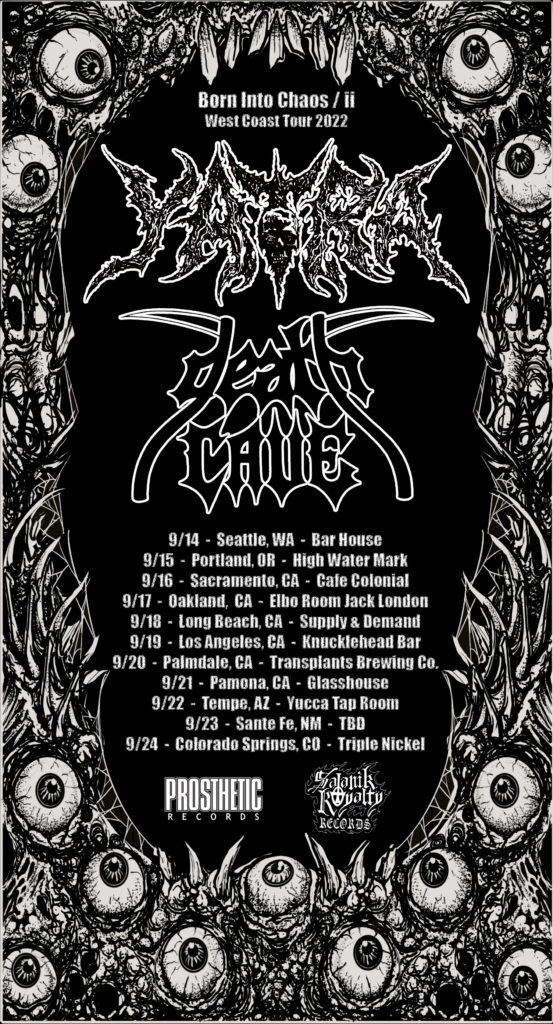 DEATHCAVE w/ Yatra:
9/14/2022 Bar House – Seattle, WA
9/15/2022 High Water Mark – Portland, OR
9/16/2022 Cafe Colonial – Sacramenta, CA
9/17/2022 Elbo Room Jack London – Oakland, CA
9/18/2022 Supply And Demand – Long Beach, CA
9/19/2022 Knucklehead Bar – Los Angeles, CA
9/20/2022 Transplants Brewing Company – Palmdale, CA
9/21/2022 Glasshouse – Pamona, CA
9/22/2022 Yucca Tap Room – Phoenix, AZ
9/23/2022 TBA – Santa Fe, NM
9/24/2022 Triple Nickel – Colorado Springs, CO
Monuments To Arson – A Tribute To His Hero Is Gone will be released digitally on September 30th. Find preorders through Bandcamp HERE where Heiress' version of "Like Weeds" and Old Iron's cover of "Chain Of Command" can be streamed. The vinyl edition — limited to 700 copies in Black, Clear with Black Smoke, and Black and White variants – will be released March 25th, 2023. Find preorders at the Satanik Royalty Records shop HERE.
Monuments To Arson – A Tribute To His Hero Is Gone Track Listing:
Many Blessings – Paranoia Secured
deathCAVE – Leash
Open Veins – Headcount
Isenordal – Headless/Heartless
Heiress – Like Weeds
Nightmare Fuel – Surrender
Old Iron – Chain Of Command
Githyanki – Raise the Curtain
HEEL – Friendly Fire
Blast Cells – Epidemic
Impulse Noise – …And We Burn
Nuclear Dudes – Concrete Cage – Abandoned
Wretched Fuck – Carry On
Plaguestate – What Goes Up
Forged in 1995, His Hero Is Gone was short-lived but left an impact on heavy music that resonates to this day. The band's landmark sound is at once crushing, brutal, and marked by intense dual growling vocals. In their brief existence, the band released Fifteen Counts Of Arson (1996), Monuments To Thieves (1997), and The Plot Sickens (1998) as well as a handful of seven-inches that influenced scores of hardcore and grind bands. His Hero Is Gone took an intensely anti-corporate, anti-consumerist stance, and their lyrics often dealt with radical political ideals. They disbanded in 1999, with the various members forming several new acts, most notably the similarly pummeling Tragedy.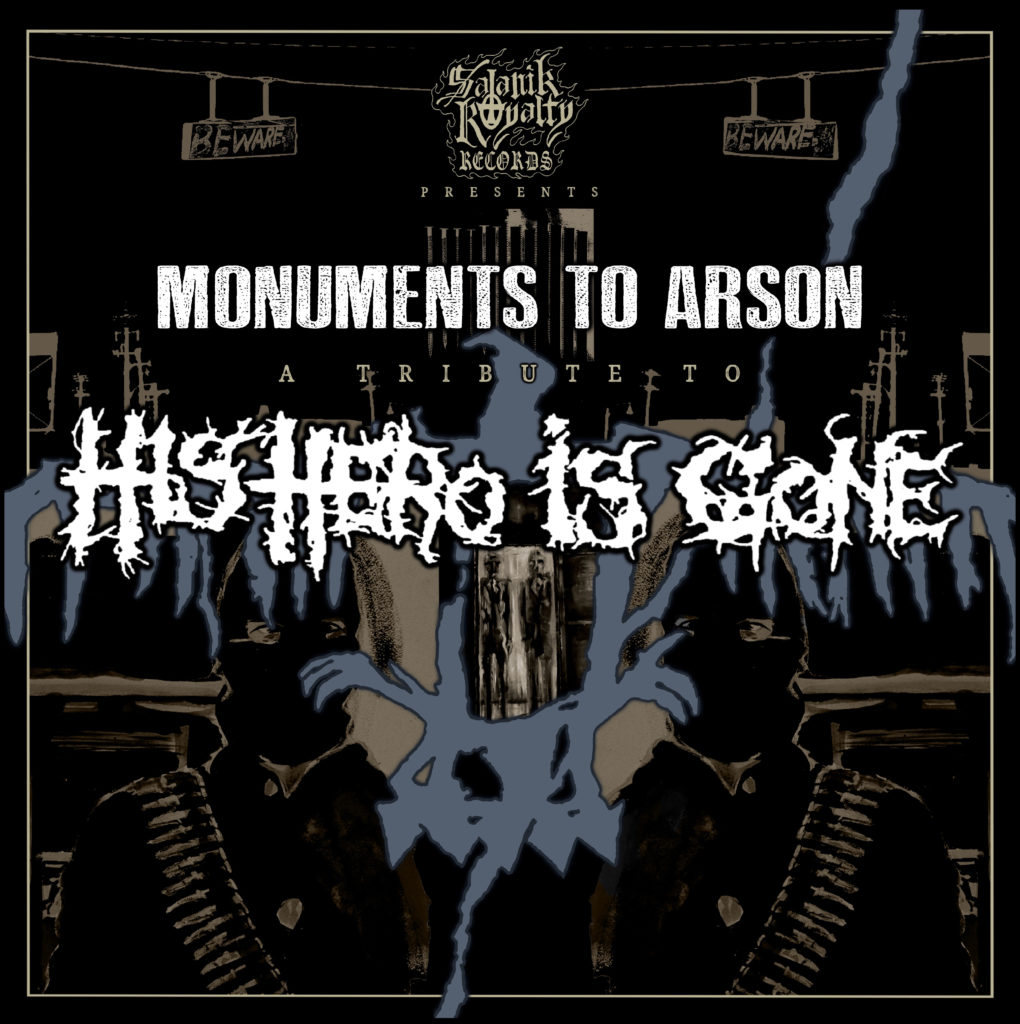 http://deathcave.bandcamp.com
http://www.facebook.com/deathCAVE206/
http://www.twitter.com/cave_death
http://www.instagram.com/deathcave
http://www.satanikroyaltyrecords.com
http://www.facebook.com/satanikroyaltyrecords
http://www.twitter.com/recordssatanik
http://www.instagram.com/satanikroyaltyrecords</a