Spoken Arts label Cadabra Records is tremendously eager to announce their impending rendition of H. P. LOVECRAFT's I Notturni Di Yuggoth, now slated for release in September. Decibel Magazine is hosting a stream of the LP's "Night-Gaunts" as preorders for the record are made available.
LOVECRAFT's I Notturni Di Yuggoth will be issued in a deluxe vinyl-only pressing featuring newly commissioned art by Jeremy Hush. The reading for the title is delivered with incredible poise by stage and screen icon and consistent Cadabra reader Andrew Leman (H. P. LOVECRAFT Historical Society). The haunting music performed by famed composer Fabio Frizzi (Kill Bill, The Beyond, The City Of The Living Dead), marking Frizzi's first acoustic guitar recordings. Side B of the LP features instrumental versions of each track.
Fabio Frizzi offers, "The poems of H. P. LOVECRAFT create magic effects, like all his work. And the constraint to this more cryptic, more conceptual literary form gives its stories an extraordinary, disruptive evocative force. My two souls, the classic one and the rock one, have bowed to these little great masterpieces. My beloved instrument, the guitar, and my emotions, to accompany, discreetly, these moments of inner reflection."
"In the market for nightmare fuel and perfect storms of sublime weirdness?" Decibel Magazine writes in part, "Look no further than I Notturni Di Yuggoth, a galvanizing and eerie resurrection of H. P. LOVECRAFT's poetry that marks the latest collaboration between consistently captivating/groundbreaking 'spoken arts' label Cadabra Records, legendary Italian maestro Fabio Frizzi – who achieved immortality via scores for perception obliterating Lucio Fulci flicks such as Zombi 2 (1979), City Of The Living Dead (1980), and The Beyond (1981) – and attention-commanding voice artist/H. P. LOVECRAFT Historical Society co-founder Andrew Leman."
I Notturni Di Yuggoth will be pressed in a limited run of 160-gram vinyl in several variants, featuring liner notes by Fabio Frizzi and a new essay by weird fiction scholar S. T. Joshi. The record is packed in a deluxe heavyweight gatefold tip-on jacket and includes an 11″ x 22″ foldout insert as well as a 24″ x 36″ poster.
Stream the "Night-Gaunts" passage from H. P. LOVECRAFT's I Notturni Di Yuggoth exclusively through Decibel Magazine at THIS LOCATION.
Cadabra Records will ship I Notturni Di Yuggoth preorders on September 16th. Preorders go live this Friday, August 30th at the label webshop HERE.
Watch for additional audio samples and more to be issued in the coming days.
Writer H. P. LOVECRAFT is best known for his short stories and novellas, which tell of otherworldly, eldritch creatures for whom the denizens of our world are but motes of dust. Composer Fabio Frizzi is best known for his scores to shocking Italian horror films, wherein he uses synthesizers and drums to create disconcerting and beautiful music.
I Notturni Di Yuggoth is therefore a perfect match for writer and musician, wherein Frizzi, who is best known for synthetic means of sound reproduction, scores the poems of an author best known for prose. The "Guitar Notturnos" and the poetry combine in a way which evoke the world of a century ago, when one might've plaintively accompanied the reading aloud by firelight, one late evening when the moon was gone.
While two of LOVECRAFT's most important works were as yet unwritten – At The Mountains Of Madness was still a year hence, and The Shadow Over Innsmouth nearly two – when these thirty-six sonnets were composed over in the waning days of the 1920s, LOVECRAFT was well past his most productive years. However, that does not mean that the sequence is lesser material: in fact, it's quite the opposite, foreshadowing many themes and ideas which would be explored in those two later novellas.
As Frizzi notes in his essay which accompanies the record, "Every LOVECRAFT poem is a film, a short film of great intensity, which keeps you in suspense," and that's absolutely how these pieces should be taken in. They are taut, and within each of their fourteen lines lie tales of cosmic horror and unimaginable woe.
One can readily understand why, when Frizzi was initially approached by Cadabra with the idea of scoring select pieces from Fungi From Yuggoth, the composer came up with the idea to create his own "guitar notturnos" based in the traditional Nocturnes – the "night music" – of Italy, with Frizzi admitting his proposal "sounded like a provocation."
The writing process is very unique on this record, in that Frizzi composed each song to the mood and tone of the chosen poem, which then Leman read afterward to the rhythm of the music. The result is eight pieces that create a timeless dreamscape of nightmare: H. P. LOVECRAFT and Fabio Frizzi, I Notturni Di Yuggoth.
As Andrew Leman reads Lovecraft's words "They danced insanely to the high, thin whining/ Of a cracked flute clutched in a monstrous paw" on "Azathoth," Riccardo Rocchi brings the composer's music to vivid life. As he strums, picks, and slides up and down the strings, the famous declensions for which the composer is so well known become gorgeously ominous melodies, reduced to their purest form.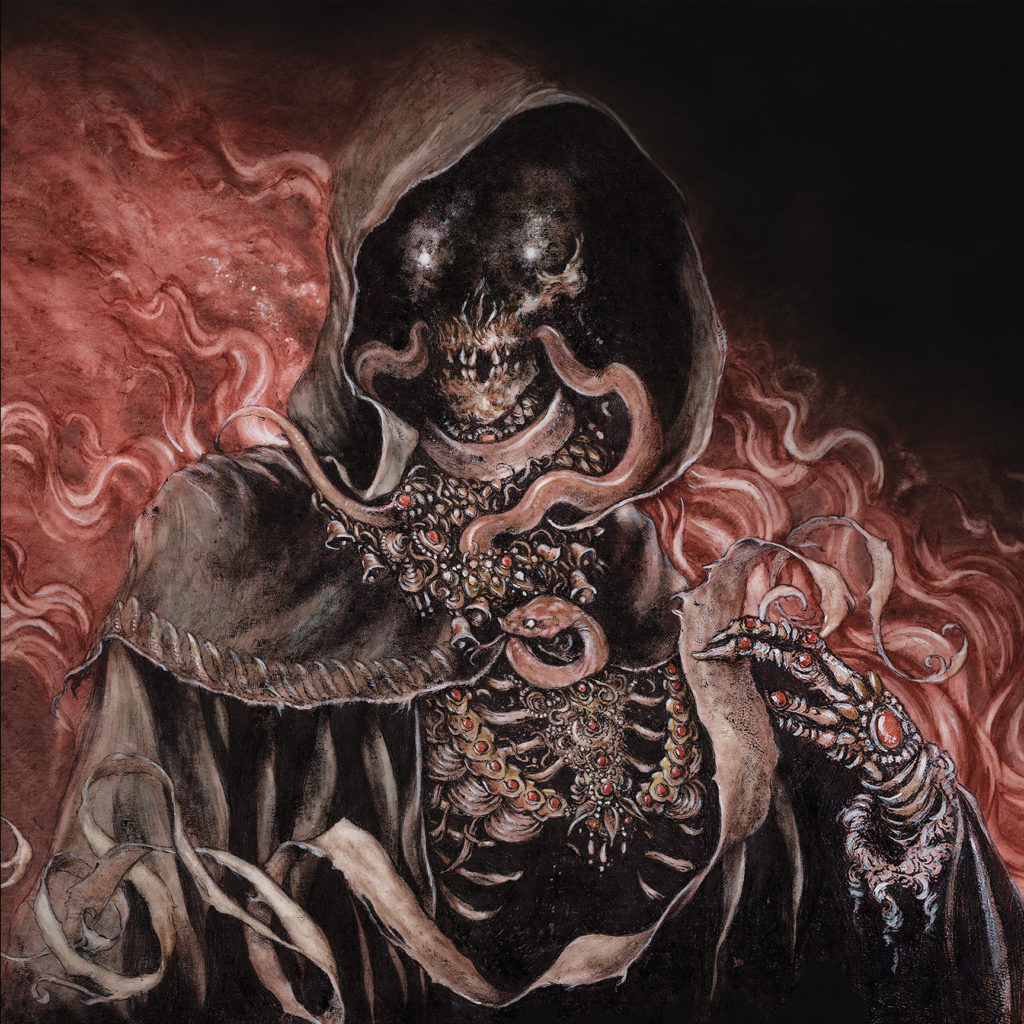 http://www.cadabrarecords.com
https://cadabra-records.myshopify.com
http://www.twitter.com/cadabra_records
http://www.instagram.com/cadabrarecords