EYEHATEGOD
continue their 2019 worldwide live takeover beginning tonight in Athens, Georgia. On Friday, the band will appear at Muddy Roots Music Festival playing the Truck Stage alongside Weedeater, Orange Goblin, Avail, The Obsessed, and Heavy Temple. From there the band will join Come To Grief for a week of East Coast headlining dates. Additional support will be provided by Churchburn, Intercourse, Sheer Terror, All Out War, Dutchguts, Merauder, Barishi, and Kiefcatcher on select shows. In October, the band will make their way West Coast for a week-long trek with Negative Approach, Sheer Terror, Final Conflict, and The Accüsed AD.
EYEHATEGOD's latest live invasion sees the return of guitarist Brian Patton who announced his departure band earlier this year to spend more time with family. Patton will fill in for Jimmy Bower who will be undergoing surgery for a torn arm tendon. Comments frontman Mike IX Williams, "EYEHATEGOD cannot be stopped! In accordance with the chaotic lifestyle that is everyday reality, EHG will continue to tour the US while Jimmy seeks help for visions unknown. Replacing him for this homeland tour is our original second guitarist, Brian Patton! Brian, also of Soilent Green and Outlaw Order, has agreed to join us to make this trek — which includes Muddy Roots Festival in Nashville and Scorched Tundra Fest in Chicago — a reality. We are very excited, happy to have him back with us, and ready to DESTROY!"
EYEHATEGOD released brand new song via Metal Swim 2, the second volume of Adult Swim's Metal Swim compilation series, earlier this year. Titled "Three Black Eyes," the punishing tune appears alongside new songs from Author & Punisher, Baroness, Dark Castle, Dreadnought, Sunn O))), The Body, and more and is currently streaming at http://adultswim.com/metal.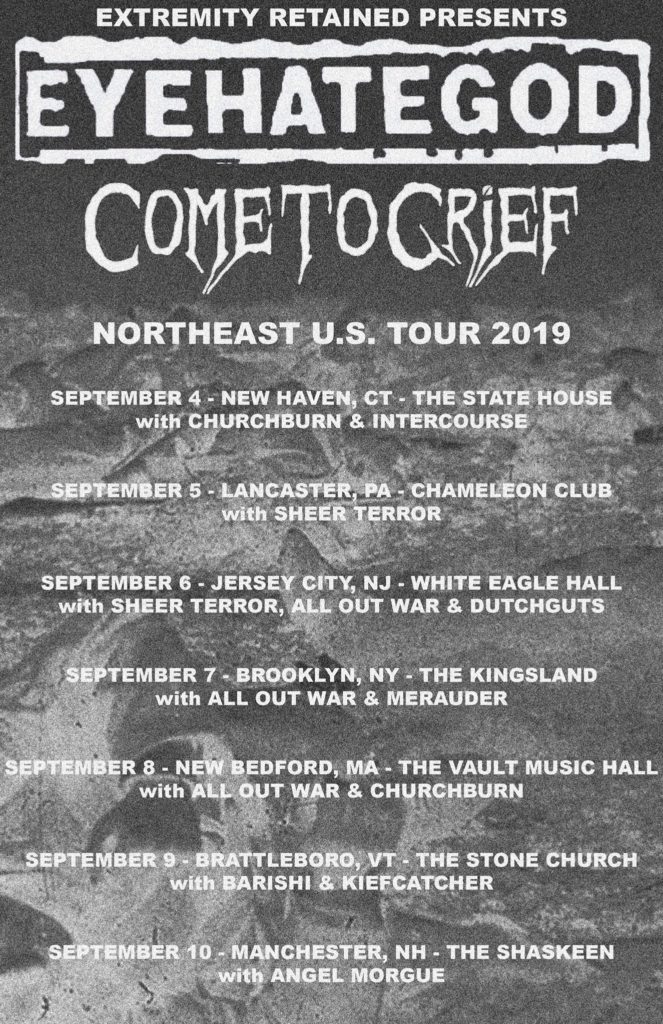 EYEHATEGOD:
8/29/2019 Caledonia Lounge – Athens, GA
8/30/2019 Muddy Roots Music Festival – Nashville, TN w/ Weedeater, Orange Goblin, Avail, The Obsessed, Heavy Temple
8/31/2019 Scorched Tundra Fest @ Empty Bottle – Chicago, IL w/ Aseethe, Liggage, Hitter
w/ Come To Grief:
9/04/2019 The State House – New Haven, CT w/ Churchburn, Intercourse
9/05/2019 Chameleon Club – Lancaster, PA w/ Sheer Terror
9/06/2019 White Eagle Hall – Jersey City, NJ w/ Sheer Terror, All Out War, Dutchguts
9/07/2019 The Kingsland – Brooklyn, New York w/ All Out War, Merauder
9/08/2019 The Vault Music Hall & Pub – New Bedford, MA w/ All Out War, Churchburn
9/09/2019 The Stone Church – Brattleboro, VT w/ Barishi, Kiefcatcher
9/10/2019 The Shaskeen Pub And Restaurant – Manchester, NH w/ Angel Morgue
w/ Negative Approach, Sheer Terror, Final Conflict, The Accüsed AD:
10/23/2019 El Corazon – Seattle, WA
10/24/2019 Dante's – Portland, OR
10/25/2019 Den Of Sin – Sacramento, CA
10/26/2019 DNA Lounge – San Francisco, CA
10/27/2019 Casbah – San Diego, CA
10/28/2019 Teragram Ballroom – Los Angeles, CA
10/29/2019 La Santa – Santa Ana, CA
In a review of their New York City performance at Brooklyn Bazaar last year, Rolling Stone crowned EYEHATEGOD, "one of America's great live bands," further and accurately elaborating, "There are certain bands who are very good at playing heavy rock or metal music. They're tight, intense, professional; they project just the right air of macho authority. You might catch them in a club, nod your head and shoot 'not bad' looks to your friends during their set, and spring for a T-shirt at the merch table afterward. Then there are other bands, a very small handful, who, through some alchemical combination of execution and attitude, transcend their subgenre completely and connect with the primal root of rock & roll, offering showgoers a hint of that sacred, 'What in the fuck is happening right now?' wildness that's been the hallmark of great American artists from Howlin' Wolf to Jerry Lee Lewis and the Stooges. EYEHATEGOD are one of these bands."
EYEHATEGOD's self-titled full-length is out now in North America via Housecore Records. For physical orders, go HERE. For digital orders, go HERE.
http://www.eyehategod.ee
http://www.facebook.com/OfficialEyeHateGod
http://www.thehousecorerecords.com
http://www.thehousecorestore.com
http://www.facebook.com/housecorerecords

The sleepless souls of