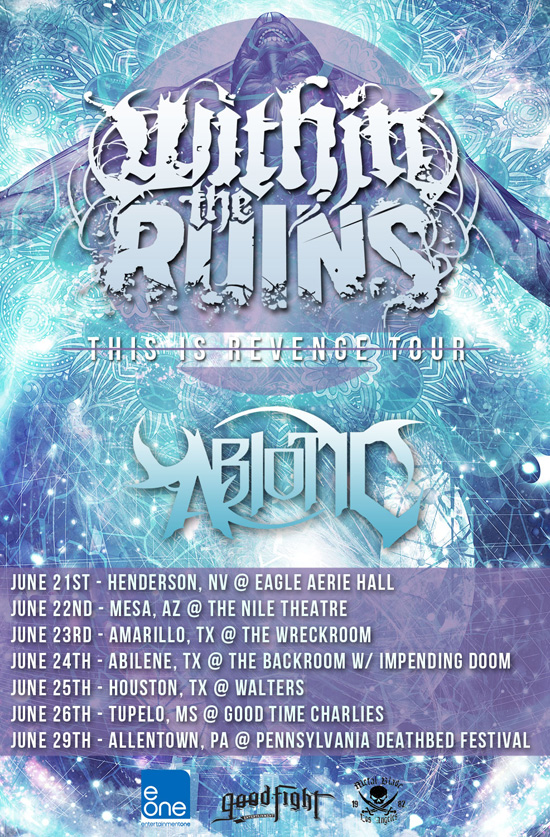 South Florida technical death metallers ABIOTIC have a busy summer schedule ahead. In addition to dates with The Faceless, as well as being confirmed to open the July 29th Summer Slaughter show, ABIOTIC will join up with Within The Ruins for a string of dates this June. Fans can catch the bands together June 21-29 beginning in Henderson, Nevada and wrapping up at the Pennsylvania Deathbed Festival. For the confirmed list of dates, visit metalblade.com or facebook.com/abioticfl.
ABIOTIC's Symbiosis is available now. Check out their video for "Facades" at metalblade.com/abiotic.
ABIOTIC:
6/08/2013 Summer Side Show Festival – Columbus, GA
6/09/2013 Mecca – Johnson City, TN
6/11/2013 Another Hole In The Wall – Steger, IL
w/ The Faceless, Within the Ruins, Rings of Saturn
6/12/2013 Kobo Live – Columbus, OH *no Within the Ruins
6/13/2013 The Rave – Milwaukee, WI
6/15/2013 The Brass Rail – Peoria, IL
6/16/2013 The Chameleon – Oklahoma City, OK
6/17/2013 Far West Event Center – Odessa, TX
6/19/2013 The Rock – Tucson, AZ
w/ Within the Ruins
6/21/2013 Eagle Aerie Hall – Henderson, NV
6/22/2013 The Nile Theatre – Mesa, AZ
6/23/2013 The Wreckroom – Amarillo, TX
6/24/2013 The Backroom – Abilene, TX w/ Impending Doom
6/25/2013 Walters – Houston, TX
6/26 /2013 Good Time Charlies – Tupelo, MS
6/29/2013 Maingate Nightclub – Allentown, PA – Pennsylvania Deathbed Festival
w/ Impending Doom, Texas In July, Within The Ruins, I Am King, Fit For An Autopsy, Rivers Of Nihil, Existence, In Dying Arms, Life As A Ghost, My Heart To Fear, Sicker Than Most, The Merciless Concept [more info]
7/29/2013 Lake Buena Vista, FL House of Blues – The Summer Slaughter Tour
special appearance w/ The Dillinger Escape Plan, Animals As Leaders, Periphery, Norma Jean, Aeon, The Ocean, Revocation, Rings of Saturn, Thy Art is Murder [more info]
Surfacing from the heart of South Florida, Miami's ABIOTIC transcends high above the rest with a most preternatural sound. By interweaving well-cultivated musical dexterity and pronounced lyrical finesse, ABIOTIC epitomizes an unwonted entity of unmatched musicianship. In a short amount of time since the quintet's inception in 2010, this ghoulish coterie has made a paramount impact in the death metal scene and support from the masses continues to grow.
http://www.metalblade.com/abiotic
http://www.facebook.com/abioticfl