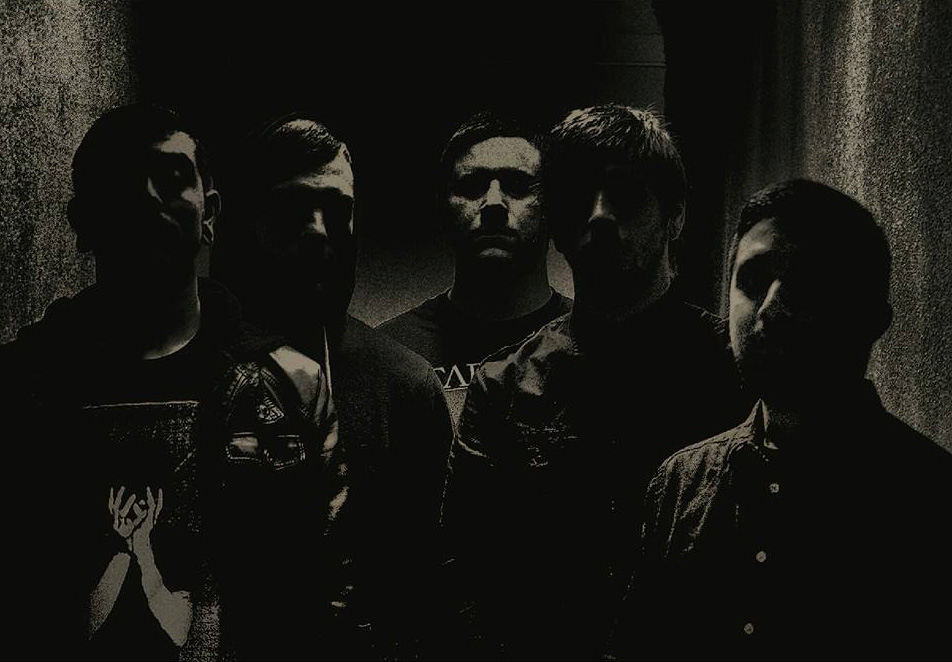 Atmospheric tech death unit WRVTH continues to support their self-titled 2015 release with a string of late Summer headlining shows. The month-long trek begins August 5th in Bend, Oregon, and includes an appearance at Jamfest in Beamsville,Ontario as well as Dirt Fest in Pontiac, Michigan alongside Killswitch Engage, Attila, Hatebreed, Asking Alexandria and more. The live debauchery comes to an end on September 3rd in Sacramento, California. Support will come courtesy of Depths Of Hatred and Pathways on select dates.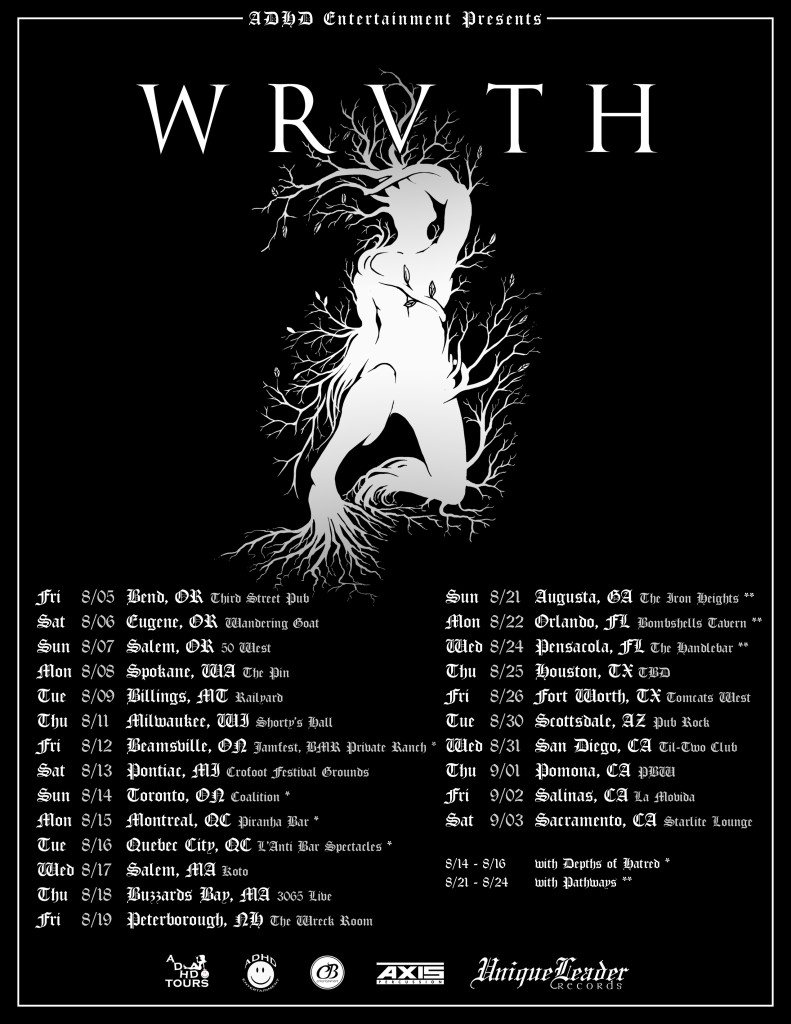 WRVTH:
8/05/2016 Third Street Pub – Bend, OR
8/06/2016 Wandering Goat – Eugene, OR
8/07/2016 50 West – Salem, OR
8/08/2016 The Pin – Spokane, WA
8/09/2016 Railyard – Billings, MT
8/11/2016 Shorty's Hall – Milwaukee, WI
8/12/2016 Jamfest @ BMR Private Ranch – Beamsville, ON *
8/13/2016 Dirt Fest @ Crofoot Festival Grounds – Pontiac, MI
8/14/2016 Coalition – Toronto, ON *
8/15/2016 Piranha Bar – Montreal, QC *
8/16/2016 L'Anti Bar Spectacles – Quebec City, QC *
8/17/2016 Koto – Salem, MA
8/18/2016 3065 Live – Buzzards Bay, MA
8/19/2016 The Wreck Room – Peterborough, NH
8/21/2016 The Iron Heights – Augusta, GA **
8/22/2016 Bombshells Tavern – Orlando, FL **
8/24/2016 The Handlebar – Pensacola, FL **
8/25/2016 TBD – Houston, TX
8/26/2016 Tomcats West – Fort Worth, TX
8/30/2016 Pub Rock – Scottsdale, AZ
8/31/2016 Til-Two Club – San Diego, CA
9/01/2016 PBW – Pomona, CA
9/02/2016 La Movida – Salinas, CA
9/03/2016 Starlite Lounge – Sacramento, CA
*with Depths Of Hatred
**with Pathways
Tracked at SharkBite/Castle Ultimate Studios by Zack Ohren (Suffocation, Fallujah, All Shall Perish et al.), Wrvth — commended by Dead Rhetoric for being, "bold and visceral, all while providing depth and feelings" — features a guest appearance from Daniel Casares of Bay Area jazz group, Atta Kid, on saxophone and continues to astound the ears of fans and critics globally for its expert balance of beauty and brutality.
Wrvth is out now on Unique Leader Records. Order yours today HERE.
"[WRVTH's] penchant for dramatic atmospherics under ominous, stormy death metal might garner them 'on a playlist with Fallujah' one-liners. And the collective's technical wizardry certainly makes them right at home on Unique Leader. But damn if the devil isn't in the details here. WRVTH add to their sonic stew a heavy helping of skronk – think Gorguts, Ulcerate, Artificial Brain, etc. – and a dash of post-hardcore sensibility, both in the harmonic structure of the chords they're using and the vocal approach, all of which makes for a much more moody and emotional experience." – MetalSucks
"WRVTH's long stretches of ambience, combined with a half-billion different guitar riffs and occasional blast-beats, give the band the sense of an auteur, painting a multitude of different, distinctive pictures within their new disc's run-time." – No Clean Singing
"WRVTH reemerge with a unique, albeit morose, offering that outshines any previous efforts." – Sputnik Music
"Wrvth is a triumph in a way that hasn't really been seen before: by so skillfully blending riffy techdeath with genres that are known for their emotional qualities, WRVTH sees to it that the album is both beautiful and consistently engaging for the listener. This is THE atmospheric techdeath album, and it will be for years to come." – Heavy Blog Is Heavy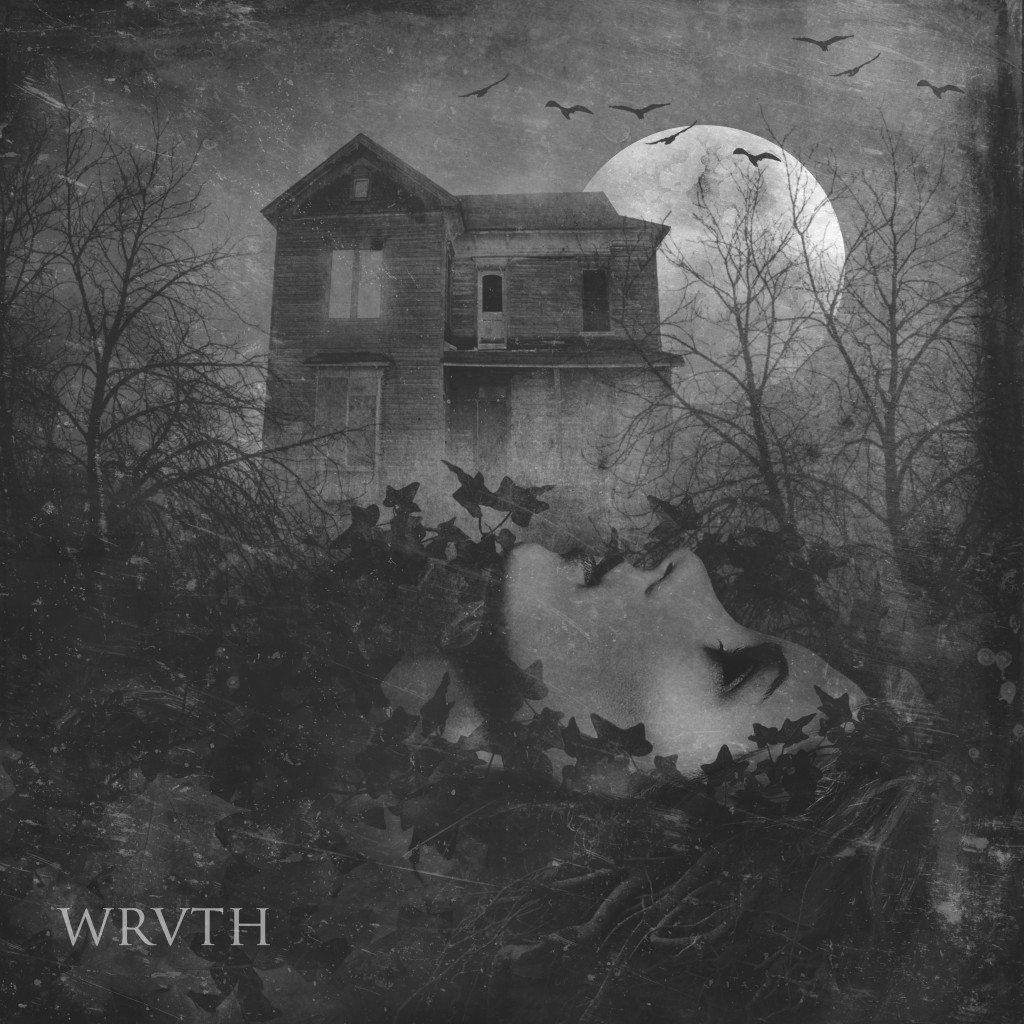 http://www.facebook.com/WrathofVesuvius
http://www.facebook.com/lordofwarmetal
http://www.uniqueleader.com
http://www.facebook.com/UniqueLeaderRecords