THE BODY and FULL OF HELL are pleased to confirm a collaborative North American tour in support of their One Day You Will Ache Like I Ache joint full-length, issued in March through Neurot Recordings . The nihilistic live takeover begins August 19th in Vancouver, British Columbia and tramples its way through nearly two-dozen cities, the tour drawing to a close on September 10th in Providence, Rhode Island. The journey will find both bands executing their sonic deviance as one unit, as well as performing new versions of old songs from each of their respective discographies. The latest run of dates follows the bands' concerted European invasion this past April.
THE BODY/FULL OF HELL:
8/19/2016 TBA – Vancouver, BC
8/20/2016 The Know – Portland, OR
8/21/2016 Oakland Metro – Oakland, CA
8/22/2016 Union – Los Angeles, CA
8/23/2016 51 West – Phoenix, AZ
8/24/2016 Launchpad – Albuquerque, NM
8/25/2016 Sidewinder – Austin, TX
8/26/2016 1912 Club – Ft. Worth, TX
8/27/2016 Liver Fest – Little Rock, AR
8/28/2016 Pu Fest – St. Louis, MO
8/29/2016 TBA – Kansas City, KS
8/30/2016 Triple Rock – Minneapolis, MN
8/31/2016 Frank's Power Plant – Milwaukee, WI
9/01/2016 Empty Bottle – Chicago, IL
9/02/2016 Sanctuary – Detroit, MI
9/03/2016 Coalition – Toronto, ON
9/04/2016 Sugar City – Buffalo, NY
9/05/2016 Metro Gallery – Baltimore, MD
9/06/2016 Strange Matter – Richmond, VA
9/07/2016 1st Unitarian Church – Philadelphia, PA
9/08/2016 Middle East – Boston, MA *
9/09/2016 Market Hotel – Brooklyn, NY *
9/10/2016 Machines – Providence, RI w/ Magnets *
*w/ Gas Chamber
One Day You Will Ache Like I Ache came together during last year's monolithic North American trek which united both bands. Amidst the chaos of tour life, the two groups found time to record together at Machines With Magnets in Providence, Rhode Island. The session eventually culminated into the harrowing sounds found on One Day You Will Ache Like I Ache, which is ultimately an audio reflection of their surroundings and their inability to cope therein. The record includes two bonus tracks as well as a bastardized rendition of Leonard Cohen's "The Butcher."
One Day You Will Ache Like I Ache is out now on Neurot Recordings. To order your copy today visit THIS LOCATION.
"…a document of the overwhelming power of depression…" – Pitchfork
"One Day You Will Ache Like I Ache is unusual, disgusting, and just as harrowing as you'd come to expect from either THE BODY or FULL OF HELL. It's one of the only truly unhinged albums that has come out in the last several years." – Metal Injection
"This release never feels like it is heading too much in one direction, managing to stay dynamic and repugnant at all time by switching between tortured doom and frantic attack." — Pure Grain Audio
"There's some fucked up chemistry on their collaboration. On tracks like 'Fleshworks' and 'The Little Death," the bands forge new sounds that couldn't have happened in any other context. Mostly though, the reinforce each other's impulses towards abstraction." – Decibel Magazine
"…an absolute assault on your senses that will leave an imprint for years to come…. For maximum experience, listen at full volume in a cold, bare and unclean room with flickering lights while half naked and in a deranged state." – New Noise Magazine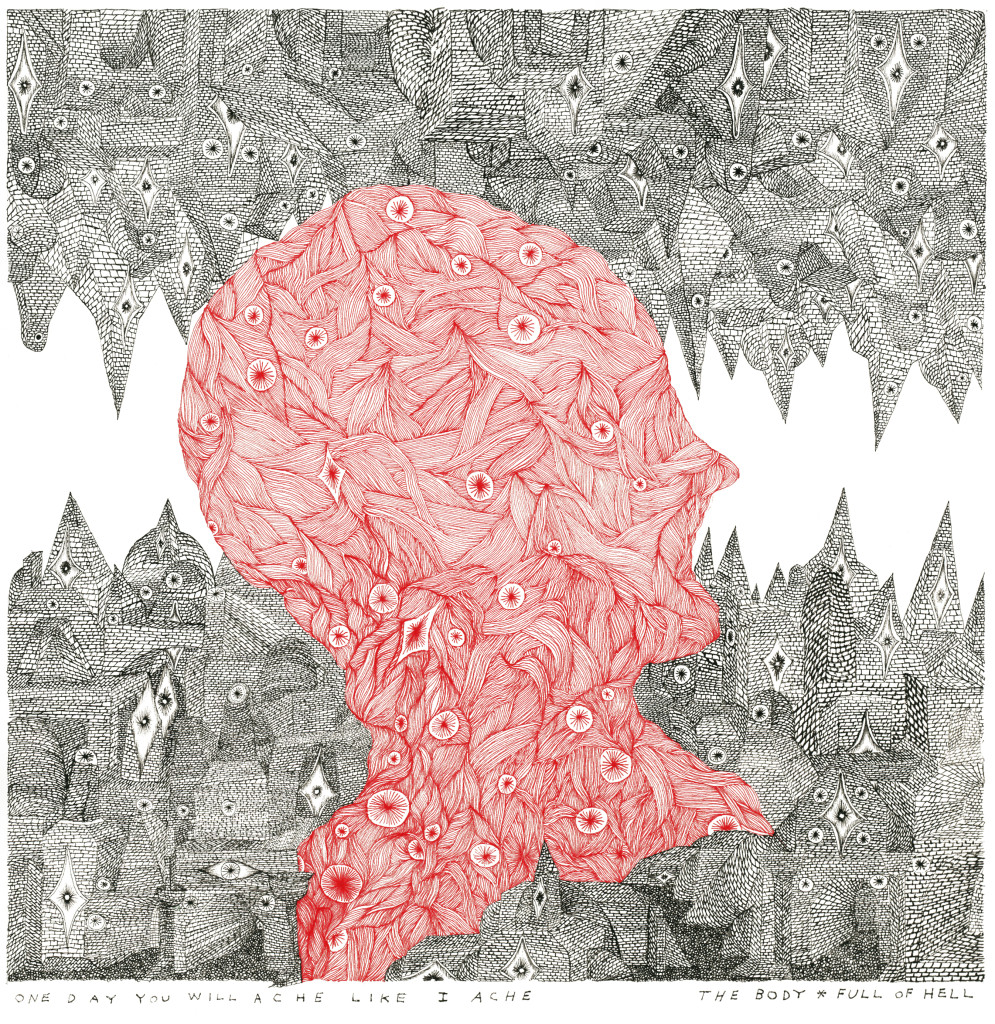 http://www.facebook.com/the-body
http://www.fullofhell.com
http://www.facebook.com/fullofhell
http://www.neurotrecordings.com
http://www.facebook.com/neurotrecordings