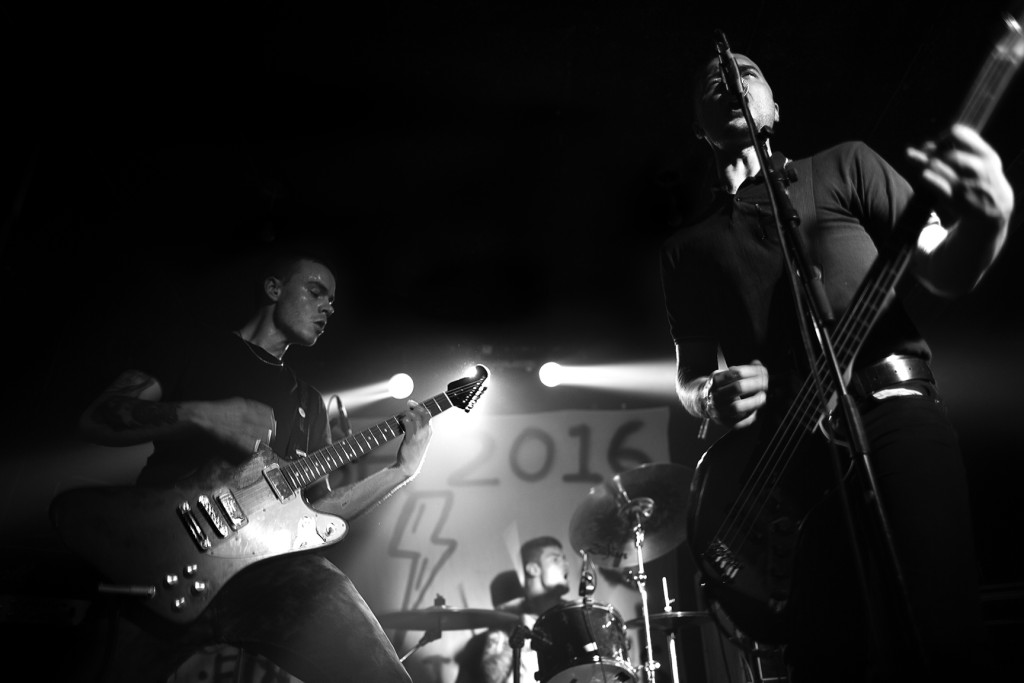 [photo by Naya Buch]
Preceding their set at this year's massive Roskilde Festival this weekend, Copenhagen, Denmark-based HALSHUG announces the completion of their new album, which is being finalized for an early Fall release through Southern Lord.
HALSHUG's second studio full-length, Sort Sind delivers ten ripping new tracks, which are each reflections on fragments of the human experience expressed in the form of hardcore punk, the album's title translating to "black mind." A brutal rock record, Sort Sind bears hints of motorcycle-fueled d-beat such as Austin-based Impalers and the like, while still retaining the raw punk that made the sound on their Blodets Bånd debut so potent, the songs showing an even more destructive and elevated approach to their songwriting. Recorded live, produced and mixed at Ballade Studios in Copenhagen by Lasse Ballade, who also produced and mixed Blodets Bånd, the Sort Sind LP was mastered by Brad Boatright at Audiosiege.
The overall theme for Sort Sind is based on the members' feelings and experiences inspired by growing up in the 1990s and 2000s in neglected parts of Denmark. The intention with the album is to make good hardcore punk music that people can get off too; to contribute to their scene and evoke some energy in those who hear it.
Southern Lord will issue HALSHUG's Sort Sind on CD, LP, and digital platforms in late September or early October, with a confirmed street date, as well as the cover art, track listing, audio samples, and much more from the album will be issued over the Summer months.
Preceded by a set at K-Town Festival and other recent performances, HALSHUG will decimate the audiences at Denmark's mammoth Roskilde Festival this Saturday, July 2nd, and is now booking new live attacks advancing the release of the Sort Sind LP. The band will play in their hometown of Copenhagen supporting Los Crudos in mid-July, will play at Dirty Days Of Summer in August, also in Copenhagen. HALSHUG will also make their maiden trek to the US late this Summer for an East Coast tour. Stand by for new live actions to be announced shortly.
Catch a bit of live HALSHUG footage from last year HERE, and stream their Southern Lord debut, Blodets Bånd, HERE.
HALSHUG Live:
7/02/2016 Roskilde Festival – Roskilde, DK
7/24/2016 Ungdomshuset – Copenhagen, DK w/ Los Crudos
8/06/2016 Beta – Copenhagen, DK @ Dirty Days Of Summer
http://halshug.blogspot.com
https://halshug.bandcamp.com
https://www.facebook.com/halshugcph
http://www.southernlord.com
http://www.southernlord.bandcamp.com
http://www.facebook.com/SLadmin
http://www.twitter.com/twatterlord