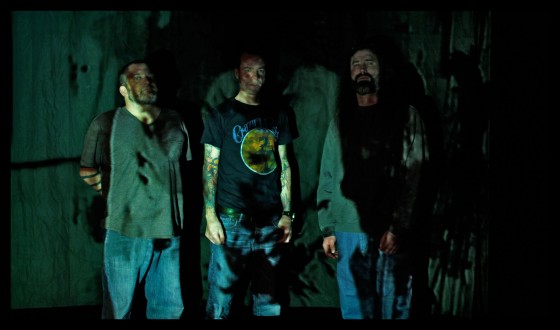 Following the recent unfurling of their mammoth new Drifting Towards The Edge Of The Earth 2xCD full-length, Connecticut doom metal trio, WHEN THE DEADBOLT BREAKS, has released a brand new video from the album.
Directed and edited by Charlie Winthal and the WHEN THE DEADBOLT BREAKS' founding guitarist/vocalist, Aaron Lewis, the more than eleven-minute-long video tells the harrowing story for the third track of the album's first disc, "Sleeps In Burning Hills." The disturbing imagery of the tune comes to live in a bleak and ominous visual mini-movie now playing at The Obelisk, stating of the video: "Culminating in quick, vague jumpcuts that give way to eerily peaceful footage of forest sunset, there's a sense the whole time that something vile will happen, is happening, has happened. Lewis doubles as a photographer and is no stranger to fetish-based work, and it's precisely that air of sexualized violence/violent sexuality that comes through across 'Sleeps in Burning Hills.' I won't spoil the narrative thread, but things hardly seem to turn out well for the lady in the white dress. Take that, purity."
Go on, check it out… HERE.
Also a stream "The Scavengers Daughter," playing RIGHT HERE.
Formed in 2005 by ex-Cable guitarist Aaron Lewis, alongside bassist/vocalist Mike Parkyn and drummer Rich Kalinowski, WTDB signed with EarOne Productions early this year, and set out to capture their most ambitious work yet. Painstakingly recorded this past Spring at Room SevenZeroEight, mastered by Chris Tobias and Mike Livingston at Ear One Studios, on Drifting Towards The Edge Of The Earth WHEN THE DEADBOLT BREAKS is at their finest and most exploratory hour. The nearly two-hour-long 2xCD takes the listener on an extensive, engulfing voyage through the cosmos and annals of sludge/doom; devastating amplification boasts everything the talented members can create; mournful segues, booming classic rock ballad riffs, mystical and melodic interludes and straightforward, thunderous riffage coalesce into an exceptionally diverse album fans of Sleep, YOB, Ufomammut, Samothrace, Ramesses, Cable and the like will indisputably benefit from experiencing.
https://www.facebook.com/pages/When-the-Deadbolt-Breaks/181287835243416
http://www.earoneproductions.com
https://www.facebook.com/earoneproductions