Watch/stream WAR CURSE's "The Convoy" HERE.
Ohio-based metal masters WAR CURSE today unveil their new single and accompanying video for "The Convoy." The track comes by way of the band's Confession full-length, set for release on October 20th via Metal Blade Records/Blacklight Media.
Having built a devout fan base for their thrash-oriented metallic attack starting with 2015's Final Days and cemented with 2019's Eradication, WAR CURSE returns in 2023 a more refined animal. In fact, it could be argued that the ten tracks of Confession stand as WAR CURSE's Black Album, having the courage to move beyond what they're known for and to focus on songwriting, groove, dynamics, and melody, without compromising on muscle one iota.
Elaborates Roth of the theme behind the band's fiery new single, "A number of prominent tyrants surfaced during the pandemic. Power hungry, seething scumbags who allowed their true colors to show. Very few private citizens had the will or the means to stand up to them. 'The Convoy' is a modern day battle hymn written for the people who risked their livelihood and reputations for our individual liberties. May every power drunk dictator one day find themselves at the end of a short rope."
Watch WAR CURSE's "The Convoy" at THIS LOCATION. 
Watch the band's previously released video for "Miracle Broker" at THIS LOCATION.
With extensive touring plans in 2020 falling apart due to the pandemic, WAR CURSE spent several months in purgatory before deciding to dust off their instruments and start writing a new album. With the world in a strange place, motivation came and went, reflecting the tumultuous day-to-day change in information. This led to the writing process taking a year, however it was time well spent.
"We demo recorded every song two or three times, picked them apart, edited them, and then rehearsed them in a room together. We allowed the process of collaboration and experimentation to take us wherever the wave carried us. Compared to previous releases, we were a lot more critical of ourselves during the writing and recording of this album. We set out to make an album in the truest sense of the word, not just a collection of songs."
This is very much apparent when listening to Confession, from the agitated, muscular title track with its widescreen chorus, to the driving "Power Of The Powerless," or the equal parts triumphant and steamrolling "Sowing Division," every track stands on its own while taking its place in the overall picture.
The vocal contributions of Blaine Gordon, who emanates confidence in ways he has not previously, are particularly striking on the band's latest output. "On Eradication, Blaine replaced our previous vocalist in the studio, on very short notice, and mimicked what was already written. This was the first time he got to add his creative input. He pushed us in a more melodic direction, and [guitarist Joshua] Murphy and I backed him up with guitar parts that felt harmonious with his vision. Likewise, when a part called for heavy or dirty vocals, Blaine returned the favor tenfold."
All songs on Confession were recorded, mixed, and mastered by Neil Tuuri at Amish Electric Chair Studios. The album art, layout, design, and photography were handled by Justin Roth. As an added bonus, the record includes a cover of Grip Inc.'s "Rusty Nail."
Confession will be released on CD, LP, and digitally. Find preorders at: blacklightmediarecords.com/warcurse.
WAR CURSE will celebrate the release of Confession with a eight-day run of West Coast live dates with Armed For Apocalypse this November! See all confirmed dates below.
WAR CURSE w/ Armed For Apocalypse:
11/01/2023 Cafe Colonial – Sacramento, CA w/ Rile
11/02/2023 Naked Lounge – Chico, CA w/ Rile
11/04/2023 Baseline – San Bernardino, CA
11/05/2023 Fulton 55 – Fresno, CA
11/07/2023 Brick By Brick – San Diego, CA
11/08/2023 Your Mom's House – Salt Lake City, UT
11/09/2023 The Six Below Midnight – Portland, OR
11/10/2023 Ray's Golden Lion – Kennewick, WA
WAR CURSE:
Blaine Gordon – vocals
Justin Roth – guitar
Joshua Murphy – guitar
James Goetz – drums
Johnnie Wallace – bass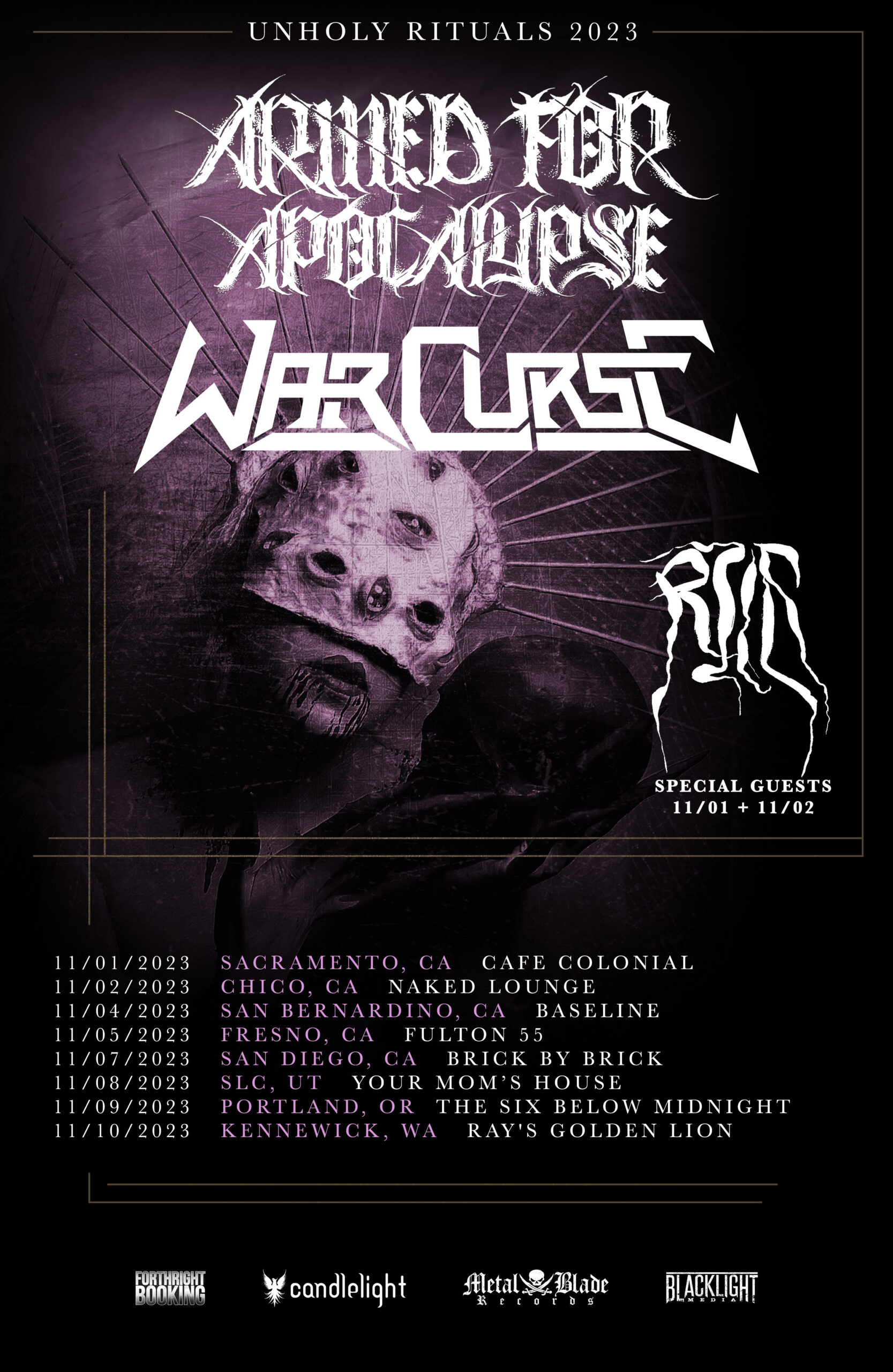 https://www.warcurse.com
https://www.facebook.com/warcursemetal
https://warcursemetal.bandcamp.com
https://www.blacklightmediarecords.com
https://www.facebook.com/BlacklightMediaOfficial
https://www.instagram.com/blacklightmediaofficial