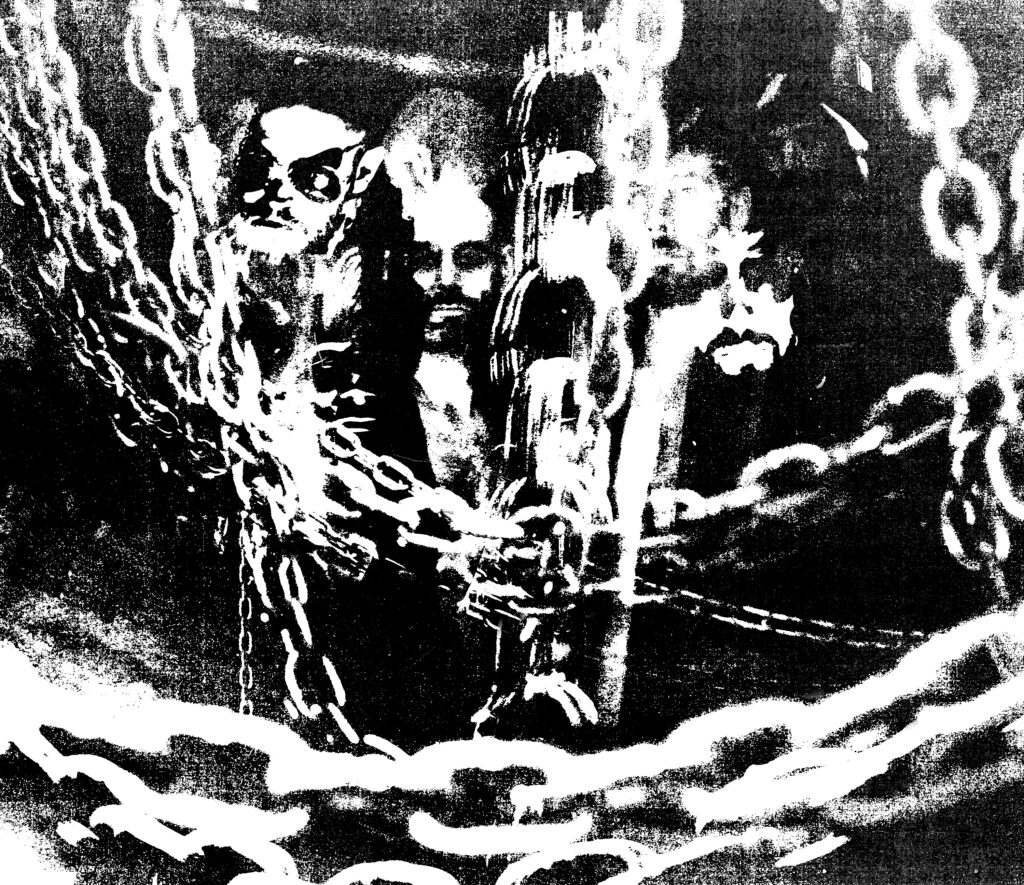 Dissimulant, the apocalyptic fourth album from New York City-based death/war metal collective RUIN LUST, is now streaming in its entirety ahead of its official release through 20 Buck Spin this Friday.
Having dropped their third album, Choir Of Babel, in early 2020 just before the world shut down, the forces of the pandemic did not succeed in silencing RUIN LUST for good. Though confined to their fallout bunker, the band, with martial fervor, began work on what has now, three years later, emerged as their fourth album Dissimulant.
In the final phase of imperialist rot, RUIN LUST declares war against the festering delusions of a devolving species. The most withering aspects of modern death metal, grinding war metal, and black metal's more bestial tendencies compel this audial exorcism, poisoning the well like a bioweapon spread through open air, suffocating and contemptuous. By the time album closer "Chemical Wind" is done all that remains are parched bones and desiccated shadows.
Barbarically pestilent yet compositionally deliberate, Dissimulant casts a bitter pall and leaves an open wound on the death metal scene for 2023. A militant milestone in the RUIN LUST discography. This is a must-hear release for followers of Gravesend, Ascended Dead, Savage Necromancy, Kommand, Of Feather And Bone, Vermin Womb, Caustic Wound, Knelt Rote, Revenge, Disimperium, and the like.
Dissimulant was recorded and mixed by Nolan Voss, mastered by Dan Lowndes at Resonance Sound Studio, and completed with artwork by the band.
RUIN LUST declares, "Dissimulant is a document of a world living on borrowed time, freed from the facile delusions of righteous redemption and a portent of ever greater barbarity.  Wrong life cannot be lived rightly. Hail the new man. Hail the Dissimulant."
RUIN LUST's monstrous Dissimulant is now playing early at YouTube HERE and Bandcamp HERE.
Dissimulant will be released on LP, CD, CS, and digital formats this Friday, September 29th, the vinyl including a gatefold insert. Find preorder options including merch and more at the 20 Buck Spin webshop HERE and Bandcamp HERE.
RUIN LUST has booked a release show for Dissimulant at Brooklyn's notorious Saint Vitus Bar on November 15th with Yellow Eyes, Frog Myst, and Goat Piss. Watch for Eastern US tour dates to post over the weeks ahead.
RUIN LUST Live:
11/15/2023 Saint Vitus Bar – Brooklyn, NY *Dissimulant release show w/ Yellow Eyes, Frog Myst, Goat Piss
"…their most face-flayingly impactful material yet… Each song is poised in such a way that RUIN LUST sound memorable while still on the verge of all-out chaos… Dissimulant should herald greater attention from fans of Fulll Of Hell or Revenge as much as those dedicated to Incantation or (early) Anaal Nathrakh. 8/10″ – Decibel Magazine
"To call this a ravenous album would be an astonishing understatement. There's something truly macabre and piercing regarding the band's performance… This is a record that will easily come to the decision that your teeth belong not in your mouth, but copiously smashed to ruin upon the floor." – The Razor's Edge
"… splits the skull and mystifies when they really get ripping and grinding in terms of pace and chaotic riffing. Fans of the blazing death metallic side of Archgoat or the grinding edge of the first Vermin Womb album who'd prefer screaming leads and tons of heaping layers to the experience will immediately warm to these violently beaten horrors." – Grizzly Butts
https://www.20buckspin.com
https://listen.20buckspin.com
https://www.facebook.com/20buckspin
https://twitter.com/20buckspinlabel
https://www.instagram.com/20buckspinlabel