photo by Mike Destefano
Midwestern post-black metal outfit CHROME WAVES presents a new single, "Father, I Wait," which makes its public debut today through a premiere at No Clean Singing.
Bridging the gap between their Earth Will Shed Its Skin LP, released in April via M-Theory Audio, and their impending fifth LP, CHROME WAVES issues the first of several one-off singles with "Father, I Wait." The current lineup unites founding member Jeff Wilson (Deeper Graves, Altars Of The Moon, ex-Nachtmystium) on guitar/synth, Zion Meagher (Anti-Human Thesis, ex-Nachtmystium) on bass, James Benson (Amiensus, Comatose) handling vocals/synth, and Alan Cassidy (The Black Dhalia Murder) on drums. The song was recorded by the band, mixed/mastered by guitarist Jeff Wilson, and completed with artwork by Rio Oka and layout by Wilson.
With the single, Wilson writes, "After putting out at least an album's worth of material annually over the last few years, we're looking to change things up going into 2024. We'll be focusing on singles and getting back to the live stage for most of the year, delaying another LP to 2025. 'Father, I Wait' is the first in that series of songs. It's embracing the cold, mechanical, Blut Aus Nord/Mysticum vibe and having a machine-like Alan Cassidy on the drums for this one only adds to the precise, clinical approach we were going for."
With the song's premiere, No Clean Singing provides an in-depth review, which reads in part, "The song is an eight-minute opus, and so it changes. The drums slow and boom, tumble and crash; near-sung snarls join in; and the melody begins to levitate in melancholy splendor over the thrumming of the bass. It's an entrancing phase, setting the stage for a grim and gritty guitar solo that slowly slithers through the cold melodic dream and the visceral rhythmic punch. It's easy to drift away and lose track of time, but the song's finale harshly sets the listener's nerves on edge, still otherworldly but considerably more frightening."
Check out CHROME WAVES' "Father, I Wait" first at No Clean Singing RIGHT HERE.
"Father, I Wait" will be released across all digital platforms this Friday, September 29th.
CHROME WAVES has also booked a Fall tour through the Midwest and Southern states. Running from November 30th through December 17th, the band will play alongside Chicago-based Black Cross Hotel. See the confirmed dates below and watch for updates on additional singles and tour dates to post early in the new year.
CHROME WAVES w/ Black Cross Hotel:
11/30/2023 The Annex – Madison, WI
12/01/2023 The White Rock Lounge – Saint Paul, MN
12/02/2023 Livewire – Chicago, IL
12/03/2023 Black Circle – Indianapolis, IN
12/13/2023 White Water Tavern – Little Rock, AR
12/14/2023 Come And Take It Live – Austin, TX
12/15/2023 Hi-Tones – San Antonio, TX
12/16/2023 1810 Ojeman – Houston, TX
12/17/2023 Siberia – New Orleans, LA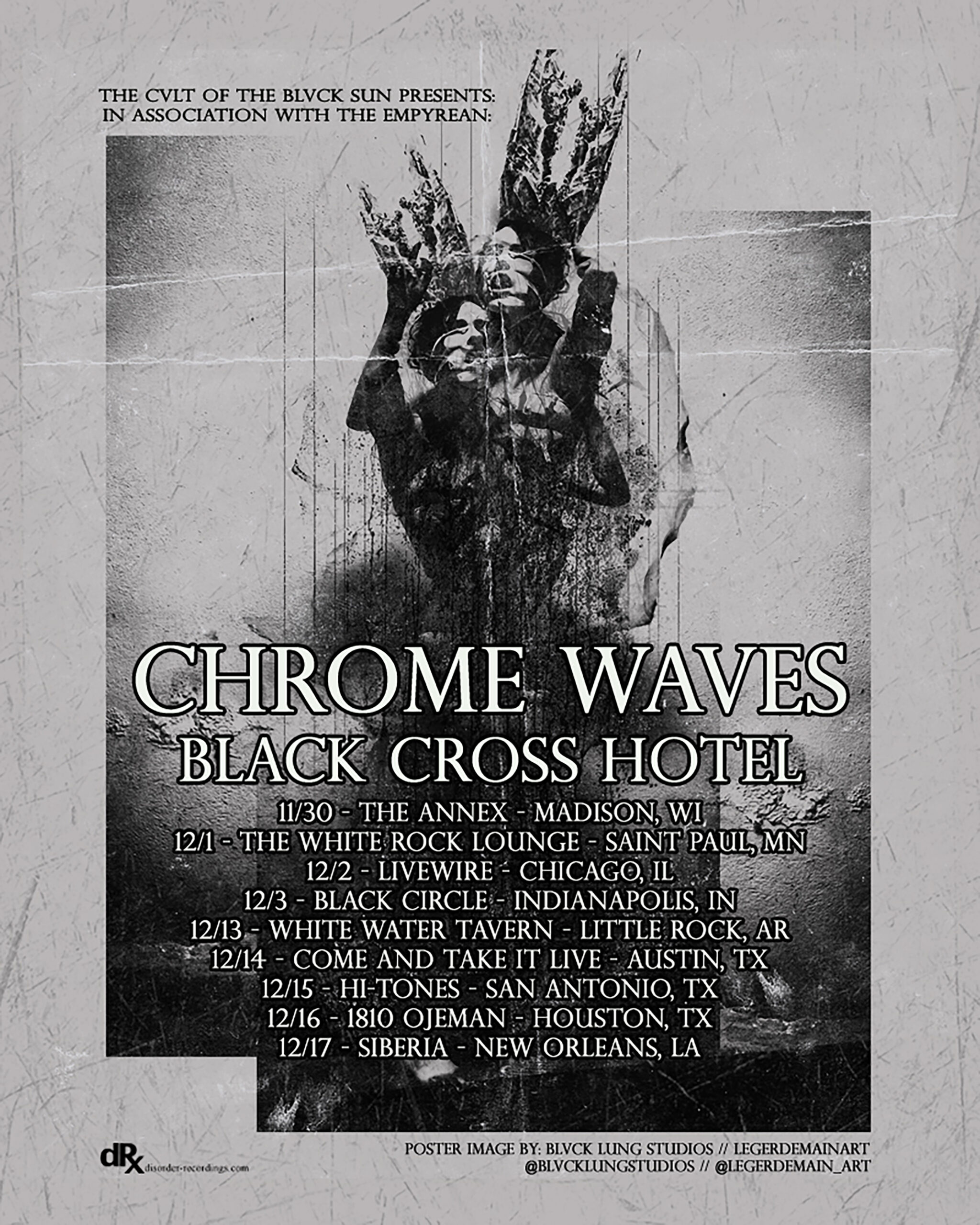 https://www.facebook.com/chromewavesofficial
https://chromewaves.bandcamp.com
https://www.instagram.com/chromewavesofficial
http://disorder-recordings.com
https://disorder-recordings.bandcamp.com